If you're a fan of light, airy cakes that are bursting with flavor, you won't be disappointed with almond dacquoise cake. This dessert is perfect for anyone who wants to indulge in a decadent and delightful treat. In this article, we'll take you through everything you need to know about almond dacquoise cake, from its history to its ingredients, and how to make it yourself.
What You Need To Make Simple Almond Dacquoise Recipe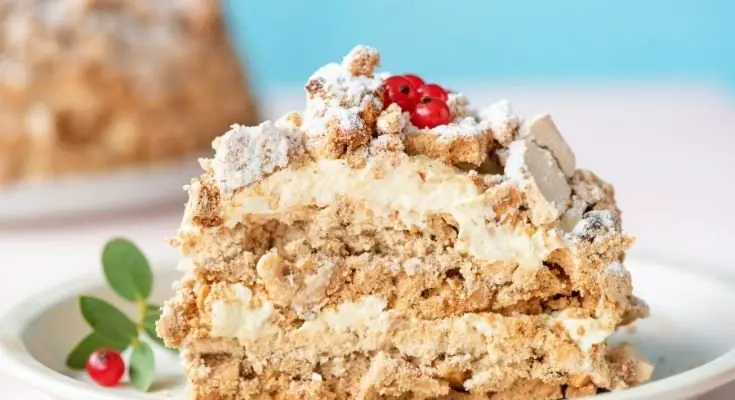 Simple Almond Dacquoise Cake Recipe
Almond dacquoise cake is a crunchy, delicious, and gluten-free white cake guaranteed to give your celebrations a blast.
It has a crunchy, sweet, creamy, and acidic taste. A perfect combination that you would hardly find in other cakes. You get a taste of the creaminess from the roasted dacquoise, while the sweetness and acidity come from the fruit.
This dacquoise cake is slightly crispy on the outside, and very soft, and a bit chewy from the inside, just like a sponge cake!
Ingredients  
200

g

blanched almonds, finely ground

200

g

superfine sugar

200

g

confectioner's sugar

8

pic

large egg whites, room temperature

2

tbsp

unsalted butter, softened, for parchment

All-purpose flour, for parchment
Filling
250

ml

whipped cream

250

g

mascarpone cheese

1

tbsp

pure vanilla extract

50

g

powdered sugar

Raspberries and blueberries
Instructions 
First, carefully separate the egg whites from the yolks and allow the egg whites to stand at room temperature for a minimum of one hour.

To prepare the meringue, you can use either a hand mixer or a stand mixer, both of which yield the same result. In a large bowl, combine almonds, 1/2 cup superfine sugar, and confectioners' sugar with a mixer. In a separate large and deep bowl, add the egg whites.

Begin whipping the egg whites on low speed, gradually increasing the speed. Once the egg whites become frothy, slowly add the remaining 1/2 cup of superfine sugar. It is important to whip the egg whites for a duration of 7 to 10 minutes for the Dacquoise cake to be successful, so avoid shortening the whipping time.

When the meringue is ready, gently combine it with the almond mixture and remaining superfine sugar and confectioners' sugar with a spatula. The next step is to bake.

Preheat the oven to 130 degrees and line the baking tray with baking paper. Draw two circles with a 22 cm diameter on one side of the paper. Turn the other side of the baking paper into a thin layer, coat it with butter, and sprinkle all-purpose flour on it.

Transfer the Almond Dacquoise mixture into a pastry bag and use the circles drawn on the paper as a guide to shape the circles. Flatten the Dacquoise cake's surface with a spatula and sprinkle almond flakes on top.

Place the pan in the oven preheated to 130 degrees and bake for 10 minutes. Then, reduce the oven's temperature to 90 degrees and continue baking for 80 minutes. It is essential not to open the oven door while the Dacquoise cake is baking to avoid cracking.

After 80 minutes of baking, turn off the oven and open the door slightly. Allow the Dacquoise to cool slightly before removing it from the oven. Be cautious when removing the cooled Dacquoise from the paper.
Notes
Nutrition Information:
Cholesterol 138.45mg 46%
Sodium 90.6mg 4%
Potassium 176.59mg 4%
Total Carbs 25.47g 8%
Sugars 20.59g 82%
Dietary Fiber 1.11g 4%
Protein 16.27g 33%
Vitamin C 0.1mg 0%
Vitamin A 0.1mg 5%
Iron 1.5mg 8%
Calcium 67mg 7%
Pro Tips for Making Simple Almond Dacquoise
Are you looking for a delightful dessert that will impress your guests? Almond Dacquoise is an elegant and delicious dessert that is perfect for any occasion. With its crispy meringue layers and luscious almond cream, this dessert is sure to delight everyone's taste buds. In this article, we will provide you with some pro tips for making a simple almond dacquoise that will be sure to impress your guests and satisfy your sweet tooth.
Ingredients
To make a perfect almond dacquoise, you need to have the right ingredients. For the meringue, you will need egg whites, caster sugar, and ground almonds. For the almond cream, you will need unsalted butter, icing sugar, ground almonds, and almond extract.
Use Room Temperature Ingredients
Before you start making the meringue, make sure that all the ingredients are at room temperature. Room temperature ingredients combine better, which is important for achieving a smooth and silky meringue. Also, when making the almond cream, soft butter and icing sugar mix better, giving the cream a light and fluffy texture.
Whisk the Egg Whites Correctly
Whisking the egg whites is the most critical part of making the meringue. It is important to beat the egg whites until they form stiff peaks. You can do this by whisking the egg whites in a clean and dry bowl using an electric mixer or a stand mixer. The key is to add the sugar gradually, a spoonful at a time, while continuously whisking. This will ensure that the sugar dissolves evenly and the meringue is smooth and shiny.
Fold in the Ground Almonds Gently
Once you have achieved stiff peaks, gently fold in the ground almonds using a spatula. Be careful not to overmix, as this will cause the meringue to lose its volume and texture. The ground almonds add a nutty flavor and a crunchy texture to the meringue layers, making the dessert even more delicious.
Use Parchment Paper to Line the Baking Tray
When baking the meringue layers, it is important to use parchment paper to line the baking tray. This prevents the meringue from sticking to the tray and makes it easier to remove. Once the meringue layers are baked, let them cool completely before assembling the almond dacquoise.
Chill the Almond Dacquoise Before Serving
After assembling the almond dacquoise, it is best to chill it in the refrigerator for at least an hour before serving. This allows the flavors to meld together and makes it easier to cut and serve. You can also sprinkle some toasted almonds on top for added crunch and flavor.
Conclusion
Almond dacquoise cake is a delightful and decadent dessert that is sure to impress your guests. With its light and airy texture, flavorful almond taste, and creamy frosting, this cake is a crowd-pleaser. By following our recipe, you can create your own almond dacquoise cake and enjoy this French classic at home.
You May Also Like