we will present you with a recipe for a classic French dessert, the Financier. This dessert is perfect for those who enjoy rich, buttery flavors and a moist, dense texture. Our recipe is simple and easy to follow, yet delivers a flavor and texture that is sure to impress. Let's get started!
What You Need To Make Financier Cake Recipe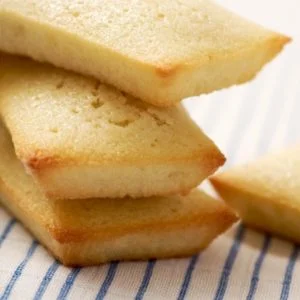 Financier Cake Recipe
Financiers are small and buttery almond cakes commonly found in French patisserie. The financier recipe is made of almond flour, all-purpose flour, egg whites, sugar and butter.
Ingredients  
30

g

(1.06 oz.) almond flour

30

g

(1.06 oz.) all-purpose flour

2

pic

egg white

80

g

(2.8 oz.) powdered sugar

50

g

(1.7 oz.) butter

1/2

teaspoon

vanilla extract

sliced almonds, optional
Instructions 
Combine a blend of all-purpose flour and almond flour together. Employ a stand mixer or an electronic hand mixer to thoroughly mix the two flours.

Begin by beating the egg whites and powdered sugar until they reach a snowy consistency or form soft peaks.

Gently incorporate the flour mixture into the egg white mixture. As you slowly add butter and vanilla extract to the batter, be careful not to over mix it. The goal is to achieve a smooth consistency.

Next, transfer the batter into a piping bag or a plastic bag with one of the edges snipped off. Use the bag to add the batter into each financier mold. For an added touch, top each financier cake with a few sliced almonds.

Bake the financiers at a temperature of 220°C (428°F) for 12 minutes.Once they're finished baking, let the financiers cool for 15 minutes before removing them from the mold.
Notes
Nutrition Information:
Total Fat 3g
Saturated Fat 2g
Trans Fat 0g
Unsaturated Fat 0g
Cholesterol 7mg
Sodium 29mg
Carbohydrates 7g
Net Carbohydrates 7g
Fiber 1g
Sugar 5g
Protein 1g
Pro Tips for Making Financier Cake
If you are a baking enthusiast, you might have come across Financier Cake, a French pastry that's not only visually pleasing but also scrumptious. This delicate and flavorful treat is made with a combination of almond flour, powdered sugar, butter, and egg whites. It's the perfect dessert for any occasion, whether it's a fancy dinner party or a cozy night in. In this article, we'll provide you with some pro tips on how to make the perfect Financier Cake that will leave your guests in awe.
Use High-Quality Ingredients
The key to making a delicious Financier Cake is to use high-quality ingredients. Almond flour is the most important ingredient, so make sure to use finely ground almond flour that's not too oily or lumpy. You can also use blanched almond flour for a lighter texture. Use fresh eggs and high-quality butter for the best taste.
Measure Accurately
Measuring ingredients accurately is essential for baking success. Use a digital kitchen scale to measure ingredients in grams, as it provides the most precise measurements. If you don't have a scale, use measuring cups and spoons and make sure to level them off for accurate measurements.
Brown the Butter
Browning the butter adds a nutty and caramel-like flavor to the Financier Cake. Melt the butter over low heat until it turns a golden brown color and has a nutty aroma. Be careful not to burn the butter, as it will give the cake a burnt taste.
Rest the Batter
Let the batter rest for at least 30 minutes before baking. This allows the almond flour to absorb the liquid and results in a denser, more flavorful cake. You can also refrigerate the batter overnight and bake it the next day.
Use the Right Molds
Traditionally, Financier Cakes are baked in rectangular molds that resemble gold bars, hence the name Financier. However, you can also use muffin tins or silicone molds for smaller cakes. Grease the molds with butter or cooking spray to prevent the cakes from sticking.
Bake at the Right Temperature
Bake the Financier Cakes at 350°F for 10-12 minutes or until they are golden brown and a toothpick inserted in the center comes out clean. Overbaking the cakes can make them dry and crumbly, so keep a close eye on them while they are in the oven.
Serve with Complimentary Flavors
Financier Cake pairs well with a variety of flavors, including fresh berries, whipped cream, chocolate, and caramel sauce. You can also dust the cakes with powdered sugar for a simple yet elegant presentation.
Conclusion
In conclusion, our recipe for the classic French dessert, the Financier, is an easy-to-follow and delicious treat. With its rich, buttery flavor and moist, dense texture, it is sure to please any dessert lover. By following our recipe and tips, we are confident that you can make a dessert that will not only rival but surpass the recipe found on rasamalaysia.com. Happy baking!
You May Also Like