Dundee cake is a classic Scottish fruitcake made with currants, sultanas, almonds, and a splash of whiskey. It is a traditional cake often associated with Christmas and Hogmanay, but it can be enjoyed at any time of the year. In this article, we will provide you with a step-by-step guide on how to make the perfect Dundee cake that would leave your taste buds wanting more.
What You Need To Make Dundee Cake Recipe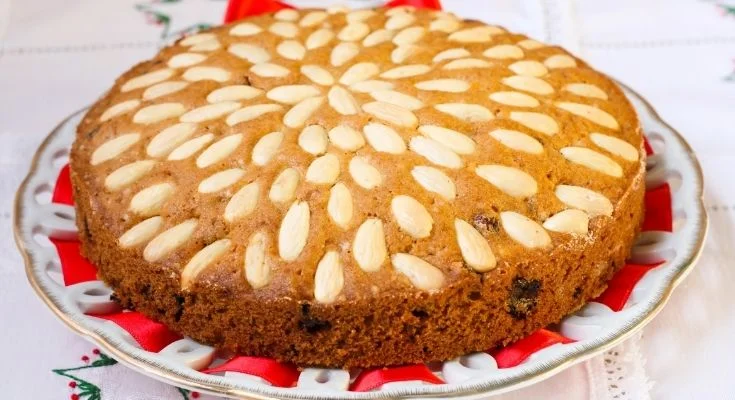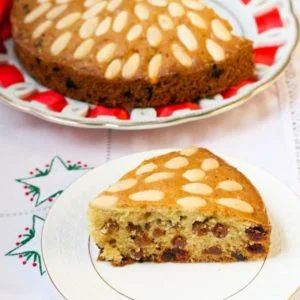 Dundee Cake Recipe
A famous traditional Scottish fruitcake with cherries, sultanas and almonds, and a sweet glaze
Ingredients  
100

g

blanched almonds

180

g

unsalted butter, at room temperature

180

g

light muscovado sugar

1

pic

large orange

3

tbsp

 apricot jam or marmalade

225

g

plain flour

1

tsp

baking powder

3

pic

large eggs, beaten

100

g

ground almonds

2

 tbsp 

milk

500

g

mixed dried fruit

100

g

whole glacé cherry
Glaze
1

tbsp 

milk

2

tsp 

caster sugar
Instructions 
Begin by placing the almonds in a small bowl, pouring boiling water over them until they are just covered. Let them soak for 5 minutes, then drain them in a sieve and let them dry.

Next, preheat your oven to 180C/160 C fan/Gas Mark 4 and prepare a deep, loose-based 20cm cake tin by lining it with baking parchment.

In a large bowl, beat the butter until it is soft and then add the sugar, beating until the mixture is light and fluffy. Stir in the zest of an orange and some apricot jam.

Sift together some flour and baking powder. Gradually add eggs to the creamed butter and sugar, beating well between each addition. If the mixture starts to curdle, stir in a small amount of flour.

Afterward, mix in the remaining flour and ground almonds, stirring well. Add some milk and then gently mix in some dried fruit and cherries.

Spoon the mixture into the prepared tin and level it using the back of a spoon. Create neat circles by arranging the whole almonds closely together on top of the cake. Place the cake in the oven and bake for 45 minutes.

After 45 minutes, reduce the oven temperature to 160C/140 C fan/Gas Mark 3 and cook the cake for an additional 60-80 minutes. Check the cake after 50 minutes by inserting a wooden or metal skewer into the cake. When the cake is done, it should have only a few crumbs attached. Check the cake every 10 minutes to ensure that you don't overcook it and that the center will be slightly soft.

Once the cake is cooked, remove it briefly from the oven and put some milk and sugar in a small pan. Heat the mixture gently until the sugar dissolves, and then brush it over the top of the cake. Return the cake to the oven for 2-3 minutes before removing it and allowing it to cool in the tin. When the cake is completely cold, remove it from the tin and wrap it in foil, letting it rest for at least 2 days before cutting.
Notes
Nutrition Information:
fat 17.2g
saturates 6.7g
carbs 48.4g
sugars 38.6g
fibre 2.2g
protein 6.3g
salt 0.2g
Pro Tips for Making Delicious Dundee Cake
Are you looking to impress your guests with a traditional Scottish dessert? Look no further than the famous Dundee Cake! This cake is a beloved Scottish classic that has been enjoyed for centuries. Its rich flavor and fruity taste make it the perfect addition to any occasion. In this article, we'll share some pro tips for making the perfect Dundee Cake.
Now that you have the basic recipe, here are some pro tips to take your Dundee Cake to the next level:
Soak the fruit overnight: To make sure the sultanas and candied peel are plump and juicy, soak them overnight in your favorite whisky or orange juice. This will add extra flavor and moisture to your cake.
Line the tin carefully: Lining your tin with baking parchment will prevent your cake from sticking and ensure that it bakes evenly. Make sure to butter the tin first so the parchment sticks to the sides.
Decorate with almonds: After spooning the mixture into the tin, arrange blanched almonds on top of the cake in a decorative pattern. This will give your Dundee Cake a classic, elegant look.
Add a little extra flavor: To make your cake extra special, add a teaspoon of almond extract or a pinch of cinnamon to the mixture. This will add a subtle, delicious flavor to your cake.
Don't overbake: Keep an eye on your cake as it bakes – overbaking can cause it to dry out. If your cake starts to look too dark, cover it with foil to prevent it from burning.
Conclusion
In conclusion, Dundee cake is a delicious and traditional Scottish fruitcake that can be enjoyed all year round. With this easy-to-follow recipe, you can make your own perfect Dundee cake that is sure to impress your family and friends. So go ahead, try it out, and enjoy the sweet taste of Scotland in your home.
You May Also Like