A typical Swedish layer cake or torte known as a "princess cake" is made of layers of light sponge cake, pastry cream, raspberry jam, and whipped cream that are alternated with each other. Marzipan is used to cover the cake, giving it a smooth, rounded top. The marzipan topping is often green, dusted with icing sugar, and frequently embellished with a pink marzipan rose. The basic components of Princess Cake are sponge cake, whipped cream, raspberries, pastry cream, marzipan, and powdered sugar.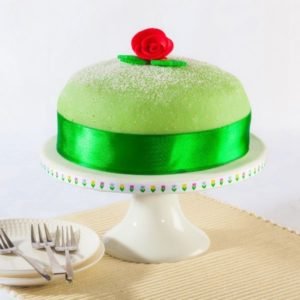 Swedish Princess Cake Recipe
Prinsesstårta is a "princess cake" that is popular in Sweden. It is stunning and perfect for birthdays, celebrations, or any special occasion when you really want to show off your baking skills. It uses a white cake mix and includes a homemade pastry cream filling with raspberry jam.
Although this cake takes time to prepare, all of the elements can be made up to three days ahead of assembling. The resulting cake is magnificent with a smooth and beautiful green marzipan exterior. It is as delicious as it is attractive.
Ingredients  
2

cups

 half-and-half

5 l

pic

arge egg yolks

3 

tablespoons

 cornstarch

1/2 

cup

 granulated sugar

1

pinch

 fine salt

1

teaspoon

 pure vanilla extract

4 

tablespoons

 cold unsalted butter, cut into small pieces
Instructions 
In a large saucepan, bring the half-and-half to a simmer over medium-high heat.

In a medium-sized bowl, whisk together the egg yolks, cornstarch, sugar, and salt until smooth.

Add half of the scalded milk to the bowl containing the eggs, constantly whisking to incorporate.

Return the entire mixture to the saucepan containing the remaining milk, whisking over moderate heat.

Continue whisking for about 2 to 5 minutes, until the mixture is thickened and begins to simmer.

Allow the pastry cream to simmer, whisking for an additional 2 minutes.

Remove from the heat and whisk in the vanilla and cold, unsalted butter.

Transfer to another bowl and allow it to cool completely.

Cover and refrigerate for at least 5 hours or up to three days before using.
Notes
Nutrition Information:
Total Fat 26g 34%
Saturated Fat 13g 63%
Cholesterol 111mg 37%
Sodium 222mg 10%
Total Carbohydrate 52g 19%
Dietary Fiber 1g 3%
Total Sugars 41g
Protein 6g
Vitamin C 1mg 4%
Calcium 123mg 9%
Iron 1mg 5%
Potassium 137mg 3%
Final Thought:
In Sweden, a dessert known as "princess cake" is called prinsesstrta. It is gorgeous and ideal for birthdays, get-togethers, or any other special event where you want to really show off your baking prowess. It has a handmade pastry cream filling with raspberry jam and uses a white cake mix.
Although making this cake takes some time, all the components can be created up to three days in advance. The finished cake is gorgeous, with a lovely exterior made of silky green marzipan. It is both appetizing and lovely.