Similar to American Rice Krispies Treats, sachima is a Chinese sweet snack comprised of airy strands of fried batter linked together with a firm sugar syrup. It was developed in Manchuria and is now widespread throughout China. The primary ingredients of Sachima Cake are flour, butter, and rock sugar.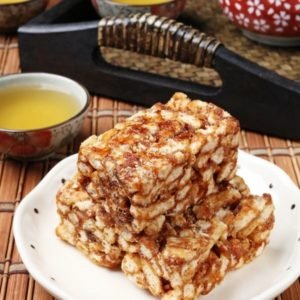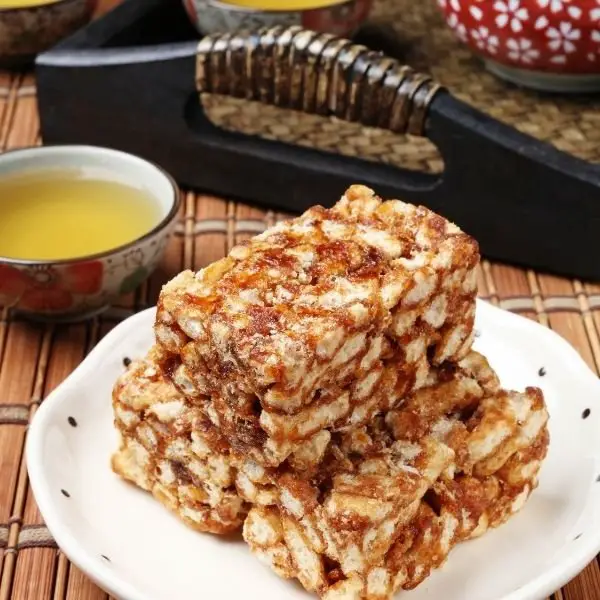 Sachima Cake Recipe
Shaqima or saqima, a typical Chinese dessert
Ingredients  
Noodle dough
200 

g

 all purpose flour (or bread flour) , 1 cup +⅓ cup

2 

Pic

large eggs + 1 egg yolk

⅛

tsp

. salt

½

tsp

 baking soda
Syrup
130

g

 white sugar

60

 g

 maltose

60

ml

 water 
Others
¼ 

cup

 cornstarch for dusting
Instructions 
Make the noodle strips
Add the egg liquid after combining the baking powder, salt, and all-purpose flour. Everything should be combined into a ball, then kneaded until smooth (you can rest for 15 minutes and then continue with the kneading). The dough might be fairly sticky when it is first made, but as it is kneaded, it develops a smooth texture. Rest the dough for at least 30 minutes with a cover on. For easier rolling, I strongly advise letting the dough rest for an hour. After the dough has rested, do not knead it again!

Roll the dough into a large wrapper after spreading some dusting flour (starch flour is preferable) on your cutting board (around 30cm long). Slice the thick strips of flour from the huge chunks by first dividing them into numerous sections.
Deep-frying
Test the oil with one strip once it is really hot. Try dropping one strip into the water to see if it immediately floats. Continue heating if the strip fell to the bottom of the pot.

To lightly brown the strips, fry them in small batches. Avoid overfrying the flour strips in order to achieve a soft texture. Transfer all of the strips to a big pot after shaking off extra oil. Typically, the frying process lasts 12 to 15 seconds.
Cook Syrup & Mixing
Place the sugar, maltose, salt, and water in a large saucepot. Heat the syrup over a medium flame until it reaches 115 degrees Celsius. Do not overcook the syrup and refrain from stirring it until the sugar has completely dissolved. I've demonstrated some methods for testing the temperature without a thermometer. Use two strips of noodles and some syrup; bring the two together; and then, carefully peel apart. The goal is to create a delicate, lengthy, and thin thread. Turn off the fire during the testing to prevent overheating. At this point, the syrup's temperature is changing quite quickly.

Batch-wise add the syrup to the flour (for better mixing). Mix thoroughly, attempting to coat each strip with syrup.
Shaping and cutting
Place them inside a lined mold. To create better shapes, slightly flatten. Before cutting and serving, let the food cool completely. Size of my mold is 22*17*4.5.

Pack the leftovers in airtight containers and store them at room temperature for up to a week. Avoid exposing it to the air since the humidity in the air might make the sugar sticky once again and further ruin the texture and flavor.
Notes
Nutrition Information:
Carbohydrates: 23g
Protein: 2g
Fat: 1g
Saturated Fat: 1g
Cholesterol: 20mg
Sodium: 68mg
Potassium: 21mg
Fiber: 1g
Sugar: 12g
Vitamin A: 30IU
Calcium: 6mg
Iron: 0.7mg
Final Thought:
A traditional Chinese egg pasty known as sakima (or saqima) is essentially formed from fried egg noodles that have been combined with syrup. As people tweak the syrup and add additional, unusual ingredients, the flavors and textures may vary according on the locale. However, we all adore its fluffy texture and potent aromatic flavor, which were acquired through the deep-frying of noodles.
We are all familiar with how delicious deep-fried sweet bread is, and this Sachima delicacy is another that is worth trying. Even though it was rather pricey, Sachima was one of my childhood's favorite holiday treats. Making sachima as holiday gifts is a wonderful idea as well.