Sfouf is a Lebanese cake made with almonds and semolina that is eaten on special occasions like birthdays and religious holidays. It is created with semolina flour and flavored with baking powder, turmeric, sugar, sesame paste, anise, and pine nuts.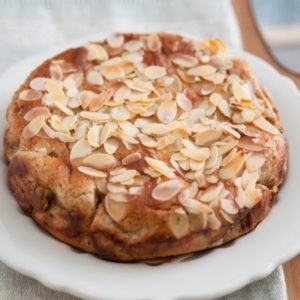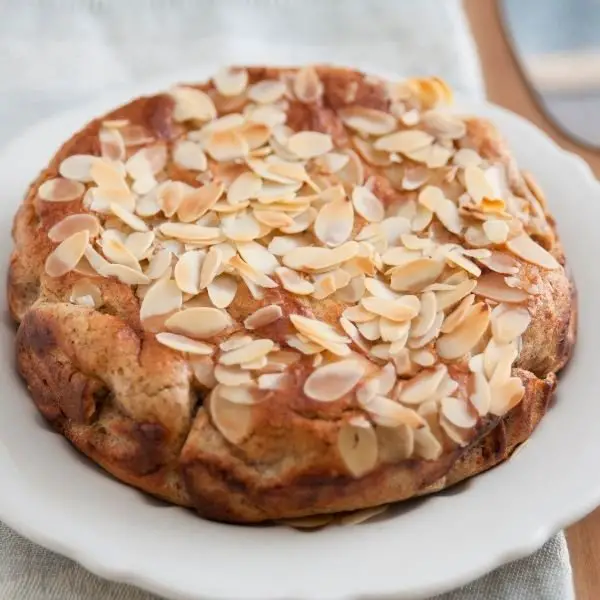 Sfouf (Turmeric Cake) Recipe
Sfouf is a Middle Eastern semolina turmeric cake, made with simple ingredients, no eggs and no butter. It's vegan-friendly, light and delightful
Ingredients  
1 ½

cup

 coarse semolina or fine, or mixture of both

½ 

cup 

all-purpose or cake flour

1 ½

teaspoons

baking powder

½ 

cup

 canola oil or other neutral oil

1

cup 

milk

1

cup

cane sugar

1-2 

tablespoons

 tahini to grease the pan can be replaced with oil

Handful of pine nuts or almonds
Instructions 
Preheat the oven to 375ºF and grease a 9×9" baking pan with the tahini sesame oil or other oil.

Mix the dry ingredients (semolina, flour, turmeric and baking powder) together in a large bowl.

Mix the wet ingredients (canola oil, milk and cane sugar) in another small bowl until the sugar is completely dissolved in the mixture.

Combine the dry and wet ingredients until batter is smooth and bright yellow. Pour the batter into the prepared pan, and sprinkle the pine nuts all over.

Bake in the preheated oven for 30-35 minutes until the pine nuts are golden.

Cool on a wire rack and cut into 16 squares or diamond shapes.
Notes
Nutrition Information:
Carbohydrates: 28g
Protein: 3g
Fat: 8g
Cholesterol: 1mg
Sodium: 7mg
Potassium: 106mg
Sugar: 13g
Vitamin A: 25IU
Vitamin C: 0.1mg
Calcium: 38mg
Iron: 1.1mg
Final Thought:
My mother and my mother-in-law taught me how to make sfouf. The process is roughly the same for both, however my mother loves to add rose water to the wet components to give it a more fragrant, fresh flavor. To make sfouf, just a few ingredients are required. The absence of eggs and butter is the best feature. And with the exception of using 1 cup of milk, it is almost vegan. To make this recipe completely vegan, you can just replace that milk with water or plant-based milk.