Funnel cakes are a beloved American dessert that have been enjoyed for generations. These sweet treats are often found at fairs, carnivals, and amusement parks, and are typically served hot and topped with powdered sugar.
What You Need To Make Funnel Cake Recipe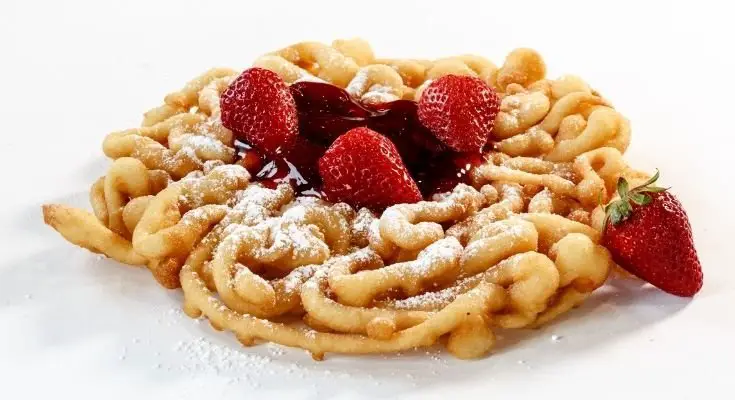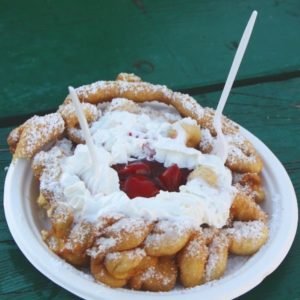 Funnel Cake Cake Recipe
Funnel Cake is a fair favorite, but it's even better made at home! You can enjoy crispy, fried funnel cakes with powdered sugar any time of the year with this easy recipe!
Ingredients  
¼

 cup 

milk

1

pic

egg

1

tablespoon

 water

½

teaspoon 

vanilla extract

1

teaspoon 

granulated sugar

¾ 

teaspoon 

baking powder

1

pinch 

salt

½

cup

all purpose flour

4

Tablespoons

 powdered sugar
Instructions 
To prepare the batter, begin by using a large container designed for measuring liquids or a mixing bowl with a spout. In this container, combine the milk, egg, water, and vanilla, using a whisk to blend the ingredients together.

Once these ingredients are well combined, add the sugar, baking powder, and salt. Continue whisking until all of the ingredients have been fully incorporated.

At this point, it's time to add the flour to the mixture. Pour in the flour and whisk again until the batter is completely smooth. Set the batter aside for now.

Using a pot or deep-sided pan with medium-high heat, heat up 1 inch of oil until it reaches 375°F. One way to tell if the oil is ready is to dip the end of a wooden spoon in it and observe if bubbles form around the spoon. If bubbles form, then the oil is ready for frying. Reduce the heat to medium to maintain the temperature.

Dust 2 tablespoons of powdered sugar onto the batter, and then serve. Repeat this step once more with the remaining batter to complete the recipe.
Notes
Nutrition Information:
Carbohydrates: 48g
Protein: 7g
Fat: 3g
Saturated Fat: 1g
Cholesterol: 83mg
Sodium: 66mg
Potassium: 260mg
Fiber: 1g
Sugar: 23g
Vitamin A: 177IU
Calcium: 114mg
Iron: 2mg
Pro Tips for Making Funnel Cake: How to Make the Best Funnel Cake Ever
Funnel cake is a classic fair food that has been enjoyed by many for generations. It's a sweet and crunchy treat that can be topped with powdered sugar, chocolate syrup, whipped cream, or even fruit. In this article, we'll share our pro tips for making the best funnel cake ever. Whether you're a seasoned baker or a beginner, these tips will help you create the perfect funnel cake every time.
Now that you know the basic recipe, let's talk about some pro tips that will take your funnel cake to the next level.
Use a deep fryer: While you can make funnel cake in a large skillet, using a deep fryer will give you more consistent results. The oil temperature will stay constant, which means that your funnel cake will cook evenly.
Keep the oil at the right temperature: The ideal temperature for frying funnel cake is 375°F. If the oil is too hot, the funnel cake will burn. If it's not hot enough, the funnel cake will absorb too much oil and become greasy.
Use a funnel with a narrow spout: A funnel with a narrow spout will give you more control over the batter, and help you create a more intricate design.
Don't overcrowd the fryer: Fry only one funnel cake at a time to ensure that it cooks evenly.
Let the batter rest: Letting the batter rest for at least 30 minutes before frying will allow the ingredients to meld together, resulting in a better texture and flavor.
Add flavors to the batter: Experiment with different flavorings, such as cinnamon, nutmeg, or cocoa powder, to add extra depth and complexity to your funnel cake.
Get creative with toppings: While powdered sugar is a classic topping for funnel cake, you can get creative with your toppings. Try adding fresh fruit, chocolate chips, or even bacon.
Conclusion
Funnel cakes are a delicious and easy-to-make dessert that are sure to be a hit with your family and friends. Whether you're making them at home or enjoying them at a fair or carnival, these sweet treats are a classic American favorite. Try our recipe and variations for a fun twist on this timeless dessert.
You May Also Like