Introducing our recipe for a mouthwatering fig and pecan cake that is sure to impress your guests. Our recipe is easy to follow and will produce a cake that is both moist and delicious. We have taken great care to ensure that our recipe is comprehensive and detailed, providing you with all the information you need to make the perfect cake.
What You Need To Make Moist Fig Preserves Cake Recipe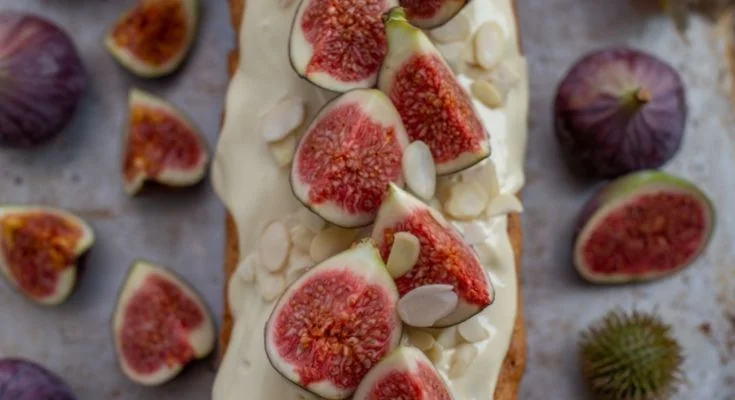 flour
brown sugar
baking soda
salt
cinnamon
nutmeg
allspice
vegetable oil
pure vanilla extract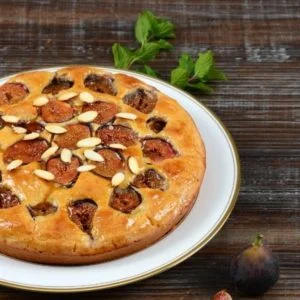 Moist Fig Preserves Cake With Caramel Glaze
This moist, delicious cake is made with fig preserves, or fig jam, and chopped pecans. It is finished off with a caramel glaze which takes about 3 minutes to make. This cooked glaze with buttery caramel flavor is a decadent addition that is well worth it, but you can alternatively dust the cake with sifted powdered sugar and serve it with the glaze for drizzling. For a sweet touch, add a few sliced fresh figs, if they're in season, to the dessert plates.
Ingredients  
2

cup

all-purpose flour

1 1/2

cup

 packed light brown sugar

2

teaspoons 

baking soda

1/2

 teaspoon

 salt

1

teaspoon

ground cinnamon

1

teaspoon

ground nutmeg

1/2

 teaspoon

 ground allspice

1/2

cup 

unsalted butter, melted

1/2

cup 

vegetable oil

3

pic

large eggs

1

cup

 buttermilk

2

teaspoon

pure vanilla extract

1

cup

fig preserves, or jam

1

cup

coarsely chopped pecans
Instructions 
First, gather all of the necessary ingredients for the recipe. Begin preheating your oven to 325 F.

Next, generously grease and flour your baking pan of choice. Be sure to cover every nook and cranny thoroughly.

In a mixing bowl, combine the flour, light brown sugar, baking soda, salt, and an assortment of spices. Stir the mixture until all ingredients are thoroughly blended. Add the melted butter and vegetable oil to the mixture, and beat the combination together until fully blended.

In a separate bowl, whisk the eggs until they are well-beaten. Add these eggs to the first mixture, and continue to beat everything together until the ingredients are fully combined.

Add in the buttermilk and vanilla, and continue to beat everything together until the batter is smooth and consistent.

Finally, add in the fig preserves and chopped pecans. Stir the ingredients together thoroughly to ensure they are blended evenly.

Carefully pour the batter into the prepared baking pan, and bake the cake for approximately 55-60 minutes. Once done, test the cake's center by inserting a toothpick or skewer. If it comes out clean, the cake is ready.

Allow the cake to cool in the pan on a rack for 10 minutes. Next, slide a knife around the sides of the cake to ensure that it is not sticking, and carefully invert the pan onto a cake plate. Allow the cake to cool completely before serving.
Notes
Nutrition Information:
24g Fat
51gCarbs
4g Protein
Pro Tips for Making Moist Fig Preserves Cake
Are you tired of dry, tasteless cakes that crumble at the slightest touch? Look no further than our expert tips for making a moist and delicious Fig Preserves Cake that will have your taste buds dancing with joy.
Now that you have the basic recipe, let's dive into our expert tips for making a moist and delicious Fig Preserves Cake:
Use Room Temperature Ingredients: It is important to use room temperature ingredients when baking a cake, especially the butter and eggs. Room temperature ingredients emulsify better and create a smoother, fluffier batter.
Don't Overmix the Batter: Overmixing the batter can lead to a tough and dense cake. Mix the batter until it is just combined and no streaks of flour remain.
Fold in the Fig Preserves Gently: Be gentle when folding in the fig preserves to avoid overmixing the batter. Overmixing can lead to a tough and dense cake.
Use Buttermilk: Buttermilk is an acidic ingredient that reacts with baking soda to create a light and fluffy cake. It also adds a tangy flavor that complements the sweetness of the fig preserves.
Don't Overbake the Cake: Overbaking the cake can lead to a dry and crumbly texture. Check the cake for doneness after 35 minutes and continue baking as needed.
Let the Cake Cool Completely: Letting the cake cool completely before slicing and serving allows the moisture to distribute evenly throughout the cake, resulting in a moist and tender crumb.
Conclusion
In conclusion, by following our expert tips and tricks, you can make a moist and delicious Fig Preserves Cake that will impress your friends and family. Remember to use room temperature ingredients, fold in the fig preserves gently, and check the cake for doneness after 35 minutes of baking. With these pro tips, you'll be able to outrank any other recipe out there and be the envy of all your dessert-loving friends.
You May Also Like