If you have ever tasted these delightful scones with a fruity twist, you know how addictive they can be. But what if you could make them at home, anytime you want, without having to travel to the UK? In this article, we will show you how to make the best Fat Rascals from scratch, using a tested recipe and some expert tips. Get ready to impress your family and friends with your baking skills and enjoy a taste of Yorkshire wherever you are.
What You Need To Make Fat Rascal Cake Recipe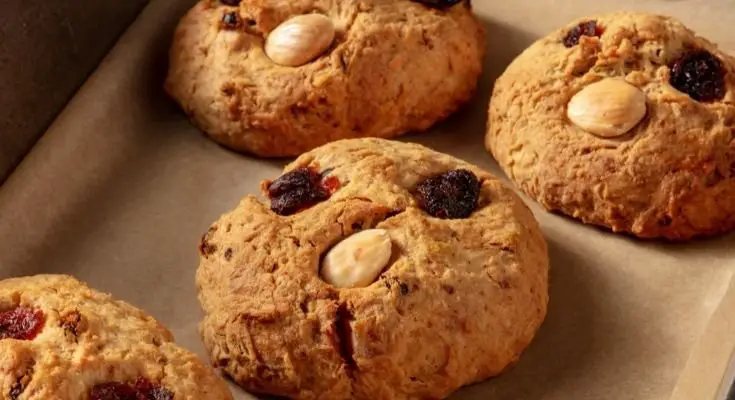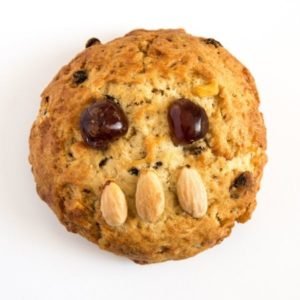 Fat Rascal Cake Recipe
My take on the famous Betty's Fat Rascals; Fat Rascals are a cross between a bun and a scone, more like a rock cake, and are delicious when enjoyed with an afternoon cuppa. The origin of the name is unknown, but they are thought to have been made since the mid-19th Century under the name of Fat Rascals, although the original recipe is thought to be Elizabethan.
Ingredients  
150

g

plain flour, sieved

150

g

self-raising flour, sieved

1

teaspoon

baking powder

125

g

cold butter, cubed

100

g

caster sugar

1

pic

orange

1

pic

lemon

1

 teaspoon

ground cinnamon

1/2

teaspoon

freshly grated nutmeg

150

g

dried mixed fruit (currants, raisins and sultanas in equal quantities)

1

pic

large free-range egg, lightly beaten

4 to 5

tablespoons

milk
Instructions 
Begin by preheating your oven to 200C/400F/Gas Mark 6.

In a large bowl, combine both flours and baking powder and sift them together. Next, add the butter and mix it into the flour until the mixture resembles fine breadcrumbs.

After that, add the sugar, citrus zest, spices, and dried fruit to the bowl and mix everything together thoroughly. Then, add the beaten egg and enough milk to bring the mixture together and form a soft dough. Once the dough is ready, form it into six saucer-sized rounds, making them about 1" or 2.5cm deep.

Make a glaze by mixing the egg yolk and water together and brush it over the fat rascals. Then, decorate the tops with cherries and almonds (see photos). Transfer the saucers to a non-stick baking tray and bake for 15-20 minutes until golden brown.

Once they're finished baking, remove the fat rascals from the oven and let them cool on a wire rack.

While fat rascals are best served warm from the oven, they can also be frozen and reheated in a low oven. Serve them alone or with a generous amount of butter.
Notes
Nutrition Information:
Total Fat 15g
Saturated Fat 9g
Trans Fat 1g
Unsaturated Fat 5g
Cholesterol 78mg
Sodium 403mg
Carbohydrates 52g
Fiber 2g
Sugar 20g
Protein 6g
Pro Tips for Making Fat Rascal Cake
Are you a fan of the traditional English treat, Fat Rascal Cake? This delightful pastry has been around for centuries and has become a staple in many households across the UK. If you're looking to make your own Fat Rascal Cake at home, you've come to the right place! We've put together some pro tips to help you make the perfect Fat Rascal Cake that is sure to impress your friends and family.
Use the Right Ingredients
The first step in making the perfect Fat Rascal Cake is to use the right ingredients. You'll need flour, baking powder, butter, sugar, milk, currants, candied peel, and an egg. It's important to use high-quality ingredients to ensure the best possible taste and texture of your Fat Rascal Cake. If you're unsure about the ingredients you need, visit a reputable bakery or check out online recipes to get started.
Mix the Dough Thoroughly
Once you have your ingredients, it's time to start mixing the dough. Mix your dry ingredients, including the flour and baking powder, in a large mixing bowl. In a separate bowl, cream together the butter and sugar until the mixture is light and fluffy. Then, gradually mix in the dry ingredients, milk, and egg, until you have a smooth and uniform dough.
Add the Fruit and Peel
Next, it's time to add the currants and candied peel to the dough. These ingredients will give your Fat Rascal Cake its signature taste and texture. Mix the fruit and peel into the dough until they are evenly distributed. Be careful not to overmix the dough, as this can cause the fruit and peel to become too finely chopped.
Shape the Dough
Once you've mixed in the fruit and peel, it's time to shape the dough into Fat Rascal Cake shapes. Traditionally, these cakes are shaped like large scones and decorated with almonds and a cherry. Use your hands to shape the dough into large, round balls and place them on a baking sheet. Then, press an almond into the top of each cake and add a cherry in the center.
Bake to Perfection
Finally, it's time to bake your Fat Rascal Cakes. Preheat your oven to 375°F and bake your cakes for 20-25 minutes, or until they are golden brown and cooked through. Remove the cakes from the oven and let them cool on a wire rack before serving.
Conclusion
Making the perfect Fat Rascal Cake is easy when you follow these pro tips. Use high-quality ingredients, mix the dough thoroughly, add the fruit and peel evenly, shape the dough carefully, and bake to perfection. With these tips, you'll be able to make Fat Rascal Cakes that are sure to impress your friends and family. So, what are you waiting for? Get started on your own Fat Rascal Cake today!
You May Also Like