In today's world, baking has become a popular pastime for many. However, not everyone is adept at making the perfect sponge cake. That's why we're excited to share our recipe for a classic genoise sponge cake that is sure to impress your guests.
What You Need To Make Paul's Genoise Sponge Recipe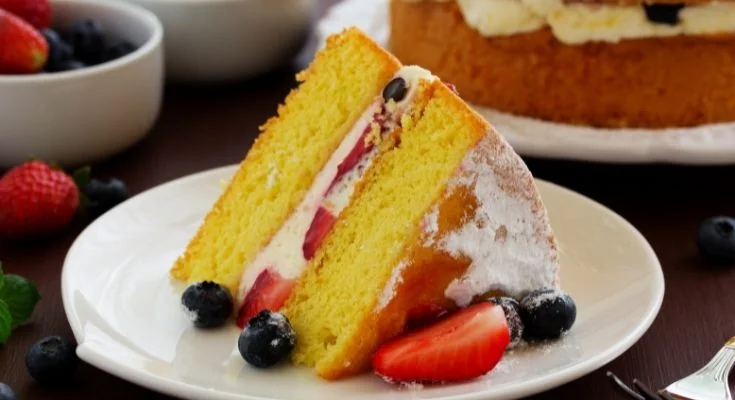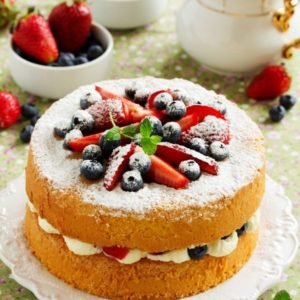 Paul's Genoise Sponge Cake Recipe
Make the most of British summer berries by piling them onto a stunning layered sponge
Ingredients  
50

g

butter , melted, plus extra for greasing

250

g

plain flour , plus extra for dusting

250

g

caster sugar plus 1 tbsp

8

pic

medium eggs

600

ml

pot double cream

400

g

punnet strawberries , halved

180

g

punnet blueberries

150

g

punnet raspberries
Instructions 
Preheat your oven to 190C/170C fan/gas 5. Begin by brushing melted butter onto two 20cm cake tins, lining their bases with baking paper, and then dusting them thoroughly with flour, making sure to tip out any excess flour. Afterward, set the tins aside.

Take a large heatproof bowl and place the sugar and eggs inside. Next, set the bowl over a pan of barely simmering water. Use an electric hand whisk to beat the mixture for approximately 7 minutes, or until it has tripled in volume and become pale. Afterward, remove the bowl from the heat source and slowly pour in the butter, folding it in as you pour until it is completely mixed in.

Gently fold the flour and a pinch of salt into the egg mixture, and then pour the resulting batter into your prepared cake tins. Bake the cakes for 25 minutes or until they have turned golden and risen, and a skewer inserted into the cake comes out clean. Allow the cakes to cool for a few minutes in the tin, then remove them and let them cool completely on a wire rack.

Meanwhile, whip the cream until it forms soft peaks, and then set it aside. Take about a quarter of the strawberries and mix them with 1 tbsp sugar in a blender until the mixture is smooth. Next, fold this purée through the cream to create a ripple effect.

To assemble the cakes, slice each cake in half horizontally. Place one of the sponges on a serving plate, spread a quarter of the cream mixture on top, and then dot a quarter of the blueberries and raspberries around the edge. Repeat this step two more times, putting the last layer of cake on top (save a top half of cake for the final layer), spread the remaining cream on top, then arrange the blueberries and raspberries around the edge and pile the strawberries in the center. Finally, dust the top with icing sugar just before serving.
Notes
Nutrition Information:
fat 42g
saturates 22g
carbs 55g
sugars 35g
fibre 2g
protein 9g
low in salt 0.26g
Pro Tips for Making Paul's Genoise Sponge
Are you looking to make the perfect Genoise sponge? Look no further than Paul's Genoise sponge recipe! This classic French cake is light and airy, with a delicate crumb and a hint of sweetness. It's perfect for a special occasion or just a treat for yourself.
Use Room Temperature Eggs
One of the most important tips for making Genoise sponge is to use room temperature eggs. This is because room temperature eggs are easier to whip up to their full volume, which is crucial for creating a light and airy sponge. If you use cold eggs, they won't whip up as well, and your sponge will be more dense.
Whip the Eggs and Sugar Until Thick and Pale
To make a Genoise sponge, you need to whip the eggs and sugar until they're thick and pale. This is what creates the sponge's signature light and airy texture. Make sure to whip the eggs and sugar for at least 5-7 minutes, or until the mixture has tripled in volume and leaves a thick ribbon trail when you lift the beaters.
Fold in the Flour and Butter Gently
When it comes to folding in the flour and butter, it's important to do so gently. This will ensure that the air you've whipped into the eggs and sugar doesn't deflate, which can result in a dense and heavy sponge. Use a spatula to fold in the flour and butter in three additions, making sure to scrape the sides and bottom of the bowl to incorporate everything evenly.
Use a Springform Pan
For the best results, it's recommended to use a springform pan when making Genoise sponge. This is because it allows the cake to cool more quickly, which helps to preserve its delicate texture. Make sure to line the bottom of the pan with parchment paper to prevent sticking.
Don't Overbake
Overbaking your Genoise sponge can result in a dry and tough cake. It's important to keep a close eye on your cake and remove it from the oven as soon as it's golden brown and springs back when lightly touched. Depending on your oven, this can take anywhere from 20-25 minutes.
Let it Cool Completely Before Decorating
Once your Genoise sponge is out of the oven, it's important to let it cool completely before decorating. This will help to prevent any melting or sliding of your frosting or decorations. You can also wrap the cooled cake in plastic wrap and store it in the fridge for up to two days before decorating.
Experiment with Flavors
While Paul's Genoise sponge recipe is delicious on its own, it's also a great base for experimenting with different flavors. Try adding lemon zest, vanilla extract, or cocoa powder to the batter for a fun twist. You can also fill and decorate your cake with whipped cream, fruit, or chocolate ganache for a decadent finish.
Conclusion
We hope that our genoise sponge recipe has inspired you to get baking. With its light and airy texture, it's the perfect cake for any occasion. Remember to follow our recipe carefully and not to overmix the batter, and you'll have a perfect genoise sponge every time.
You May Also Like