Eccles cakes are a classic British treat that have been enjoyed for centuries. These sweet, flaky pastries are filled with a mixture of currants, sugar, and spices, making them a perfect dessert or snack. In this article, we will share our easy and delicious Eccles cake recipe that you can make at home with just a few simple ingredients.
What You Need To Make Eccles Cake With Ready Made Pastry Recipe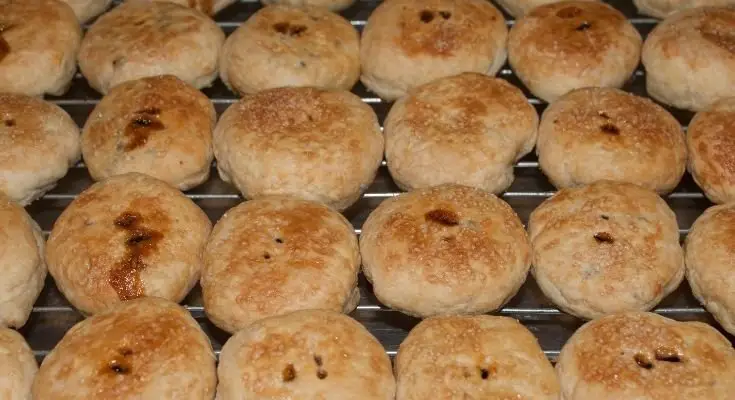 sugar
butter
currants
candied fruit peel
nutmeg
puff pastry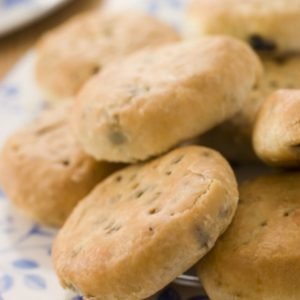 Eccles Cake Recipe With Ready Made Pastry
Technically not a cake, Eccles cakes are closer to a pastry but have been known as such for hundreds of years. A traditional pastry from the British town of Eccles, in Greater Manchester, Eccles cakes are round and flat in shape, filled with dried currants and spices and baked to a golden brown color.
Made with puff pastry, Eccles cakes are a delightful treat when eaten with Lancashire cheese, another product of the area. Flaky, sweet, buttery, and with the perfect amount of sweet, our recipe will bring to your table the Eccles cakes in a short amount of time. By using store-bought puff pastry, you don't have to think about folding and chilling the coveted, difficult-to-achieve dough.
Banned for a while by Cromwell's puritans, much like mince pie and other succulent treats, the cakes really never went away and luckily the traditional recipe has been unaltered by centuries to the relief of Eccles cakes enthusiasts. Purists frown at anything but a currant filling, as the fruit has the right amount of tartness and keeps its texture even after baked in the pastry. Whoever has attempted an alternate version with raisins knows that these turn mushy and are too sweet, giving the pastry an over-the-top sugary finish that is not intended. Find good currants and give these pastries a try. You might find your new favorite afternoon treat. The cakes keep well for 2 to 3 days in an airtight container.
Ingredients  
140

grams

sugar, divided

40

grams

butter, divided

225

grams

currants

25

grams

candied fruit peel

1

pic

nutmeg, freshly ground

50

grams

puff pastry, 2 ready to bake sheets
Instructions 
Begin by preheating your oven to a temperature of 425 F. To make the filling for your Eccles cakes, take a medium-sized saucepan and combine 110 grams of sugar with 25 grams of butter. Cook this mixture over medium heat until the butter has melted completely.

Once melted, remove the saucepan from the heat and add in the currants, candied fruit peel, and nutmeg. Set the mixture aside to cool. Meanwhile, on a surface that has been lightly dusted with flour, roll out your pastry to a thickness of 1/4 inch.

Using a wide glass or a large cookie cutter, cut the pastry into 10 rounds that measure 4 inches each. Lightly grease a baking sheet with the remaining butter and place the rounds on the sheet. Add a small spoonful of the filling to the center of each round.

To seal the cakes, dampen the edges of the pastry with cold water and bring the edges together over the fruit. Pinch the edges to create a seal. Turn the cakes over and use a rolling pin to gently flatten them if necessary.

Use cooking scissors to snip a V shape on top of each cake, or if you prefer a more traditional look, cut three slits instead. This will help steam escape during the baking process. Brush the cakes with cold water and sprinkle the remaining sugar over them.

Place the baking sheet in the center of your preheated oven and bake for 15 minutes. Keep an eye on the cakes and remove them from the oven when the edges are lightly golden brown.

Finally, place the Eccles cakes on a wire cooling rack to cool down. Enjoy your homemade treats!
Notes
Nutrition Facts (per serving)
435: Calories
23g: Fat
56g: Carbs
5g: Protein
Pro Tips for Making Eccles Cake With Ready Made Pastry
Eccles cake is a classic British pastry that is both delicious and easy to make. With a flaky, buttery crust and a sweet, spicy filling, Eccles cake is the perfect snack for any occasion. However, making Eccles cake with ready-made pastry can be a bit tricky. In this article, we'll provide you with pro tips for making Eccles cake with ready-made pastry that will help you achieve perfect results every time.
Choose the Right Pastry
When it comes to making Eccles cake with ready-made pastry, the first and most crucial step is choosing the right pastry. You need a pastry that is firm enough to hold the filling but also flaky enough to provide the signature texture of an Eccles cake. We recommend using a butter-based pastry, such as puff pastry or shortcrust pastry, for the best results.
Roll Out the Pastry Thinly
Once you have your pastry, the next step is to roll it out thinly. A thin layer of pastry ensures that the filling is the star of the show and that the pastry doesn't overwhelm the flavors. Plus, a thin layer of pastry helps to achieve a crispy, flaky crust that's characteristic of an Eccles cake.
Mix the Filling Well
The filling of an Eccles cake is what gives it its distinctive taste. A good filling should be sweet, spicy, and full of flavor. When making your filling, be sure to mix it well so that all the ingredients are evenly distributed. This ensures that every bite of your Eccles cake is bursting with flavor.
Use a Cookie Cutter
When cutting out the circles of pastry for your Eccles cakes, use a cookie cutter instead of a knife. A cookie cutter ensures that each circle is the same size, which helps with even cooking. It also ensures that you don't accidentally press down too hard and seal the edges of the pastry, which can prevent the cake from puffing up.
Seal the Edges Well
Once you've filled your pastry circles, it's important to seal the edges well. Use your fingers or a fork to press down the edges of the pastry firmly. This prevents the filling from leaking out and also helps to achieve a nice, neat edge on your Eccles cake.
Conclusion
Now you know how to make delicious and easy Eccles cakes! This recipe is simple and uses only a few basic ingredients, making it the perfect treat to make at home. With our step-by-step instructions, you can enjoy the taste of traditional British baking right in your own kitchen. So go ahead and give this recipe a try – your taste buds will thank you!
You May Also Like