we'll share our favorite carrot cake recipe that's guaranteed to satisfy your sweet tooth. Our recipe is tried and tested, and we believe it's the best carrot cake recipe out there. Not only is it delicious, but it's also easy to make, so even if you're a beginner baker, you can make this cake with ease.
What You Need To Make Carrot Cake Recipe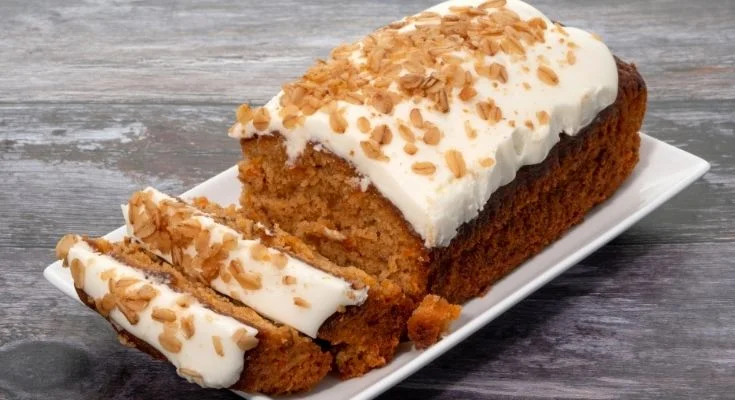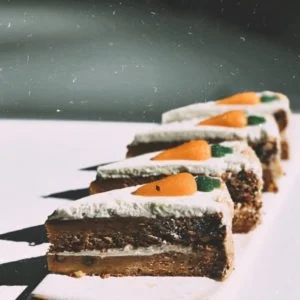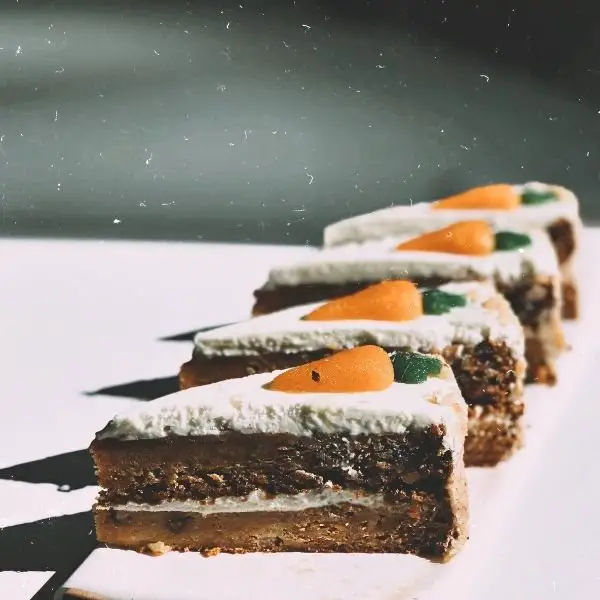 Carrot Cake Recipe
This is the best carrot cake recipe I've ever used. For the carrots, we prefer to hand grate for the finest carrot pieces that melt into the cake batter, but you can also use a food processor. It makes quick work of grating carrots, but the pieces will be slightly larger. Some grocery stores sell bags of grated carrots, as well.
This recipe is forgiving. You can make this with or without the nuts and raisins. We like using both granulated and brown sugar in this, but using one or the other is an option
**The creamy frosting recipe shared below is a soft frosting and is not ideal for frosting the entire cake. It is more the consistency of stabilized whipped cream, rather than traditional cream cheese frosting. For a more traditional cream cheese frosting, see the notes section.
Ingredients  
FOR CARROT CAKE
2

cup(250 grams)

all-purpose flour

2

teaspoons

baking soda

1/2

teaspoon

fine sea salt

1 ½

teaspoons

ground cinnamon

1 ¼

cups (295 ml)

canola or other vegetable oil

1

cup (200 grams)

granulated sugar

1

1 cup (200 grams)

lightly packed brown sugar

1

teaspoon

vanilla extract

4

pic

large eggs

3

cups (300 grams)

grated peeled carrots (5 to 6 medium carrots)

1

cup (100 grams

cup (100 grams) coarsely chopped pecans

1/2

cup (65 grams)

raisins
FOR CREAMY FROSTING
8

ounces (225 grams)

cream cheese, at room temperature

1 ¼

cups (140 grams)

powdered sugar

1/3

cup (80 ml)

heavy whipping cream

1/2

cup (50 grams)

coarsely chopped pecans, for topping cake
Instructions 
MAKE BATTER
Begin by positioning a baking rack at the center of your oven. Next, grease two 9-inch circular cake pans. Line the bottom of each pan with parchment paper, and then proceed to grease the top as well. Alternatively, you could opt to grease and flour the sides and bottom of both pans.

Preheat your oven to 350 degrees Fahrenheit (176C).

Take a medium-sized bowl and whisk together flour, baking soda, salt, and cinnamon until the mixture is very well blended.

In a separate bowl, combine oil, granulated sugar, brown sugar, and vanilla. Whisk these ingredients together thoroughly.

In a separate bowl, combine oil, granulated sugar, brown sugar, and vanilla. Whisk these ingredients together thoroughly.

Add the eggs to this mixture one at a time, making sure to whisk the ingredients together after each addition.

Switch to using a large rubber spatula. Scrape the sides and bottom of the bowl, and then add the dry ingredients in three parts, gently stirring the mixture until the batter is smooth and the dry ingredients have disappeared.

Finally, stir in the carrots, nuts, and raisins to add extra texture and flavor to your cake.

BAKE CAKE

Distribute the cake mixture evenly between the cake pans that have been properly prepared for baking.

Allow the cakes to bake in the oven until the tops of each cake layer become bouncy to the touch and when inserting a toothpick into the center of the cake it emerges clean, which usually takes between 35 to 45 minutes.

Once the cakes are finished baking, let them cool down in the pans for about 15 minutes before gently turning them over onto cooling racks. Take off the parchment paper and leave them to cool completely. In case any of the cake layers stick to the bottom of the pan, try inverting the cake pan and let gravity work its magic.

TO FINISH

Using a hand mixer set to medium speed, whisk the cream cheese in a large mixing bowl until smooth and creamy, which usually takes about 1 minute.

Gradually incorporate the powdered sugar, adding a quarter cup at a time, while continuing to beat the mixture until it becomes light and fluffy.

Next, pour the whipping cream into the bowl and whisk the mixture for 2 to 3 minutes on medium speed until it is well blended and has a whipped, creamy texture similar to whipped cream. Cover the frosting and chill until it is needed to frost the cake.

Once the cake layers have cooled completely, spread a layer of frosting on top of one layer of cake, then add the second cake layer on top.

Using a butter knife or small spatula, swirl the remaining frosting onto the top of the carrot cake, leaving the sides unfrosted. Finish by sprinkling a handful of nuts on top.
Notes
Nutrition Information:
Calories 535
Total Fat 33.4g
Saturated Fat 6.9g
Cholesterol 69.3mg
Sodium 315.9mg
Carbohydrate 56.4g
Dietary Fiber 2.4g
Total Sugars 40.5g
Protein 5.6g
Pro Tips for Making Carrot Cake
Carrot cake is a classic dessert that has been enjoyed for generations. It's a moist and flavorful cake that is perfect for any occasion. Whether you're a novice or an experienced baker, there are always ways to improve your carrot cake game. In this article, we will share some pro tips for making the best carrot cake that will outrank any other recipe in Google.
Start with Fresh Ingredients
Grate the Carrots Correctly
Measure Ingredients Accurately
Use the Right Pan
Add Some Spice
Don't Overmix the Batter
Let the Cake Cool Completely
Frost with Cream Cheese Frosting
Conclusion
In conclusion, we hope you enjoy our carrot cake recipe as much as we do. It's a classic dessert that's perfect for any occasion. With its moist and flavorful cake layers and creamy cream cheese frosting, it's sure to impress your family and friends. So, give it a try and let us know what you think!
You May Also Like