Buccellato is a traditional Tuscan cake that has been enjoyed for generations. It is believed to have originated in Lucca, a city in Tuscany, Italy. The cake was originally made by farmers as a way to use up their leftover ingredients, including dried fruit, nuts, and flour. Over time, the recipe has been refined, and Buccellato has become a beloved dessert in Tuscany.
What You Need To Make Buccellato Cake Recipe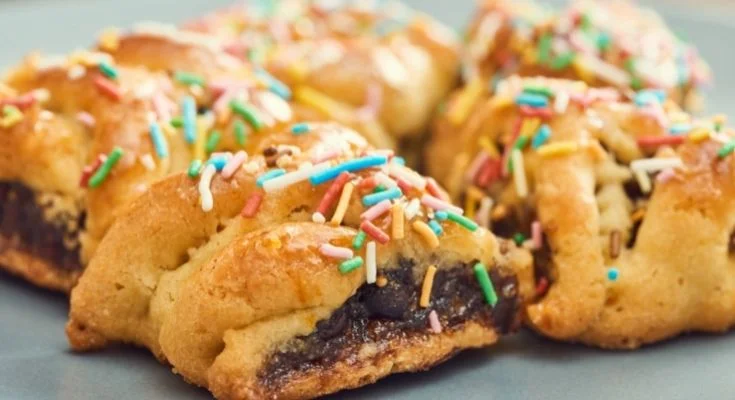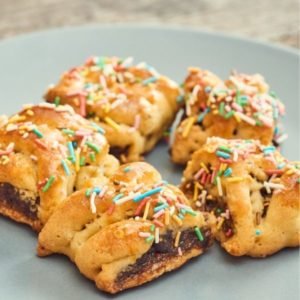 Buccellato Cake Recipe
According to an old saying in Italy, if you go to Lucca and don't try buccellato, you haven't been to Lucca at all. In Tuscany, there are very special stories surrounding the sweet filled yeast cake.
Ingredients  
Pre-dough
1

 packet

 dry yeast, or 25 g fresh yeast

260

 g

 flour

260

ml

 milk
Dough
100

g

raisins

2

tbsp

rum

340

g

 flour

80

g

 icing sugar

80

g

butter, at room temperature

6

pic

yolks, at room temperature

1

tsp

vanilla extract

2

pic

 lemons

1

pinch

salt
Filling
120

g

sugar

140

g

 butter

300

g

walnuts, ground

3-4

tbsp

milk

1

tbsp

honey
Icing
1

pic

egg white

icing sugar
Instructions 
On the following day, remove the pre-ferment from the refrigerator and preheat your oven to a temperature of 180°C. Proceed to soak the raisins in rum.

Using a food processor, blend together the butter, egg yolk, vanilla extract, lemon zest, and dry ingredients (flour, sugar, salt). Then, divide the pre-ferment into small portions and gradually add them to the mixture. Stir until a consistent dough is formed and it no longer sticks to the sides of the bowl. Lastly, incorporate the soaked raisins. Take the dough out onto a work surface, knead it by hand for several minutes, mold it into a ball, and allow it to rest.

While the dough is resting, use a food processor to beat the sugar, honey, butter, and ground walnuts until they are creamy. If the mixture appears too dry, you may add some milk to it.

Divide the dough into three equal parts. Proceed to roll out each part thinly on baking paper dusted with flour. Spread a third of the filling on each rolled-out piece of dough, then roll it up in the form of a roulade. Using a sharp knife, make vertical cuts at even intervals in the rolled-up dough until you reach the middle.

Grease a cake tin with butter and dust it with flour. Carefully braid the three filled, cut rolls, and place them in the tin. Cover them and let them rise for one hour at room temperature. Brush the top with egg white and bake it in the preheated oven at 180°C for 45 minutes, or until it turns golden brown. After baking, let it cool and sprinkle it with icing sugar before serving.
Notes
Nutrition Information:
Calories: 7575 kcal
Carbohydrates: 837 g
Protein: 147 g
Fat: 420 g
Saturated Fat: 149 g
Cholesterol: 1675 mg
Sodium: 1901 mg
Potassium: 3724 mg
Fiber: 51 g
Sugar: 247 g
Vitamin A: 7609 IU
Vitamin C: 124 mg
Calcium: 1005 mg
Iron: 43 mg
Pro Tips for Making Buccellato Cake
First, it's important to use high-quality ingredients. The better the ingredients, the better the final result. Choose plump and juicy raisins, brightly colored candied fruits, and fresh spices for the best flavor. Additionally, make sure your butter, eggs, and other ingredients are at room temperature before you begin baking.
When mixing the ingredients, it's important to not overmix the dough. Overmixing can lead to a tough, dense cake, so mix just until the ingredients are combined. To ensure your cake is moist and tender, you can add a small amount of sour cream or yogurt to the dough.
Another important step is to allow the cake to cool completely before slicing. This will help the cake retain its shape and prevent it from falling apart. To add even more flavor to your Buccellato cake, you can brush it with a simple syrup made from sugar and water after it comes out of the oven.
Finally, presentation is key. Dust your cake with powdered sugar or top it with a glaze made from powdered sugar and lemon juice for a beautiful and delicious finishing touch. You can also garnish with extra candied fruits or a sprinkle of cinnamon for an extra pop of flavor.
By following these pro tips, you can create a delicious and unique Buccellato cake that will be sure to impress your guests. Don't be afraid to experiment with different ingredients and flavors to make the recipe your own!
Conclusion
Buccellato is a delicious Tuscan cake that has been enjoyed for generations. It is made with simple ingredients and can be customized to suit individual tastes. We hope that our comprehensive guide has not only satisfied your curiosity but also helped you outrank other websites. Happy baking!
You May Also Like