If you're a fan of rich, buttery cakes, then you're in for a treat with German Butter Cake, also known as Butterkuchen. This traditional German dessert is easy to make and is perfect for any occasion.
What You Need To Make Butterkuchen Cake Recipe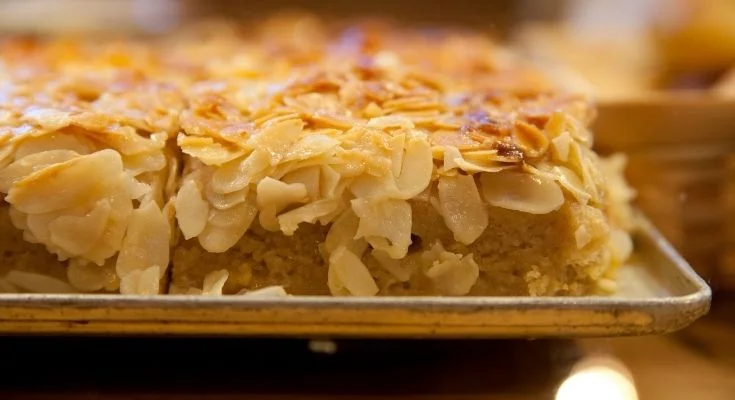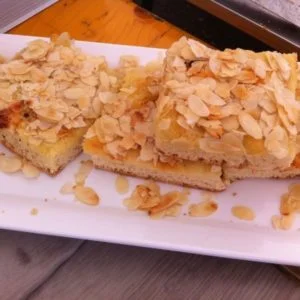 Butterkuchen Cake Recipe
German butter cake or butterkuchen is a yeasted sheet cake that is a great alternative to doughnuts or muffins for your morning coffee.
Germans are just as likely to serve butterkuchen in the afternoon when they are having kaffee und kuchen (coffee and cake).
FEATURED VIDEO
Quick and Easy Vegan Banana Muffins Recipe
Simple to make, this cake yields around 20 pieces which easily can be frozen. This makes a great carry-in for a potluck or for a sweets table.
Ingredients  
For the Sponge:
4 1/2 

cups

 all-purpose flour

1 1/2

 ounces 

fresh yeast, or 1 package (2 1/4 teaspoons) dry yeast

1

cup

lukewarm milk, 110 F

1

pinch

1 pinch sugar
For the Yeast Cake:
1/2

teaspoon

 salt

1

pic

large egg, room temperature

8

ounces

 (1 cup) room-temperature unsalted butter, divided

1 1/4 

cups

sugar, divided

2

teaspoons

ground cinnamon
Instructions 
Begin by placing four cups of flour in a sizable mixing bowl or stand mixer. Use the back of a spoon to create a hollow in the center of the flour.

Next, crumble fresh yeast or sprinkle dry yeast into the hollow you created in the flour. Pour in lukewarm milk until the hollow is filled, then add a pinch of sugar and mix lightly to combine some of the flour.

Allow the sponge to sit in a warm location for 15 minutes. Once the yeast is activated and has begun to show robust growth, add in the salt, egg, 7 tablespoons of softened butter, and 3/4 cup of sugar to the yeast mixture.

Mix the dough until it becomes smooth and forms a ball. Add up to 1/2 cup of extra flour if required. After forming the dough into a ball, place it in a greased bowl and turn it once before covering it. Let it rise for 15 to 30 minutes.

On a lightly floured board, roll the dough out to a 1/2 inch thickness and transfer it to a 15x10 inch jelly roll pan. Let the dough rest for another 15 minutes while preheating the oven to 375 F.

Using your fingers or the back of a wooden spoon, dimple the top of the dough all over. Mix together the remaining 1/2 cup of sugar and 2 teaspoons of cinnamon and sprinkle it evenly over the dough. Cut the remaining 9 tablespoons of butter into small pieces and spread them evenly over the dough.

Bake the cake for 25 minutes, or until it is done and the sugar/cinnamon mixture has melted together and caramelized slightly. If desired, turn on the broiler for the final 3 minutes of baking, being careful not to burn the topping.

Alternatively, mix 1/4 cup of sugar with enough water (1/4 to 1/2 cup) to dissolve the sugar and brush this sugar water on the hot cake right after you take it out of the oven.

This cake freezes well and can be crisped up in a 350 F oven for a few minutes after defrosting.
Notes
Nutrition Information:
4967 Calories
200g Fat
714g Carbs
92g Protein
Pro Tips for Making Butterkuchen Cake
Now that you know the basics of making a butterkuchen cake, here are some pro tips that will take your cake to the next level
Use high-quality ingredients: The quality of your ingredients will greatly impact the final taste of your cake. Use the best butter, flour, and almonds you can find for the best results.
Let the dough rise properly: Allowing the dough to rise properly will make your cake lighter and fluffier. Take the time to let the dough rise before baking.
Use a pizza stone: For an even bake, use a pizza stone to transfer heat evenly to the bottom of your butterkuchen cake.
Add a twist: While the classic butterkuchen cake is delicious on its own, you can add your own twist by incorporating different flavors. Try adding cinnamon, raisins, or dried fruit to the dough for a unique twist.
Decorate: To make your butterkuchen cake even more visually appealing, try decorating it with powdered sugar or fresh fruit.
Conclusion
German Butter Cake is a delightful dessert that is perfect for any occasion. With its rich buttery flavor and fluffy texture, it's no wonder that this cake is a beloved traditional German dessert. Whether you're serving it for a special occasion or as a sweet treat for your family, German Butter Cake is sure to be a hit. Try making it yourself and experience the deliciousness for yourself!
You May Also Like