If you're looking for a dessert that's both beautiful and delicious, you can't go wrong with red velvet cupcakes. These cupcakes have a striking red color and a rich, chocolaty flavor that's sure to impress your guests. And the best part is, they're surprisingly easy to make at home. In this article, we'll give you our favorite recipe for red velvet cupcakes and some tips for making them perfectly every time.
What You Need To Make Red Velvet Cupcakes Recipe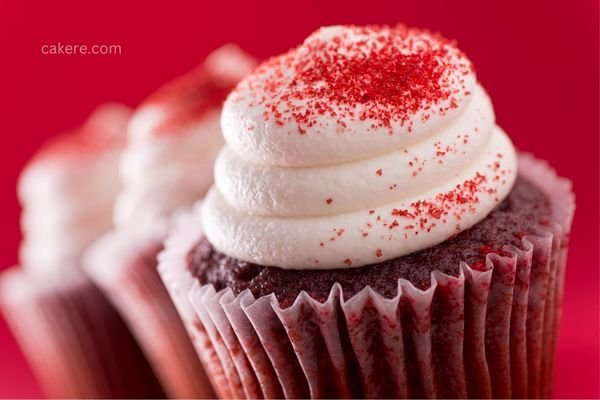 flour
cocoa powder
baking soda
salt
butter
sour cream
bottle McCormick® Red Food Color
Vanilla Extract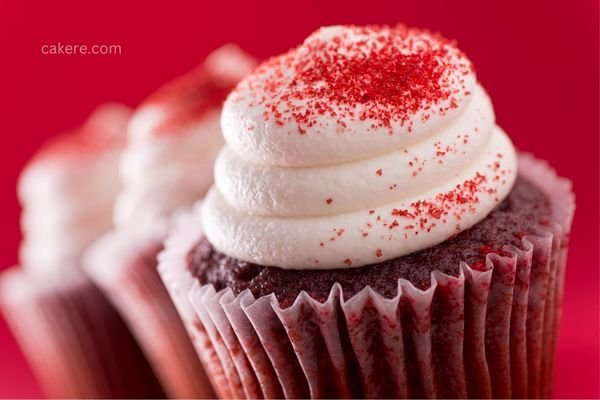 How To Make Red Velvet Cupcakes
Ingredients  
2

cups

sugar

½

teaspoon

salt

1

teaspoon

baking soda

½

cup

unsweetened cocoa powder

2 ½

cups

cups flour

1

cup butter,

softened

4

large

eggs

1

cup

sour cream

½

cup

milk

1

(1 ounce)

bottle McCormick® Red Food Color

2

teaspoons

McCormick® Pure Vanilla Extract
Instructions 
preheat the oven to a temperature of 350 degrees Fahrenheit (175 degrees Celsius) and proceed to line 30 muffin cups with paper liners.

To create the cake, begin by mixing flour, baking soda, cocoa powder, and salt in a medium-sized bowl, and then set the mixture aside.

In a large bowl, using an electric mixer on medium speed, beat the butter and sugar until light and fluffy for approximately 5 minutes. Add eggs one at a time, and mix in sour cream, milk, vanilla, and food color. Gradually beat in the flour mixture on low speed until it is just combined, ensuring not to overbeat. Spoon the batter into the muffin cups that have been prepared, filling each cup up to 2/3 of its capacity.

Afterwards, bake the cupcakes in the oven that has been preheated for about 20 minutes, or until a toothpick inserted into a cupcake comes out clean. Once done, allow them to cool on a wire rack for five minutes while still in the pans. Remove the cupcakes from the pans and let them cool completely.

Whilst waiting for the cupcakes to cool, create the frosting. Begin by beating cream cheese, sour cream, butter, and vanilla extract in a large bowl until light and fluffy. Gradually beat in confectioners' sugar until the frosting becomes smooth.

Once the cupcakes have cooled, spread or pipe the frosting onto them to complete the delicious treats.
Pro Tips for Making Red Velvet Cupcakes
If you're a fan of red velvet cupcakes, you know how delicious they can be. However, making them can be tricky. In this article, we will give you pro tips for making red velvet cupcakes that are sure to impress.
1.Start with Quality Ingredients
To make the best red velvet cupcakes, you need to start with quality ingredients. This means using fresh, high-quality flour, cocoa powder, and sugar. Use fresh eggs, buttermilk, and real butter for added richness.
2.Use the Right Amount of Food Coloring
Red velvet cupcakes are known for their deep red color. To achieve this, you need to use the right amount of food coloring. Too little and your cupcakes will be brown, too much and they will be a bright red. Start with a small amount of food coloring and add more until you achieve the desired color.
3.Don't Overmix the Batter
Overmixing the batter can lead to tough, dense cupcakes. Mix the ingredients until just combined, and avoid overmixing. This will ensure a light, fluffy texture.
4.Use Room Temperature Ingredients
To ensure even mixing and proper incorporation of ingredients, make sure all ingredients are at room temperature before mixing. This will also help prevent lumps in the batter.
5.Add Vinegar and Baking Soda
To give your cupcakes a light, fluffy texture, add a small amount of vinegar and baking soda to the batter. This will cause a chemical reaction that will make your cupcakes rise and become light and airy.
Conclusion
In conclusion, red velvet cupcakes are a classic dessert that's perfect for any occasion. With this recipe, you can make them at home easily and impress your friends and family with your baking skills. So why not give it a try and see how delicious and beautiful your cupcakes can be?
You May Also Like