Summer is just around the corner, and what better way to beat the heat than with a refreshing watermelon cake! This recipe is not only delicious but also visually appealing with its bright pink color and fresh fruit toppings. In this article, we'll guide you step-by-step on how to make a perfect watermelon cake that will impress your guests and make your taste buds dance.
What You Need To Make Perfect Watermelon Cake Recipe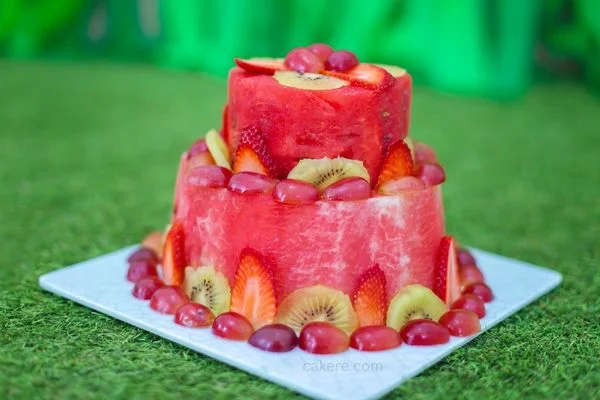 baking spray
flour
all-purpose flour
watermelon-flavored
baking powder
salt
baking soda
butter
vanilla extract
coloring
chocolate chips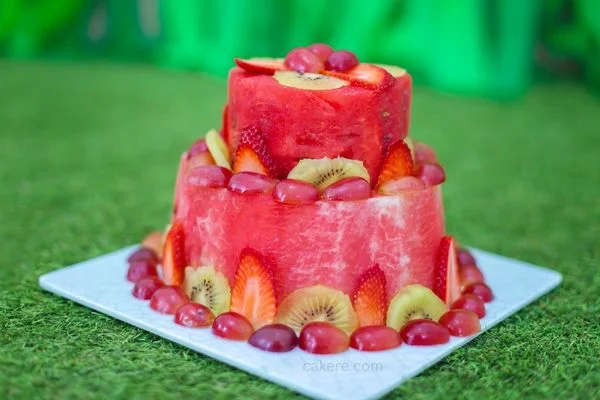 How To Make Watermelon Cake
Ingredients  
½

teaspoon

baking soda

1

teaspoon

kosher salt

1

teaspoon

baking powder

3

tablespoons

watermelon-flavored gelatin mix (such as Jell-O®)

1

tablespoon

all-purpose flour

2 ½

cups

all-purpose flour

1

cup

unsalted butter

2

cups

white sugar

3

large

eggs

1 ½

cups

whole buttermilk

2

teaspoons

vanilla extract

1

teaspoon

red gel food coloring

1

cup

miniature semisweet chocolate chips
Instructions 
Preheat oven to 350°F (175°C). Coat three 8-inch round cake pans with baking spray and set aside.

In a medium bowl, whisk together flour, gelatin, baking powder, salt, and baking soda.

In a large bowl, beat the butter with a stand mixer, fitted with the paddle attachment, until creamy, about 3 minutes. Gradually add sugar, beating until light and fluffy, 3 to 4 minutes. Add eggs, 1 at a time, beating just until blended.

Alternately add the flour mixture and buttermilk to the butter mixture, beginning and ending with the flour mixture, beating at low speed until just blended. Beat in vanilla and red food coloring gel until blended.

Toss the chocolate chips with remaining 1 tablespoon of flour and gently fold into the batter.

Divide the batter evenly among the prepared cake pans and bake in the preheated oven until a wooden pick inserted in the center comes out clean, 28 to 32 minutes.

Cool the cakes in the pans on a wire rack for 10 minutes. Then remove the cakes from the pans and cool completely on the wire rack, about 1 hour.
Pro Tips for Making Watermelon Cake
Watermelon cake is a sweet and refreshing dessert that is perfect for summer. The combination of juicy watermelon and light sponge cake is a winning combination that will satisfy your sweet tooth and keep you cool during the warm months. In this article, we will share some pro tips for making the perfect watermelon cake that is sure to impress your guests.
The next step is to make the sponge cake. This can be done using a boxed cake mix or by making the cake from scratch. For a homemade sponge cake, you will need the following ingredients:
2 cups of all-purpose flour
4 large eggs
1 cup of sugar
1 teaspoon of baking powder
1/2 teaspoon of salt
1/2 cup of vegetable oil
1 teaspoon of vanilla extract
1/2 cup of milk

Begin by whisking the eggs and sugar together until they are light and fluffy. Then, add the oil, vanilla extract, and milk, and continue to whisk until well combined. In a separate bowl, sift together the flour, baking powder, and salt. Gradually add the dry ingredients to the wet mixture and stir until just combined.
Pour the batter into a greased and floured 9×13 inch baking pan and bake at 350°F for 25-30 minutes, or until a toothpick inserted into the center of the cake comes out clean. Allow the cake to cool completely.
Conclusion
Making a watermelon cake is a fun and easy way to enjoy the flavors of summer in a unique and delicious way. With its bright colors, fresh fruit toppings, and fluffy cake base, this recipe is sure to be a hit at any gathering. Follow these steps and you'll be sure to make the perfect watermelon cake every time!
You May Also Like