We are thrilled to present you with a recipe that will leave your taste buds dancing in joy. Our date squares are a perfect blend of sweet and tart, making them an irresistible dessert option for any occasion. Our recipe is easy to follow and will give you results that are sure to wow your family and friends.
What You Need To Make Gramma's Date Squares Cake Recipe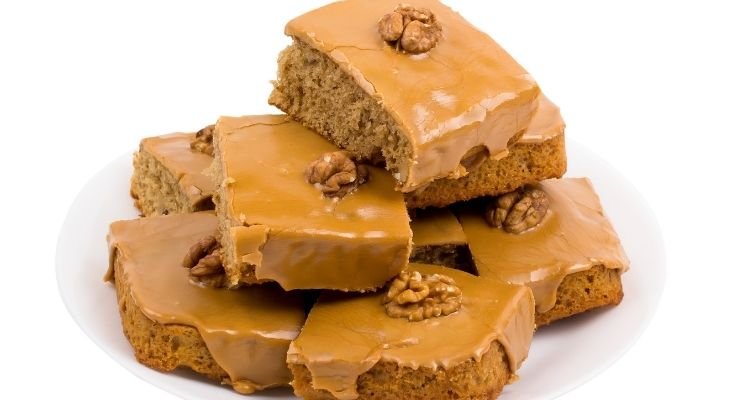 flour
salt
baking soda
butter
water
lemon juice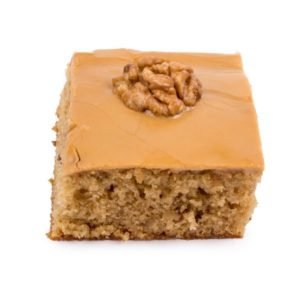 Gramma's Date Squares Cake Recipe
A date filled bar with a chewy oatmeal crust. This is my grandmother's recipe, which my whole family loves.
Ingredients  
1 ½

cups

rolled oats

1 ½

cups

sifted pastry flour

¼

teaspoon

salt

¾

teaspoon

baking soda

1

cup

packed brown sugar

¾

cup

 butter, softened

¾

pound

pitted dates, diced

1

cup

water

⅓

cup

 packed brown sugar

1

teaspoon

lemon juice
Instructions 
To begin preparing this delectable dessert, preheat your oven to 350 degrees Fahrenheit or 175 degrees Celsius.

Next, grab a spacious bowl and combine the oats, pastry flour, salt, 1 cup of brown sugar, and baking soda. Stir the mixture until it is evenly combined, and then add the butter, ensuring that it is mixed in until the mixture becomes crumbly.Once the crumb mixture is prepared, press half of it into the bottom of a 9 inch square baking pan, making sure it is distributed evenly.

Now it's time to make the filling! Take a small saucepan and heat it over medium heat. Add the dates, water, and 1/3 cup of brown sugar and bring it to a boil. Cook it until the mixture thickens and then add in the lemon juice, stirring it in until it's fully incorporated. Remove the mixture from heat and spread it evenly over the crumb base in the baking pan.

Finally, take the remaining crumb mixture and pat it onto the top of the filling, spreading it evenly. Place the baking pan in the preheated oven and bake for 20 to 25 minutes or until the top is lightly toasted. Once it's done, let it cool before cutting it into squares.Enjoy this scrumptious dessert, and don't forget to share it with your friends and family!
Notes
Nutrition Information:
protein 3.7g
carbohydrates 63.7g
fat 12.5g
cholesterol 30.5mg
sodium 217.4mg
Pro Tips for Making Gramma's Date Squares Cake
Date squares are a timeless dessert that has been passed down through generations, and they remain a favorite for many. There's something special about biting into a sweet and gooey square of date-filled goodness, especially when it's made by Gramma. But making a perfect date squares cake can be a challenge, especially if you're new to baking. Don't worry, we're here to help you with some pro tips that will elevate your date squares game and impress even the toughest critics.
Use High-Quality Ingredients
One of the most important aspects of making a delicious date squares cake is using high-quality ingredients. This includes fresh dates, pure vanilla extract, and unsalted butter. Don't skimp on the ingredients, as they will make a significant difference in the taste and texture of your final product.
Soak Your Dates
If you're using dried dates, it's essential to soak them before using them in your recipe. Soaking will help soften them, making them easier to puree and incorporate into the recipe. It also adds moisture to the final product, making for a more tender and delicious cake.
Make a Thick Date Filling
The filling is the star of the show when it comes to date squares. To ensure your filling is thick and rich, puree your dates in a food processor until they form a thick paste. Add a bit of water to help the puree come together, but not too much as you don't want it to be too runny. The consistency should be thick and spreadable.
Layer Your Ingredients Carefully
When it comes to assembling your date squares, layering is key. Start with a layer of crumbly oat mixture on the bottom of your baking dish, then press it down firmly with the back of a spoon. Next, spread your date filling evenly over the oat layer. Finally, sprinkle another layer of crumbly oat mixture on top, pressing down gently. The result will be a perfect balance of sweetness and crunch in every bite.
Chill Before Cutting
After your date squares cake is done baking, it's important to let it cool before cutting it into squares. This will ensure that the filling sets and the squares hold together nicely. Place the baking dish in the fridge for at least an hour before cutting and serving.
Get Creative with Toppings
While the classic date squares recipe is delicious on its own, don't be afraid to get creative with toppings. Consider adding a drizzle of caramel or chocolate sauce on top, or sprinkle some chopped nuts or coconut flakes for added texture and flavor.
Conclusion
making a perfect date squares cake requires patience, attention to detail, and quality ingredients. With these pro tips, you'll be able to elevate your baking skills and impress your family and friends with a delicious and gooey dessert that's sure to please.
You May Also Like