Are you looking for a tasty dessert that is easy to make and sure to impress your guests? Look no further than this delicious coconut cake recipe! Made with simple ingredients and topped with a rich cream cheese frosting, this cake is sure to be a hit.
What You Need To Make Coconut Cake Recipe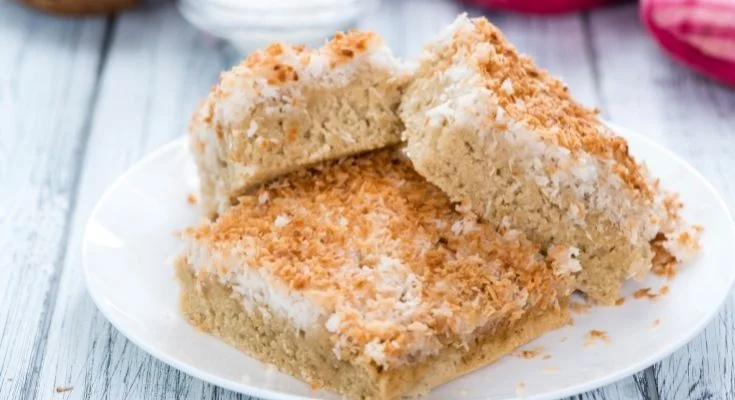 almond
baking powder
kosher salt
cream
sugar
vanilla extract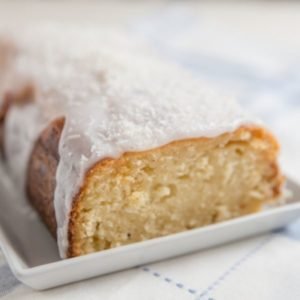 Coconut Cake Recipe
The most delicious, from scratch, white cake recipe is used to create this perfect Coconut Cake! Soft, moist crumb with a cream cheese coconut frosting!
Ingredients  
FOR THE CAKE:
5

pic

egg whites, room temperature

¾

cup

buttermilk

¾

cup

unsalted butter, softened to room temperature

1 ¾

cup

granulated sugar

1

 tsp

vanilla extract

½

tsp

almond extract

2 ½

cup

cake flour

1

Tbsp

baking powder

½

tsp

kosher salt

1

cup

shredded, sweetened coconut
FOR THE FROSTING:
½

cup

unsalted butter, softened

1

packages (8 oz)

cream cheese, softened to room temperature

5

cup

powdered sugar

¼

cup

heavy cream

2

cup

shredded, sweetened coconut
Instructions 
FOR THE CAKE:
Combine ¼ cup of buttermilk with egg whites and whisk them together in a small bowl until they are partially mixed. Keep it aside.

In a mixing bowl, beat butter, sugar, vanilla, and almond extracts on medium speed for about 2 minutes. Ensure to scrape down the sides of the bowl as required. Add in the dry ingredients and mix until well combined. Beat in the egg white mixture until it's thoroughly blended. Add in the remaining milk and continue to beat for 3-4 minutes while scraping down the sides of the bowl. Fold in coconut to the batter.

Grease two 9-inch cake pans with baking spray. Pour the prepared batter evenly into the pans and bake in a preheated 350-degree oven for 26-28 minutes. Once done, remove the cakes and allow them to cool completely on a wire rack.
FOR THE FROSTING:
Using the whisk attachment on an electric mixer, whip the butter and cream cheese together for three minutes. Next, pour in the powdered sugar and heavy cream, and continue to beat for an additional 4-5 minutes, taking care to scrape down the sides of the bowl as necessary.

To put the cake together, start by placing one layer onto a cake stand. Apply a generous amount of frosting to the top of the layer, then use an offset spatula to smooth it out. Add the second layer of cake on top, and then apply frosting to the entire cake.To decorate the cake with coconut, place the cake stand onto a baking sheet (to catch any excess coconut). Take a handful of coconut and gently press it into the sides of the cake. Repeat this process until the desired amount of coconut is applied.
Notes
Nutrition Information:
Calories: 554Total
Fat: 21g
Saturated Fat: 15g
Trans Fat: 0g
Unsaturated Fat: 6g
Cholesterol: 45mg
Sodium: 243mg
Carbohydrates: 89g
Fiber: 2g
Sugar: 68g
Protein: 4g
Pro Tips for Making Delicious Coconut Cake
Coconut cake is a dessert that never goes out of style. It's a classic treat that's perfect for any occasion, from birthdays to weddings. Making a delicious coconut cake may seem like a daunting task, but with our pro tips, you can create a cake that's moist, flavorful, and utterly irresistible.
Choose the Right Coconut
The key to a delicious coconut cake is choosing the right coconut. You want to use fresh, high-quality coconut that's rich in flavor and moisture. When selecting a coconut, look for one that's heavy and full of liquid. You can also shake the coconut to hear if there's water inside.
Use Coconut Milk in the Batter
Adding coconut milk to the batter will infuse your cake with extra coconut flavor and make it moist and tender. Use unsweetened coconut milk for the best results. If you can't find coconut milk, you can use regular milk instead.
Toast the Coconut
Toasting the coconut will bring out its natural sweetness and nuttiness, adding a delicious crunch to your cake. Spread shredded coconut on a baking sheet and toast it in the oven at 350°F for 5 to 7 minutes, stirring occasionally until it's golden brown.
Add Coconut Extract
Coconut extract is a great way to enhance the flavor of your cake. It's highly concentrated, so a little goes a long way. Add a teaspoon or two to your batter for an extra burst of coconut flavor.
Use Cake Flour
Cake flour is finer and lighter than all-purpose flour, which will result in a lighter, fluffier cake. It also has less gluten, which makes the cake more tender. If you can't find cake flour, you can make your own by combining all-purpose flour with cornstarch.
Cream the Butter and Sugar
Creaming the butter and sugar together until light and fluffy will give your cake a delicate, tender crumb. Beat the butter and sugar together on medium speed for several minutes until it's pale and fluffy.
Use Room-Temperature Ingredients
Using room-temperature ingredients will ensure that they blend together smoothly and evenly. Take the eggs, butter, and milk out of the refrigerator and let them come to room temperature before you start baking.
Don't Overmix the Batter
Overmixing the batter can lead to a dense and tough cake. Mix the ingredients until they're just combined, and then stop. Overmixing will also cause the gluten in the flour to develop, making the cake tough.
Add Sour Cream or Yogurt
Adding sour cream or yogurt to the batter will give your cake a tangy flavor and make it moist and tender. Use full-fat sour cream or yogurt for the best results.
Frost with Coconut Buttercream
Frosting your coconut cake with coconut buttercream is the perfect finishing touch. It's creamy, rich, and full of coconut flavor. To make the buttercream, beat butter, powdered sugar, coconut milk, and coconut extract together until smooth and creamy.
Conclusion
In conclusion, this coconut cake recipe is a must-try for anyone who loves delicious and easy-to-make desserts. With a rich and moist crumb, tangy cream cheese frosting, and just the right amount of coconut flavor, it's sure to become a favorite. Give it a try and see for yourself!
You May Also Like