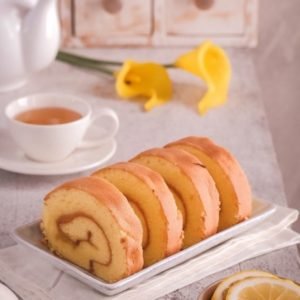 Perfect Swiss Roll Cake
My recipe for the perfect swiss roll cake -- a light, fluffy and delicately sweet chiffon cake rolled with a vanilla whipped cream.
Ingredients  
Cake
Whipped Cream
125

ml

heavy whipping cream

1

teaspoon

powdered sugar
Instructions 
Make the cake:
Prepare a 9" by 13" baking tray with parchment paper.

Separate the egg whites from the egg yolks into 2 different bowls (one for egg whites and one for egg yolks).

Tip: ensure your bowl for beating the egg whites is clean, with no traces of oil. Give the bowl and whisk a quick wipe with paper towel and a bit of lemon juice or vinegar prior to adding the egg whites.

Preheat the oven to 375°F/191°C.

Combine the egg yolks with 30g sugar and whisk together. Add in the oil, milk, vanilla extract and whisk again.

Sift in the cake flour over top of the egg yolk mixture and whisk to combine, until there are no lumps.

In a clean stand mixer bowl fitted with a whisk attachment, add the room temperature egg whites.

Turn on the mixer on low speed.

Once the egg whites become foamy with bubbles, add in a little cream of tartar (or lemon juice/vinegar).

Gradually increase the speed of the mixer, and slowly pour in the granulated sugar.

Continue to whip the egg whites until fluffy, shiny and reaches a soft peak. (The egg whites will form a curved tail at the end of the whisk).

Using a spatula, fold about ⅓rd of the egg whites into the egg yolk batter. This will help to loosen up the egg yolk batter.

Note: Folding is different than stirring. It takes a lighter hand to not deflate the whipped egg whites. To fold, take the spatula to the bottom of the mixture, and scoop up (a slow flick of the wrist) while turning the bowl about 90 degrees. Continue to turn the bowl and fold until the mixture is almost homogeneous.

Add the next 3rd of the egg white mixture, folding it into the egg yolk mixture. Continue to fold until all of the remaining egg white mixture is incorporated into the batter, but be sure not to overfold or the egg whites will be deflated.

Transfer the cake batter to a 9″ by 13″ baking tray lined with parchment paper.
Make the whipped cream:
While the cake is cooling, make the whipped cream.

Tip: A chilled bowl (in the fridge) will help the cream to whip up nicely.
Assemble the cake:
Place the slightly warm cake onto a large piece of parchment paper, with the top side down (the browned exterior). Of course, you can choose to roll it the other way if you like.

Dollop the whipped cream onto the surface of the cake.Use an offset spatula to evenly spread the whipped cream over the entire cake.
Notes
Nutrition Information:
Carbohydrates: 15g
Protein: 4g
Fat: 12g
Saturated Fat: 5g
Cholesterol: 95mg
Sodium: 30mg
Potassium: 66mg
Fiber: 1g
Sugar: 9g
Vitamin A: 333IU
Vitamin C: 1mg
Calcium: 25mg