Looking for a delicious gluten-free red velvet cake recipe? Look no further! Our recipe has been carefully crafted to provide you with the perfect balance of rich, chocolatey flavor and fluffy, moist texture. And the best part? It's completely gluten-free!
What You Need To Make Gluten-Free Red Velvet Cake Recipe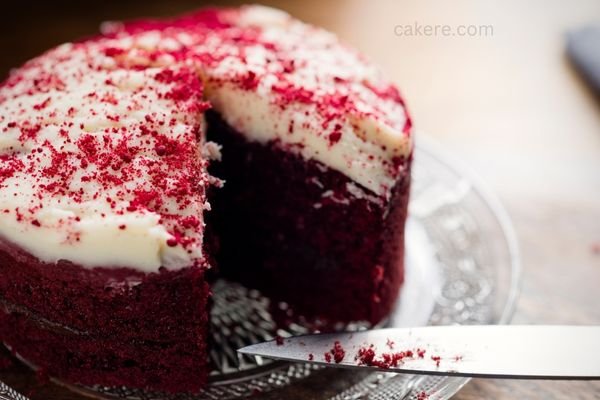 baking flour
cornstarch
cocoa powder
baking powder
butter
avocado – peeled
applesauce
vinegar
vanilla extract
eggs
cream of tartar
red food coloring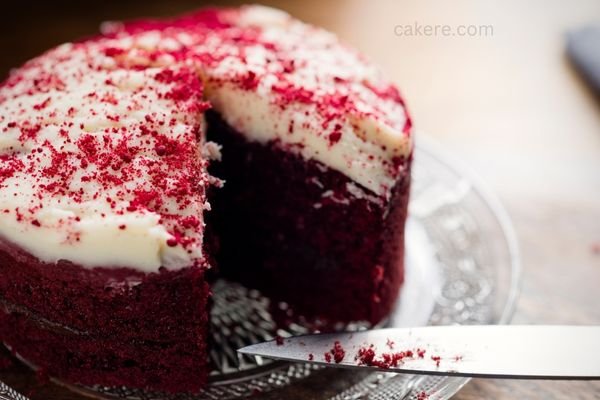 How To Make Gluten-Free Red Velvet Cake
Ingredients  
1

cup

avocado - peeled, pitted, and pureed

¾

cup

butter, softened

½

teaspoon

gluten-free baking powder

½

cup

unsweetened cocoa powder

½

teaspoon

cornstarch

2

cups

gluten-free all purpose baking flour (such as Bob's Red Mill®)

1 ½

cups

applesauce

3

cups

white sugar

1

tablespoon

white vinegar

1

cup

buttermilk

1

teaspoon

vanilla extract

5

eggs,

separated

1

teaspoon

cream of tartar

1

drop

red food coloring, as desired
Instructions 
Begin by preheating the oven to 300 degrees F (150 degrees C) and greasing and flouring a 10-inch springform pan, making sure to use gluten-free flour. Next, combine the gluten-free baking flour, cornstarch, cocoa powder, and baking powder in a bowl, sifting the mixture if necessary to remove any clumps.

In a food processor, add the butter, avocado, applesauce, sugar, vinegar, buttermilk, and vanilla extract, and pulse several times until well combined. Mix in the egg yolks and process again, then transfer the mixture to a large mixing bowl.

Using an electric mixer, beat the egg whites with cream of tartar until stiff peaks form, then gently fold them into the avocado mixture. Next, fold in the flour mixture, being careful not to deflate the batter. Add red food coloring and mix gently.

Pour the batter into the prepared springform pan and bake in the preheated oven for about 1 1/2 hours, or until a toothpick inserted into the center of the cake comes out clean. After baking, allow the cake to cool. Keep in mind that since the cake is gluten-free, it may sink slightly while cooling. Once cool, remove the cake from the springform pan for decorating.
Pro Tips for Making Gluten-Free Red Velvet Cake
If you are a fan of desserts, chances are you have tried red velvet cake. With its rich, chocolaty taste and bright red color, it is a popular cake flavor that is often found on special occasions like weddings, birthdays, and Valentine's Day. However, for those with gluten intolerance or celiac disease, enjoying this sweet treat may not be so easy. Luckily, with the right ingredients and techniques, you can make a delicious gluten-free red velvet cake right at home. In this article, we will provide you with pro tips for making gluten-free red velvet cake that is not only delicious but also healthy.
1.Use Gluten-Free Flour
The first step in making a gluten-free red velvet cake is to choose the right flour. Traditional red velvet cake is made with all-purpose flour, which contains gluten. To make your cake gluten-free, you can use a blend of gluten-free flours like rice flour, almond flour, and tapioca flour. A combination of these flours will give your cake a light and fluffy texture, just like the traditional version.
2.Add Natural Coloring
The bright red color of red velvet cake comes from food coloring, which may contain artificial ingredients. To make your cake healthier, you can use natural food coloring like beet juice or pomegranate juice. These ingredients not only give your cake a beautiful red color but also add a subtle flavor that complements the other ingredients.
3.Use Buttermilk
Traditional red velvet cake is made with buttermilk, which gives it a tangy flavor and helps to activate the baking soda. To make your gluten-free red velvet cake, you can use almond milk or soy milk mixed with a tablespoon of apple cider vinegar or lemon juice. This mixture will provide the same tangy flavor as buttermilk and help your cake rise.
4.Add Xanthan Gum
One of the challenges of making gluten-free cakes is that they can be crumbly and fall apart easily. To prevent this from happening, you can add xanthan gum to your cake batter. Xanthan gum is a natural ingredient that helps to bind the ingredients together and gives your cake a more cohesive texture.
Conclusion
This gluten-free red velvet cake recipe is sure to be a crowd-pleaser. With its rich, chocolatey flavor and moist, fluffy texture, it's the perfect dessert for any occasion. And best of all, it's completely gluten-free, so even those with dietary restrictions can indulge in a slice (or two). So give it a try and see for yourself just how delicious gluten-free baking can be!
You May Also Like