If you're looking for a show-stopping dessert that will impress your guests, look no further than the geode cake. This stunning cake is inspired by the natural beauty of geodes, and it's sure to be the centerpiece of any celebration. In this article, we'll show you how to make your own geode cake from scratch.
What You Need To Make Geode Cake Recipe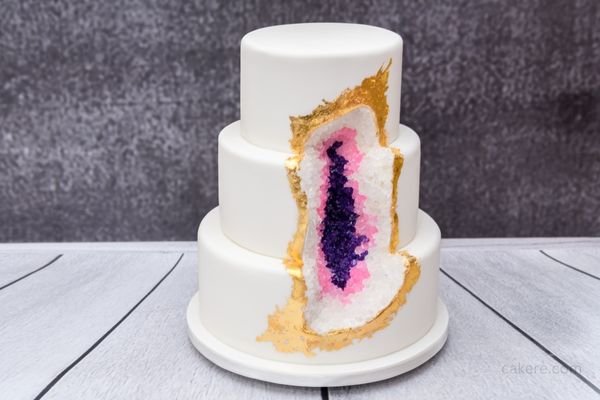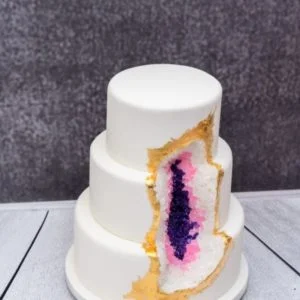 Geode Cake Recipe
Geode cakes are stunningly decorated layer cakes meant to mimic the famous natural formation of rock and precious and semiprecious stones. Pieces of the finished and frosted cake are cut out, and then the cavity is filled with edible crystals made out of rock candy. Although it might seem like a lot of work, it actually isn't much more than making a layered and frosted cake, especially if you're buying the rock candy and not making it (you could, using isomalt). Use loose rock candy or the classic rock candy on a stick—just remove it from the stick before arranging it on the cake.
To make a realistic geode cake, decide on your favorite color palette for the geode. Start by selecting the main color of the stones—any hue will be beautiful. Purchase either a lighter shade of that same color or white rock candy to help create the ombré effect similar to that of real rock formations. Finally, purchase edible gold dust, gold shimmer sprinkles, or flakes to paint around the edges of the geode formation.
The amount of candy needed depends on how much you'd like to use on the cake and on how many cutouts you want it to have. The best course of action is to place enough candy to cover all the surfaces without crowding them. Rock candy crystals come in bags of one pound or more, so you'll get enough for this three-layer cake when you buy a one-pound bag each of colored and white candy. For easy decoration, we suggest you have at hand an offset spatula and food tweezers to easily frost the cake and place the rock candy in its place.
Ingredients  
For the Cake:
1

cup

unsalted butter, softened

2

cup

sugar

4

pic

large eggs

3

cup

cake flour, sifted

1

 tablespoon

 baking powder

1/2

tablespoon

 kosher salt

1

cup

milk

1 1/2

teaspoons

pure vanilla extract
For the Buttercream Frosting:
2

(1-pound)

boxes confectioners' sugar

1

cup

unsalted butter, softened

6-8

tablespoons

 milk, divided

1

tablespoons

 pure vanilla extract
Instructions 
To begin, preheat your oven to 350 F and make sure to grease and flour three 8-inch-round baking pans. If you don't have three pans, you can bake each layer separately, one at a time.

Next, in a large bowl, combine the butter and sugar until the mixture becomes light and fluffy. You can do this by hand or use a standing mixer with the paddle attachment.

Add the eggs one at a time to the creamed mixture, making sure to beat well after each addition.

In another large bowl, mix together the cake flour, baking powder, and salt.

Alternate adding the flour mixture to the butter mixture with the milk and vanilla extract, making sure to mix well after each addition until you have a smooth batter. It's important not to overbeat.

Once the batter is smooth, divide it evenly into the three prepared pans. Bake for 20 to 25 minutes or until a tester inserted into the cake comes out clean.

After baking, let the cakes cool in their pans for 10 minutes. Then remove the layers from the pans and allow them to cool completely on wire racks for 1 to 2 hours. The cakes need to be completely cold before you can start frosting them.
Notes
Nutrition Information:
650 Calories
33g Fat
83g Carbs
6g Protein
Pro Tips for Making Geode Cake
Are you looking to make a stunning and visually appealing geode cake that will leave your guests in awe? Look no further, as we have compiled some pro tips and tricks that will help you create a masterpiece that not only looks good but tastes good too.
Choose the Right Cake Base
The first step in making a great geode cake is selecting the right cake base. It is important to choose a cake that is sturdy enough to hold up the weight of the decorations and toppings. A dense cake like pound cake or a firm sponge cake will work best. Avoid soft and fluffy cakes like angel food or chiffon as they may crumble under the weight of the decorations.
Use Quality Ingredients
Using quality ingredients is crucial in making any cake, and geode cake is no exception. Use the best quality flour, sugar, butter, and eggs for the cake base. For the decorations, use high-quality chocolate and edible glitter to add that extra sparkle to your cake.
Prepare the Cake Base Properly
Before you start decorating your cake, make sure that the cake base is properly prepared. Level the cake layers by trimming off the domed tops with a cake leveler or serrated knife. Brush the cake layers with a simple syrup or sugar syrup to keep them moist and add flavor.
Create a Crust
To add texture and depth to your geode cake, create a crust on the cake base using a crumb coat. A crumb coat is a thin layer of frosting applied to the cake to seal in the crumbs and create a smooth surface for the final layer of frosting. Once the crumb coat is set, apply a final layer of frosting in the color of your choice.
Create the Geode Structure
The key element of a geode cake is the geode structure. To create the structure, start by cutting out a geode shape from the center of the cake. Use a cookie cutter or a knife to create a smooth and even edge. Fill the cavity with crushed rock candy or edible crystals in the color of your choice. Use edible glue or frosting to attach the crystals to the cake and create a realistic geode effect.
Add the Finishing Touches

Once the geode structure is in place, it's time to add the finishing touches to your geode cake. Use edible glitter, gold leaf, or edible paint to add some extra sparkle to the cake. You can also add some edible flowers or fresh fruit to the cake for a pop of color.
Practice Makes Perfect
Making a geode cake can be a challenging task, and it may take some practice to get it right. Don't be afraid to experiment with different designs, colors, and decorations to find the perfect geode cake for your occasion.
Conclusion
In conclusion, a geode cake is a beautiful and impressive dessert that is perfect for any special occasion. With the right ingredients and a little bit of patience, you can create a stunning cake that will have your guests talking about it for weeks to come. We hope that this article has provided you with all of the information you need to make your own geode cake from scratch.
You May Also Like