Boston Cream Pie Cake is a classic dessert that is loved by many. It is a delicious combination of sponge cake, custard filling, and chocolate ganache. In this article, we will guide you on how to make the perfect Boston Cream Pie Cake, step-by-step.
What You Need To Make Boston Cream Pie Recipe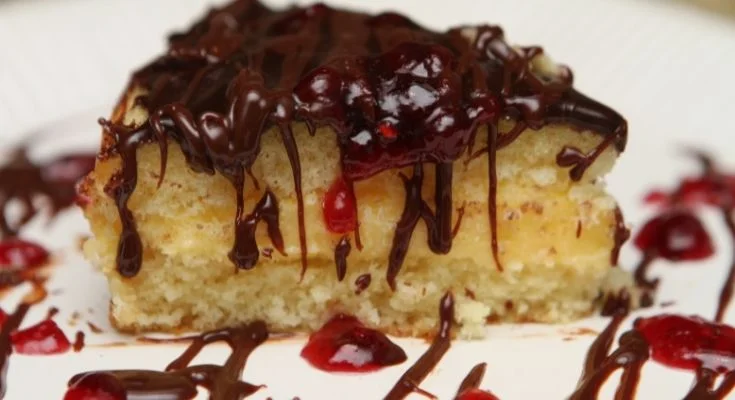 Whole milk
Butter
Melted
Vanilla extract
Vanilla snack pack pudding
Yellow cake mix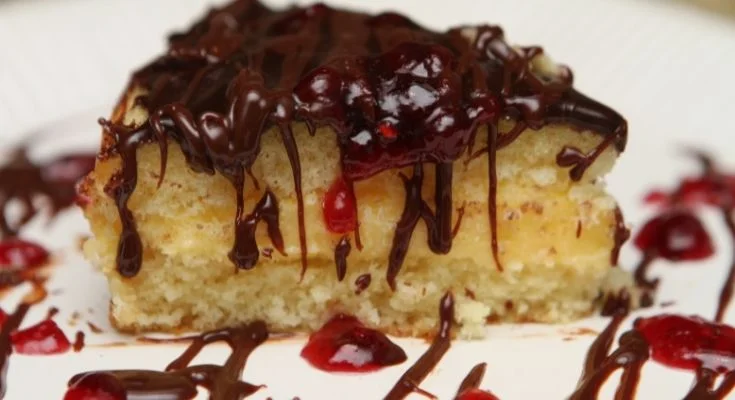 Boston Cream Pie Recipe With Yellow Cake Mix
Classic Boston cream pie cake recipe, homemade with simple ingredients. Starts off with cake mix. Yellow cake is filled with vanilla pudding and topped with chocolate ganache
Ingredients  
4

Pic

Eggs, Large, Room temperature

1

cup

Whole milk, Room temperature

1/2

cup

Butter, Melted, Unsalted

2

tsp

Vanilla extract

1

container

Vanilla snack pack pudding, 3.25 oz

1

Yellow cake mix
Filling
1

cup

Homemade vanilla pudding
Topping
1

cup

Chocolate ganache, Use 1:1 ratio (1 cup chocolate chips and 1 cup heavy cream)
Instructions 
Start by placing eggs, milk, melted butter, and vanilla in a large mixing bowl. Mix the ingredients until they are well combined.

Next, add the vanilla pudding to the mixture and continue to mix until it becomes smooth.

Add the cake mix to the bowl and mix until all the ingredients are just combined.

Grease and flour two round cake pans with dimensions of 8×2. Pour the batter evenly into the two pans.

Preheat the oven to 350 degrees F and bake the cakes for 40 minutes or until a toothpick inserted into the center of the cake comes out clean.

Remove the cakes from the oven and let them cool completely on a wire rack. While the cakes are baking and cooling, prepare the vanilla pudding and ganache. Allow them to cool and thicken.

To assemble the cake, trim the edges and domes of each cake, if desired. Place one cake on the cake stand and use a spatula to spread the vanilla pudding on top.

Place the second cake on top of the pudding layer. Pour the ganache over the top of the cake and spread it with a spatula, allowing it to drip slightly along the sides of the cake.

Finally, it's time to enjoy your delicious and decadent cake!
Notes
Nutrition Information:
calories: 349kcal,
carbohydrates: 49g,
protein: 6g,
fat: 15g,
saturated fat: 9g,
polyunsaturated fat: 1g,
monounsaturated fat: 4g,
trans fat: 1g,
cholesterol: 103mg,
sodium: 548mg,
potassium: 94mg,
fiber: 1g,
sugar: 26g,
vitamin a: 465IU,
calcium: 166mg,
iron: 2mg
Pro Tips for Making Boston Cream Pie
Boston Cream Pie is a classic dessert that has been enjoyed by many for generations. The combination of fluffy sponge cake, rich custard filling, and a smooth chocolate glaze is simply irresistible. If you're planning to make a Boston Cream Pie at home, then you've come to the right place. In this article, we'll be sharing some pro tips that will help you make the perfect Boston Cream Pie that is sure to impress your family and friends.
Use High-Quality Ingredients
Prepare the Sponge Cake with Care
Make a Rich and Creamy Custard Filling
Assemble the Pie Carefully
Let the Cake Set in the Fridge
Conclusion
We hope that you find our guide helpful in making the perfect Boston Cream Pie Cake. By following
You May Also Like