Black Forest Gateau, also known as Schwarzwälder Kirschtorte, is a classic German dessert that is loved all around the world. This rich and decadent cake is traditionally made with layers of chocolate sponge cake, whipped cream, and cherries, and is topped with chocolate shavings and more cherries.
What You Need To Make Black Forest Gateau Cake Recipe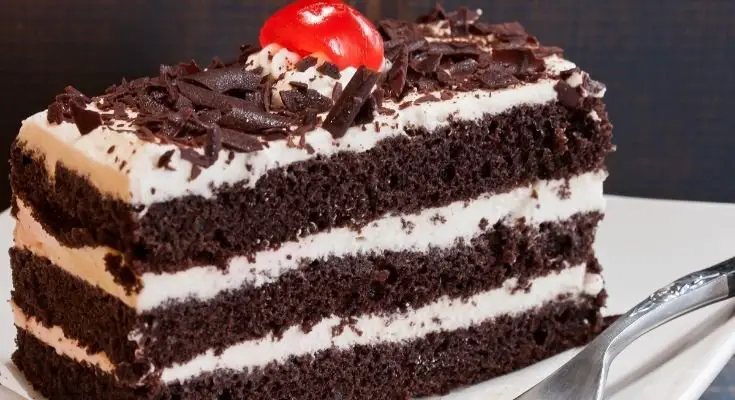 vanilla extract
cocoa powder
plain flour
butter
dark chocolate
raspberry preserve
whipping cream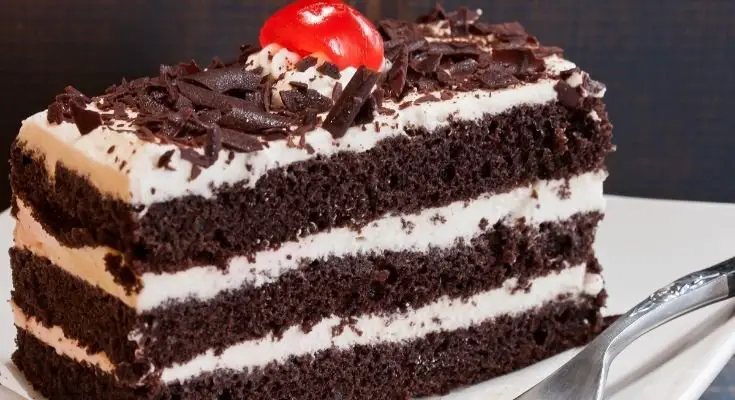 Black Forest Gateau Cake
This delicious Black Forest gateau recipe from Eric Lanlard is the perfect dessert for a special occasion
Ingredients  
6

pic

medium eggs

1

tsp

vanilla extract

250

g

golden caster sugar

g

cocoa powder

50

g

plain flour

150

g

unsalted butter, melted and cooled, plus extra for greasing

150

g

dark chocolate

3

sbsp

raspberry preserve

40

pic

pitted black cherries, fresh or tinned
FOR THE SYRUP
175

g

golden caster sugar

2

tbsp

kirsch
FOR THE KIRSCH CREAM
750

ml

whipping cream

75

g

golden caster sugar

2

stp

vanilla extract

3

tbsp

kirsch
Instructions 
To start off, prepare the sponge cakes by preheating your oven to 180°C with fan at 160°C or gas 4. Grease three 22cm-diameter sandwich cake tins and place baking paper on the bases.

In a large mixing bowl, use an electric hand whisk to whisk together the eggs, sugar, and vanilla until the mixture thickens and leaves a trail behind the whisk, which should take about 10 minutes. Next, sift the cocoa powder and flour and gently fold them into the mixture. Add in the melted butter and stir.

Divide the cake batter evenly between the prepared tins and bake for 20-25 minutes, or until the cakes feel springy to the touch. After baking, let the cakes cool in the tins for 5 minutes, then transfer them to a cooling rack to cool completely.

Take a block of chocolate and shave it into thin strips using either a potato peeler or a kitchen knife. Once the shavings are ready, put them in the fridge to chill.

To create the syrup, combine 200ml of water and sugar in a pan and bring to a boil for 5 minutes. Allow the mixture to cool and stir in kirsch. For the kirsch cream, whisk the cream and sugar until they form firm peaks, then add the vanilla and kirsch and fold them into the mixture.

To assemble the cake, use a sharp knife to level the tops of the sponges if necessary. Put a small amount of kirsch cream on a serving plate and place one of the sponge cakes on top. Brush the cake with some syrup and spread raspberry preserve on top.

Place a second sponge cake on top of the first and brush with syrup before spreading a layer of kirsch cream about 1cm deep. Add the cherries, reserving 8, and spread a little more cream over them. Finally, place the third sponge cake upside down on top to make an even and flat top. Brush with syrup and reserve any leftover syrup.

Use a piping bag fitted with a large star nozzle to pipe a quarter of the remaining cream and set it aside. Cover the top and sides of the cake with the rest of the cream using a palette knife.

Stick the chocolate shavings onto the sides of the cake with your hand and pipe swirls around the edge and 8 more in the middle. Place the reserved cherries on top of the swirls.
Notes
Nutrition Information:
Calories 804Kcal
Fat 52gr
Saturates 31gr
Carbs 18gr
Sugars 64gr
Fi  2gr
Protein 9gr
Salt 0.3gr
Pro Tips for Making Black Forest Gateau Cake
Black Forest Gateau Cake is a classic dessert that originated in Germany's Black Forest region. It's a delicious combination of chocolate cake, whipped cream, and cherries. Making this cake can be challenging, but with our pro tips, you can create a cake that is both delicious and visually stunning. In this article, we will share our top tips for making the perfect Black Forest Gateau Cake that will outrank any other recipe online.
Whip the Cream Just Right
Use Fresh Cherries
Choose the Right Chocolate
Whip the Cream Just Right
Chill the Cake Layers
Kirsch or Cherry Brandy
Decorate with Chocolate Shavings and Cherries
Conclusion
Making Black Forest Gateau at home may seem like a daunting task, but with this recipe, you can easily recreate this classic dessert in your own kitchen. The rich chocolate sponge cake, combined with the juicy cherries and fluffy whipped cream, makes for a truly irresistible treat. Impress your friends and family by serving them this delicious cake, or simply treat yourself to a slice of heaven.
You May Also Like