Welsh cuisine has a rich history, and one of its most iconic and traditional recipes is the bara brith cake. Bara brith translates to "speckled bread" in Welsh, and this fruit loaf is a beloved treat in Wales, especially during tea time.
What You Need To Make Bara Brith Cake Recipe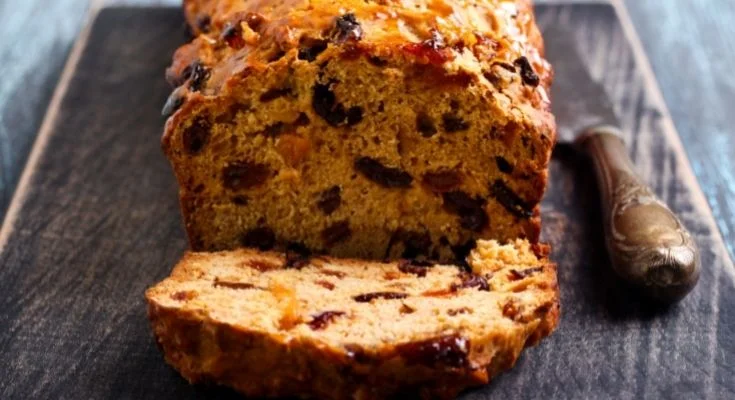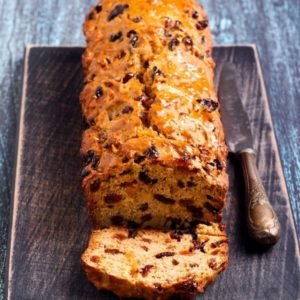 Bara Brith Cake Recipe
Bara Brith, the Welsh for speckled bread, a famous delicious fruity tea bread from Wales. Classically, the bread is served on a Welsh afternoon tea and is always on St David's Day on March 1st; but needs no excuses for a slice or two.The cake is easy to make but does need to soak in the tea overnight, so be sure to plan accordingly and is best made two days ahead of time if you have the time as this allows the flavors to absorb and develop. If you don't have the time, it is also rather good straight from the oven.
FEATURED VIDEO
How to Make Homemade Ginger Root Tea
This recipe comes from Gilli Davies' renowned book of Welsh food, "Flavours of Wales," which was nominated for a Gourmand World Book Award.
Ingredients  
1

pound

mixed dried fruit

1/3

cups

cold tea

1

tablespoon

butter

2

tablespoon

marmalade

1

pic

large free-range egg, beaten

2

tablespoon

brown sugar, soft

1

tablespoon

mixed spice

1

pound

self-rising flour

Honey, to glaze
Instructions 
Take a sizeable mixing bowl and pour the chilled tea over the fruit, allowing it to soak for a minimum of six hours. For optimal results, leave it overnight.

The following day, preheat your oven to 325 F/170 C/Gas 3 and apply a coat of butter to a 2-pound (900-gram) loaf tin, setting it aside for later. In the bowl containing the soaked fruit, combine the marmalade, egg, brown sugar, spices, and flour, and stir thoroughly.

Transfer the mixture to the prepared loaf tin and bake for 1 1/4 hours or until the center is completely cooked. To ensure that the top doesn't burn, keep an eye on it and cover it with foil if necessary.

After removing it from the oven, allow the Bara Brith to sit for five minutes before turning it out of the tin and placing it on a cooling rack. Use honey to glaze the top, then let it cool completely on the rack.
Notes
Nutrition Information:
Total Fat 4g
Saturated Fat 2g
Cholesterol 36mg
Sodium 947mg
Total Carbohydrate 118g
Dietary Fiber 8g
Total Sugars 51g
Protein 10g
Vitamin C 4mg
Calcium 293mg
Iron 6mg
Potassium 717mg
Pro Tips for Making Bara Brith Cake
Bara Brith is a traditional Welsh cake that has been enjoyed for centuries. The name "bara brith" means "speckled bread" in Welsh, which is fitting because the cake is studded with dried fruits and has a beautiful speckled appearance. The cake is typically made with a mixture of dried fruits, spices, and tea, making it a comforting and flavorful treat. If you're looking to make the perfect bara brith cake, then you've come to the right place. In this article, we'll provide you with some pro tips and tricks to help you make the best bara brith cake possible.
Soak the Dried Fruits
Use Dark Brown Sugar
Spice it Up
Don't Overmix the Batter
Bake Slowly
Conclusion
In conclusion, bara brith is a delicious and beloved Welsh treat that's perfect for tea time or any time you're craving a sweet snack. With its rich history and simple preparation, this fruit loaf is sure to become a new favorite in your recipe collection. Give it a try and see why bara brith has stood the test of time as a Welsh culinary classic.
You May Also Like