Strawberries are a sweet and juicy fruit that adds a delightful touch to any dessert. If you're looking for a fun and tasty way to enjoy strawberries, try making these delectable strawberry cupcakes. With a moist and tender cake base and a sweet and creamy frosting, these cupcakes are sure to be a hit with everyone.
What You Need To Make Strawberry Cupcakes Recipe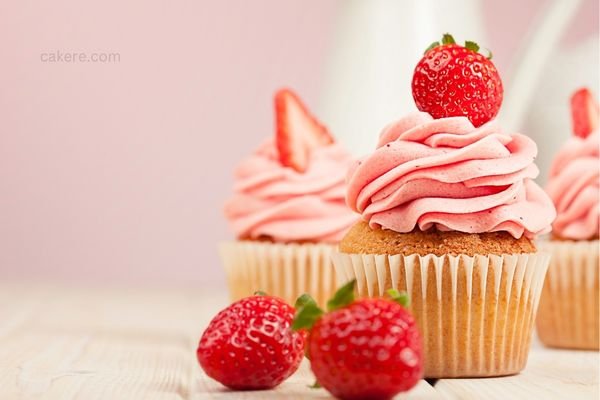 strawberries
oil
vanilla extract
lemon zest
flour
baking powder
salt
vanilla pudding mix (Optional)
coloring
cream cheese
butter
confectioners
vanilla extract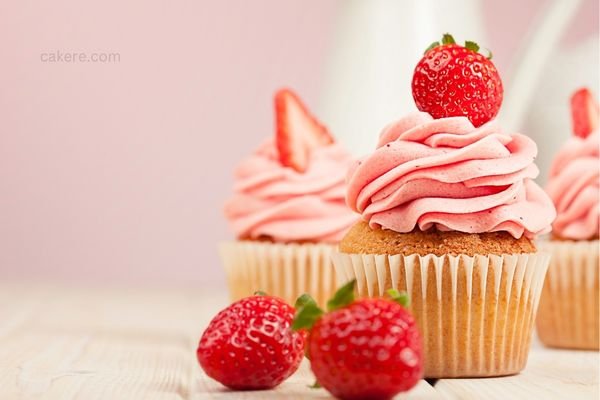 How To Make Strawberry Cupcakes
Ingredients  
1 ½

cups

all-purpose flour

½

teaspoon

lemon zest

½

teaspoon

vanilla extract

⅓

cup

vegetable oil

1

cup

white sugar

8

large

fresh strawberries

2

teaspoons

baking powder

¼

teaspoon

salt

¾

cup

cream cheese

2

tablespoons

butter

½

cup

confectioners

½

teaspoon

vanilla extract

3

large

fresh strawberries
Instructions 
Preheat your oven to 325 degrees F (165 degrees C). This will ensure that your cupcakes are cooked evenly and come out perfectly.

Spray your cupcake cups with cooking spray or line them with cupcake liners. This will make it easier to remove the cupcakes from the pan once they're done baking.

Place 8 strawberries into a blender and blend until smooth. Pour the puree through a strainer to remove the seeds. Your puree should equal about 3/4 cup. Set the puree aside.

In a large bowl, beat together the eggs, white sugar, vegetable oil, 1/2 teaspoon vanilla extract, lemon zest, and strawberry puree until well combined. Stir in the flour, baking powder, salt, vanilla pudding mix (for a moister cupcake), and red food coloring to reach a desired shade of pink. Spoon the batter into the prepared cupcake cups, filling each about

Bake the cupcakes in the preheated oven until they have risen and a toothpick inserted into the center of a cupcake comes out clean, about 23 minutes. Allow the cupcakes to cool at least 10 minutes before frosting.

electric mixer until smooth. Mix in the confectioners' sugar and 1/2 teaspoon vanilla extract to make a lump-free icing. Frost each cupcake with about 2 tablespoons of icing and top each cupcake with a strawberry slice.
Pro Tips for Making Strawberry Cupcakes
Strawberry cupcakes are a delicious treat that is perfect for any occasion. They are easy to make and are sure to impress your friends and family. In this article, we will share some pro tips for making the perfect strawberry cupcakes.
1.Ingredient Selection
The first step in making strawberry cupcakes is to select the right ingredients. It is important to use fresh strawberries for the best flavor. You can also use frozen strawberries, but be sure to thaw them completely before using. When it comes to the flour, use cake flour for a lighter texture, or all-purpose flour if that is all you have on hand.
2.Batter Preparation
The key to making perfect strawberry cupcakes is to prepare the batter correctly. Start by creaming the butter and sugar together until light and fluffy. Next, add the eggs one at a time, beating well after each addition. Then, add the strawberries to the batter, making sure to mix well. Finally, slowly add the flour, alternating with the milk, until the batter is smooth and well combined.
3.Baking the Cupcakes
When it comes to baking the cupcakes, there are a few key things to keep in mind. First, be sure to fill the cupcake liners only two-thirds full to prevent them from overflowing. Second, be careful not to over-bake the cupcakes, as this can cause them to dry out. A good rule of thumb is to bake them for 20-25 minutes, or until a toothpick inserted into the center of a cupcake comes out clean.
4.Frosting Options
There are many frosting options to choose from when it comes to making strawberry cupcakes. Some popular choices include cream cheese frosting, vanilla buttercream, and whipped cream frosting. To add a touch of strawberry flavor, try adding some pureed strawberries to the frosting.
5.Decorating the Cupcakes
The final step in making the perfect strawberry cupcakes is to decorate them. There are many creative ways to do this, from adding fresh strawberries on top to using edible decorations. Some other popular options include sprinkles, edible glitter, and edible flowers. Get creative and have fun with your decorations!
6.Storing the Cupcakes
Once you have made your strawberry cupcakes, it is important to store them correctly to keep them fresh and delicious. Keep them in an airtight container in the refrigerator for up to three days, or in the freezer for up to three months. Just be sure to wrap them well to prevent freezer burn.
Conclusion
In conclusion, these delicious and easy-to-make strawberry cupcakes are the perfect way to enjoy the sweet and juicy flavor of strawberries. With a moist and tender cake base and a sweet and creamy frosting, they're sure to be a hit with everyone. So why not give this recipe a try today? You won't regret it!
You May Also Like