Cozonac is a traditional Romanian sweet bread that is commonly made during Easter and Christmas. It is a beloved treat that is enjoyed by many Romanians during these holidays.
What You Need To Make Sweet Cornbread Cake Recipe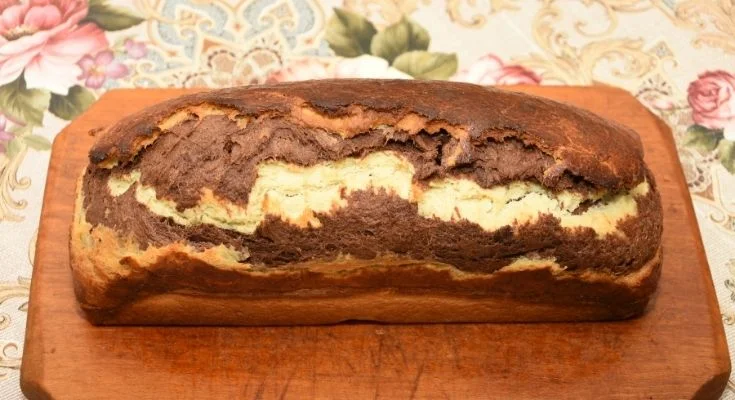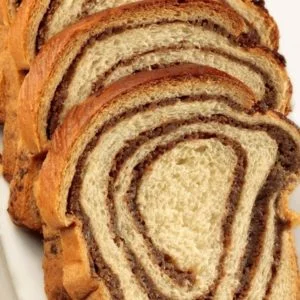 Cozonac Romanian Cake Recipe
Cozonac is a classic, simple, sweetened yeast bread with origins in Romania. Traditionally made during Easter and Christmas, this citrus-scented sweet dough is twisted around a nutty filling, creating a spiral design when baked. The result is a festive loaf bread with a tender and soft crumb.
Ingredients  
The dough:
The filling:
1

cup

milk

3/4

cup

granulated sugar

200

g

 walnuts or almonds finely ground, about 2 cups

1/4

cup

rum

1

teaspoon

 orange extract

1

teaspoon

orange zest

1/2 

teaspoon

ground espresso powder

1/4

cup

cocoa dutch processed

1/2

cup

vanilla extract
Topping
1

pic

lightly beaten

2

teaspoon

 turbinado sugar
Instructions 
Begin by heating the milk and sugar together in a small saucepan over medium heat, whisking until they are well combined. Next, add the butter and stir until it is almost completely melted before removing the mixture from the heat and setting it aside.

In a large mixing bowl, attach the paddle to your stand mixer and combine about 1½ cups of flour with the yeast. Once these dry ingredients are combined, add the lukewarm milk mixture and blend on low speed for 2-3 minutes.

While the mixture rests for a few minutes, take the time to grate the zest of an orange and a lemon, and set the zest aside.

Next, with the mixer on low speed, add the eggs and mix for about 1-2 minutes, scraping down the bowl as needed. Once the eggs are well-incorporated, add the vanilla extract, rum, and salt, and then switch to the dough hook.

Add the remaining flour and knead for a few minutes, and then incorporate the citrus zests and continue to knead for another 6-8 minutes, until the dough is smooth and elastic. If the dough is still sticky, add a few more tablespoons of flour.

Lightly grease a bowl with butter and place the dough inside, making sure to turn it over to coat it with grease. Cover the bowl with plastic wrap and let it rise for about 2 hours, or until it has doubled in size.

While the dough rises, prepare the filling.
Notes
Nutrition Information:
Calories: 405kcal
Carbohydrates: 51g
Protein: 9g
Fat: 17g
Saturated Fat: 6g
Cholesterol: 59mg
Sodium: 160mg
Potassium: 174mg
Fiber: 2g
Sugar: 19g
Vitamin A: 335IU
Vitamin C: 1.5mg
Calcium: 57mg
Iron: 1.1mg
Pro Tips for Making Sweet Cornbread Cake
Cornbread cake is a classic American dessert that has been enjoyed for generations. With its sweet and savory flavor, it's the perfect dessert to serve after a hearty meal. Whether you're a seasoned baker or just starting out, we have some pro tips to help you make the best sweet cornbread cake possible.
Use High-Quality Ingredients
The key to making great sweet cornbread cake is to use high-quality ingredients. This means using fresh cornmeal, real butter, and high-quality sugar. Don't skimp on the ingredients, as the quality of the final product will suffer.
Use a Cast Iron Skillet
One of the secrets to making great sweet cornbread cake is to use a cast iron skillet. This type of skillet distributes heat evenly, resulting in a cake that is crispy on the outside and moist on the inside. If you don't have a cast iron skillet, you can use a regular baking dish, but the results won't be as good.
Don't Overmix the Batter
When making sweet cornbread cake, it's important not to overmix the batter. Overmixing can cause the cake to become tough and dry. Mix the batter until it's just combined, and then stop. This will ensure that your cake is tender and moist.
Add Extra Sugar
If you like your sweet cornbread cake to be extra sweet, you can add a little extra sugar to the batter. However, be careful not to add too much, as this can cause the cake to become overly sweet.
Use Buttermilk

Using buttermilk in the batter can add a tangy flavor and help to make the cake moist. If you don't have buttermilk on hand, you can make your own by adding 1 tablespoon of vinegar or lemon juice to 1 cup of milk.
Let the Cake Rest
After baking your sweet cornbread cake, it's important to let it rest for a few minutes before slicing and serving. This will allow the cake to set and become more firm, making it easier to slice and serve.
Serve with Honey Butter

To take your sweet cornbread cake to the next level, serve it with honey butter. Simply mix together softened butter and honey until well combined, and then spread it over the warm cake. The combination of the sweet cake and the honey butter is simply delicious.
Experiment with Flavors
While traditional sweet cornbread cake is delicious on its own, you can also experiment with different flavors. For example, you can add blueberries, cinnamon, or even chocolate chips to the batter to create a unique and flavorful cake.
Conclusion
In conclusion, Cozonac is a traditional Romanian Easter and Christmas bread that is loved by many. While it can be a challenging recipe to make, the end result is definitely worth it. By following our step-by-step guide, you can make your very own Cozonac at home and impress your friends and family with your baking skills.
You May Also Like