Filipino cassava cake is a traditional Filipino dessert made from grated cassava, coconut milk, and condensed milk. It is a delicious and creamy dessert that is usually served during special occasions such as birthdays, weddings, and holidays. It is a staple dessert in the Philippines, and it has gained popularity worldwide.
What You Need To Make Cassava Cake Recipe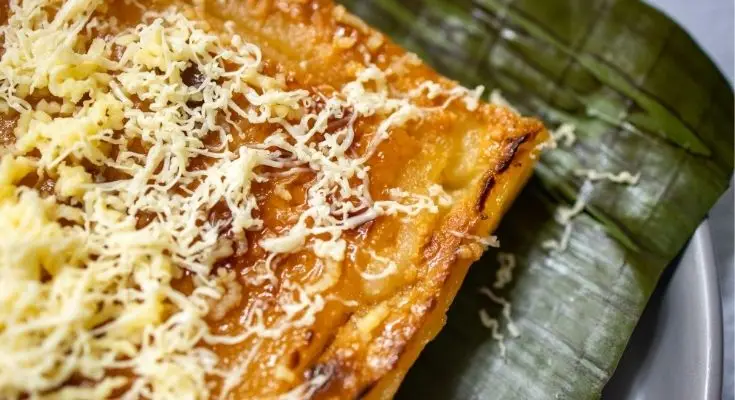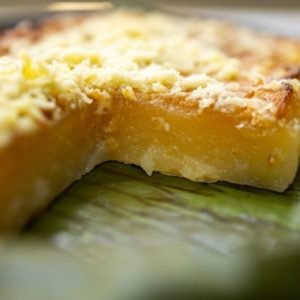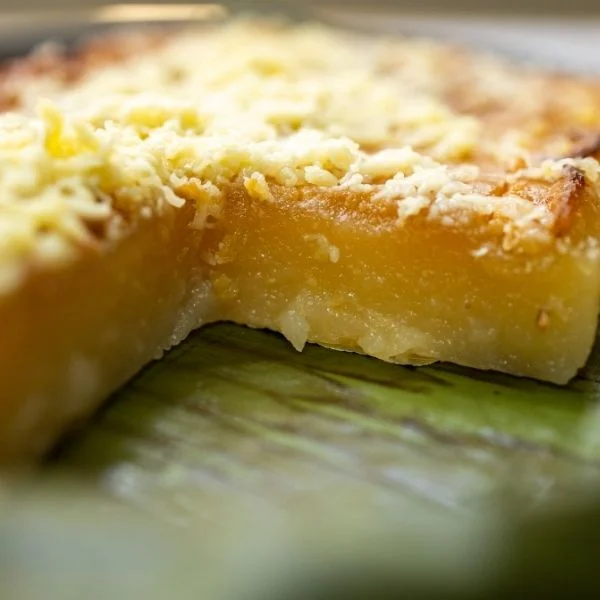 Cassava Cake Recipe
This recipe for cassava cake consists of two (2) processes. The first is making the cassava batter, and the second is preparing the topping.
Ingredients  
Ingredients
2

 packs

grated cassava about 2 lbs total weight

2

 cups

 coconut milk

1/2 12

oz. can

evaporated milk

3

pic

 egg

1/4

cup 

butter melted

6

tablespoons 

cheddar cheese grated

1/2

 cup 

1/2 cup condensed milk

14 

tablespoons

 granulated white sugar
Topping ingredients:
2

 tablespoons

 flour

2

tablespoons

sugar

1/2

 cup

condensed milk

2

tablespoons 

 cheddar cheese grated

2

tablespoons

 cheddar cheese grated
Instructions 
To create the batter for this delicious Cassava Cake, begin by combining grated cassava, butter, half a cup of condensed milk, half a cup of evaporated milk, six tablespoons of cheddar cheese, 14 tablespoons of sugar, and two eggs in a mixing bowl. Ensure that all the ingredients are mixed thoroughly.

Next, add two cups of coconut milk into the mixing bowl that contains the mixture of ingredients and mix again until everything is well combined.

To prepare the baking tray, grease it with oil or butter before pouring in the batter that you just mixed.

Before baking the cake, preheat your oven to 350 degrees Fahrenheit for 10 minutes. Once the oven is heated, put in the baking tray with the batter and bake for one hour. Once done, remove the cake from the oven and set it aside to cool.

While waiting for the cake to cool, prepare the topping. Start by heating a saucepan over medium heat and then combining two tablespoons of sugar and flour in it. After that, pour in half a cup of condensed milk and mix thoroughly.

Add two tablespoons of cheddar cheese into the saucepan and stir constantly. Then, pour in two cups of coconut milk and continue to stir for another ten minutes.

Once done, pour the topping over the Cassava Cake and spread it evenly. To create a glaze, separate the yolk from the remaining egg and use only the egg white to brush over the topping. Dip a basting brush into the egg white and brush it on the cake.

Set your oven to broil mode and broil the Cassava cake until the color turns light brown. Finally, garnish the cake with extra grated cheese on top and serve it. Share and enjoy this unique and flavorful dessert with your friends and family.
Notes
Nutrition Information:
Total Fat 7.9ggrams
19%Saturated Fat 3.8ggrams
Trans Fat 0ggrams
Polyunsaturated Fat 0.5ggrams
Monounsaturated Fat 3.1ggrams
0%Cholesterol 0mgmilligrams
15%Sodium 368mgmilligrams
11%Potassium 398mgmilligrams
17%Total Carbohydrates 51ggrams
10%Dietary Fiber 2.4ggrams
Sugars 2.3ggrams
Protein 2.2g
Vitamin A 46%
Vitamin C 1.9%
Calcium 5.2%Iron
Pro Tips for Making Cassava Cake
Cassava cake is a popular Filipino dessert made from grated cassava, coconut milk, and sugar. It is a delicious and satisfying treat that can be enjoyed any time of day. If you are looking for pro tips on how to make the best cassava cake, you have come to the right place. In this article, we will share some of our favorite tips and tricks to help you make the most delicious and authentic cassava cake.
Use fresh cassava
The key to making great cassava cake is to use fresh cassava. Make sure to purchase cassava roots that are firm and free from any mold or blemishes. You can find fresh cassava at most Asian grocery stores. Once you have the cassava, peel it and grate it finely. It is important to remove any woody fibers that may be present in the center of the cassava root, as these can make your cake tough and chewy.
Use coconut milk
Coconut milk is a crucial ingredient in cassava cake. It gives the cake a rich and creamy flavor and helps to keep it moist. When choosing coconut milk, make sure to use a high-quality brand. You can use either canned or fresh coconut milk, but canned coconut milk tends to be thicker and creamier, which is ideal for cassava cake.
Add pandan leaves
Pandan leaves are a fragrant and flavorful herb that is often used in Southeast Asian cooking. They add a subtle sweetness and a unique aroma to the cake. Simply tie a few pandan leaves into a knot and add them to the coconut milk mixture while it is cooking. Remove the leaves before pouring the mixture over the grated cassava.
Use the right amount of sugar
Cassava cake should be sweet, but not too sweet. Use the right amount of sugar to balance the flavors. Most recipes call for around 1 cup of sugar, but you can adjust this to suit your taste. If you prefer a less sweet cake, you can use less sugar. If you like a sweeter cake, you can add a little more.
Cook the cake slowly
To achieve a perfectly moist and tender cake, it is important to cook it slowly. Cassava cake should be baked in a preheated oven at 350°F for about 1 hour or until the top is golden brown and the center is set. Avoid overbaking the cake as this can make it dry and tough.
Serve with grated coconut
Cassava cake is traditionally served with grated coconut on top. This adds a nice texture and flavor to the cake. Simply grate fresh coconut and sprinkle it over the top of the cake before serving. You can also drizzle some condensed milk over the top for added sweetness.
Conclusion
In conclusion, Filipino cassava cake is a delicious and popular dessert that is perfect for special occasions. By following our recipe and tips, you can make the perfect cassava cake that will surely impress your family and friends. Try it out, and enjoy the delicious taste of Filipino cassava cake!
You May Also Like