A Yule log, also known as a bûche de Noel, is a traditional Christmas cake popular in France, Belgium, Switzerland, and various former French colonies such as Canada, Vietnam, and Lebanon. In the United States, the United Kingdom, Portugal, and Spain, there are also variations.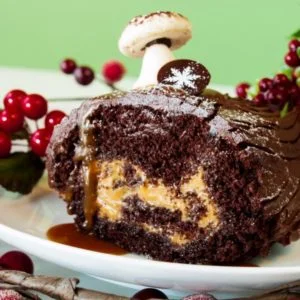 Yule Log Cake Recipe
This old-school holiday treat, which is constructed to look like a wooden yule log, never fails to elicit "ooohs" and "ahhhs," not to mention "mmms!" Our Yule Log Cake, also known as Bûche de Noel, is the perfect centerpiece for any holiday meal. This yule log cake recipe, made with Betty CrockerTM cake mix and whipped icing, is more than a tasty dessert; it's also a fun pastime that could become your family's new favorite Christmas tradition.
Ingredients  
Cake
Rich Chocolate Frosting
1/2

cup

whipping cream

1

cup

semisweet chocolate chips (6 oz)

1

tablespoon

corn syrup

1/4

teaspoon

vanilla
Instructions 
Heat oven to 375°F (350°F for dark or nonstick pan). Line bottom only of 15x10x1-inch pan with foil or waxed paper; spray with baking spray with flour. Place paper baking cup in each of 8 regular-size muffin cups.

In large bowl, beat eggs with electric mixer on high speed about 5 minutes or until thick and lemon colored. Add cake mix, water and oil; beat on low speed 30 seconds, then on medium speed 1 minute, scraping bowl occasionally. Pour 3 1/2 cups batter into pan. Divide remaining batter among muffin cups.

Bake 14 to 16 minutes or until cake springs back when lightly touched in center and cupcakes test done when toothpick inserted in center comes out clean. If necessary, run knife around edges of pan to loosen cake. Turn cake upside down onto clean kitchen towel sprinkled with 1 tablespoon powdered sugar; carefully remove foil. While hot, carefully roll up cake and towel from narrow end. Cool completely on cooling rack, about 1 hour. Cool cupcakes 10 minutes. Remove from pan; cool completely, about 30 minutes. Save cupcakes for another use.

Meanwhile, in medium microwavable bowl, microwave whipping cream uncovered on High 1 minute to 1 minute 30 seconds or until it just starts to boil. Stir in chocolate chips and corn syrup; let stand 3 minutes. Beat gently with wire whisk until smooth. Beat in vanilla. Refrigerate about 1 hour, stirring every 15 minutes, until spreading consistency.

Unroll cake carefully, and remove towel. Spread filling evenly over cake; roll up cake. Place cooling rack on sheet of waxed paper. Place cake roll on cooling rack; frost cake. Using fork, drag tines through frosting to look like log. Let stand 15 minutes. Transfer cake to serving platter. Store loosely covered in refrigerator. Let stand at room temperature 30 minutes before serving.
Notes
Nutrition Information:
Calories 450
Calories from Fat 200
Total Fat22g34%
Saturated Fat9g44%
Trans Fat2g
Cholesterol120mg40%
Sodium370mg15%
Potassium190mg5%
Total Carbohydrate58g19%
Dietary Fiber1g7%
Sugars41g
Protein5g
% Daily Value*:
Vitamin A6%
Vitamin C0%
Calcium10%
Iron10%