Tiramisu is an Italian dessert with a coffee flavor. It's prepared with ladyfingers dipped in coffee and covered with a cocoa-flavored whipped mixture of eggs, sugar, and mascarpone cheese. The recipe has been used to make a wide range of cakes and sweets. The primary ingredients in tiramisu Cake are savoiardi, egg yolks, mascarpone, chocolate, and coffee.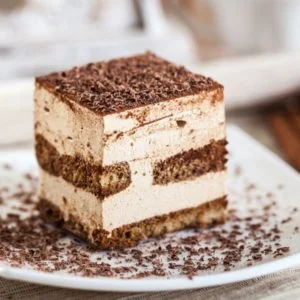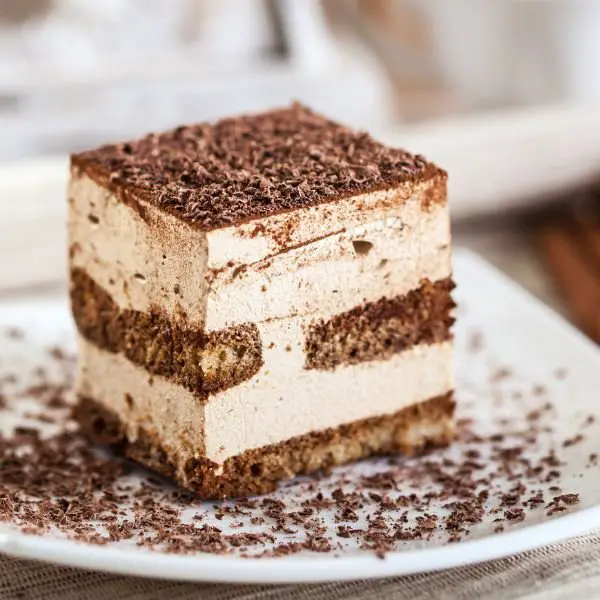 Tiramisu Cake Recipe
Starting with a cake mix and coffee, turn your favorite Italian restaurant dessert into a magnificent cake. This is a terrific make-ahead recipe because the cake gets better with age.
Ingredients  
Cake
1

box

box Betty Crocker™ Super Moist™ yellow cake mix Water, vegetable oil and eggs called for on cake mix box
Coffee Syrup
3/4

cup

hot brewed espresso coffee or very strong coffee

2

tablespoons

cognac
Filling
3

cups

mascarpone cheese

1 1/2

cups

powdered sugar

2

tablespoons

cognac

3

teaspoons

vanilla

1

cup

cold whipping cream
Garnish
3

tablespoons

Dutch processed or regular unsweetened baking cocoaChocolate-covered coffee beans

3

oz

dark baking chocolate, coarsely chopped
Instructions 
Preheat the oven to 350 degrees Fahrenheit (325 degrees Fahrenheit for dark or nonstick pans). 2 (9-inch) round cake pans, greased with shortening and lined with parchment paper Make the cake mix according per the package directions, using water, oil, and eggs. Pour the batter into the prepared pans.

Bake 25 to 29 minutes or until toothpick inserted in center comes out clean. Cool 10 minutes; remove from pans to cooling racks. Cool completely.

In small bowl, mix coffee syrup ingredients. Set aside to cool.

Meanwhile, in large bowl, beat mascarpone cheese, 1 1/2 cups powdered sugar, 2 tablespoons cognac and the vanilla with electric mixer on medium speed until smooth. In small bowl, beat whipping cream with electric mixer on high speed until stiff peaks form. Gently fold whipped cream into mascarpone mixture until combined.

To assemble, cut each cake horizontally to make 2 layers. Place 1 cake layer on plate; moisten generously with coffee syrup, then spread with about 1 cup of the filling. Repeat with remaining 3 cake layers. Spread remaining filling over top and side of cake.

Sprinkle cocoa over cake. Arrange coffee beans around top edge of cake. Sprinkle chopped chocolate around bottom edge of cake. Refrigerate at least 3 hours before serving.
Notes
Nutrition Information:
Total Fat 44g68%
Saturated Fat 23g115%
Trans Fat 1g
Cholestero l145mg48%
Sodium 310mg13%
Potassium 150mg4%
Total Carbohydrate 49g16%
Dietary Fiber 0g0%
Sugars 35g
Protein 4g
Vitamin A20%
Vitamin C0%
Calcium15%
Iron 4%
Final Thought:
Coffee has long been a source of dread for me, and the concept of putting it in sweets is no exception. Until Tiramisu came along! That's when I discovered that, while it's tough to match the flavor and texture of this Tiramisu cake, coffee has a lot of potential to shine in any dessert. This recipe contains all of the basic features of an Italian tiramisu, but it doesn't use raw eggs, which I don't like to put in my cakes or any dessert for that matter. Instead, in my Tiramisu cake recipe, eggs are boiled into a thick creme anglaise, then the sauce is blended with mascarpone cheese, and finally whipped cream is added to absorb air and add texture to the finished cake.