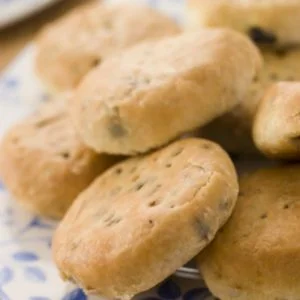 Traditional Eccles Cakes Recipe
One of Britain's most famous and beloved pastries, these traditional and authentic Eccles cakes are delightfully flaky and packed with a mixture of sweet currants, candied citrus peel and spices.  Get ready to experience one of the most delicious pastries you've ever tasted!
Ingredients  
350

grams

 all-purpose flour

312

grams

very cold butter, diced into cubes (put in the freezer for 5-10 minutes after cubing it to ensure it's very cold)

1/2 

teaspoon

 salt

125

ml

ice cold water (add more if needed
For the Filling:
Instructions 
To make the pastry dough:  Place the flour, salt and cubed butter in a food processor (alternatively this can be done by hand) and pulse until the mixture resembles coarse breadcrumbs.  Gradually add the ice cold water and pulse just until the dough comes together (only add as much water as needed).  Do not overdo this as maintaining the flecks of butter is critical to achieving a flaky pastry.  

Turn the dough out onto a floured work surface and roll it out into a rectangle about 1/2 inch thick. Fold each end of the dough into the middle with one end overlapping the other. Rotate the dough 90 degrees. Repeat all the steps. Wrap the dough in plastic wrap and chill for 20 minutes. Repeat the steps again, wrap the dough and chill for at least one hour before using. The pastry dough can be made a few days in advance or frozen.

To make the filling:  Melt the butter in a medium saucepan and add all remaining ingredients except for the egg white and demerara sugar.  Turn off the heat and stir in the rum.  Let the filling sit for at least 3-4 hours before using or overnight.  The filling can be made a few days in advance.  If refrigerated, let the filling sit at room temp for at least 30 minutes before filling the Eccles cakes.

To assemble the Eccles cakes: Flour a work surface and roll the pastry out to between 1/8 and 1/4 inch thickness.  Per your preference, either cut out rounds or squares.  Typical size is about 3.5 inches in diameter. 

Preheat the oven to 375 degrees F.  Bake the Eccles cakes for 15-20 minutes or until golden brown. Transfer to a wire rack to cool until just warm.Eccles cakes are best eaten a little warm. You can reheat them in the microwave.Traditionally enjoyed with a cup of tea and accompanied by an aged, crumbly cheese (e.g., Lancashire, English cheddar) for a sweet-savory combination.
Notes
Nutrition Information:
Carbohydrates: 46g
Protein: 3g
Fat: 19g
Saturated Fat: 11g
Cholesterol: 60mg
Sodium: 338mg
Potassium: 190mg
Fiber: 2g
Sugar: 27g
Vitamin A: 720IU
Vitamin C: 0.7mg
Calcium: 34mg
Iron: 2mg