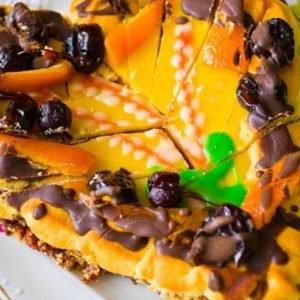 Mazurek (Polish Easter Cake) Recipe
This sweet sheet cake is a must in Poland on Easter. It looks beautiful with the flower decoration made out of 2 different colored jams and flaked almonds. [Recipe originally submitted to Allrecipes.pl]
Ingredients  
Cake:
1 ½

cups

unsalted butter, at room temperature

2

 tablespoons

unsalted butter, at room temperature

¾

cup

white sugar

1

pic

egg

3

pic

 hard-boiled egg yolks, mashed

3

cups

all-purpose flour

1

cup

ground almonds

2

teaspoons

lemon zest, or to taste

1

pic

beaten egg
Decoration:
¼

cup

water

3

 tablespoons

unflavored gelatin

½

cup

cherry preserves

½

cup

apricot preserves

¼

cup

candied cherries, halved, or more as needed

¼

cup

sliced almonds
Instructions 
Combine 1 1/2 cups plus 2 tablespoons butter, sugar, and egg in a bowl; beat with an electric mixer until creamy. Beat in mashed egg yolks. Add flour, ground almonds, and lemon zest. Knead into a dough. Cover and refrigerate for 1 hour.

Preheat the oven to 400 degrees F (200 degrees C). Line a rimmed baking sheet with parchment paper.

Roll out 2/3 of the dough on a lightly floured surface into a rectangle the size of the baking sheet. Lay onto the prepared baking sheet. Roll remaining dough into finger-thick rolls. Press dough rolls onto the cake in a diamond-shaped pattern. Brush rolls with beaten egg.

Bake in the preheated oven until golden brown, 20 to 25 minutes.

Pour 1/4 cup water into a saucepan. Sprinkle gelatin powder on top. Let stand until softened, about 1 minute. Place over low heat; stir constantly until granules are completely dissolved, about 3 minutes.

Heat cherry and apricot preserves in 2 small pots over low heat until hot. Strain through a fine-mesh sieve. Mix half of the dissolved gelatin into each flavor. Alternate filling the diamond shapes of the cake with the 2 different flavors. Arrange sliced almonds and candied cherries into flower shapes on top.
Notes
Nutrition Information:
protein 6.3g
carbohydrates 30.2g
fat 15g
cholesterol 73.3mg
sodium 16.7mg