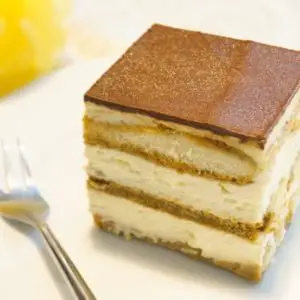 Marzipan Ring Cake (Kransekage) Recipe
Traditional Danish recipe for marzipan ring cake also known as Kransekage. This cake is traditionally served at occasions where you want to celebrate something special or at New Years Eve.
Ingredients  
Icing
1

pic

egg white

150

g

powdered sugar

1/2

 tsp

 white wine vinegar or white balsamic vinegar
Instructions 
Marzipan Rings
Whip the egg whites and the sugar using a fork. Let it rest for minimum 15 minutes, however 30 minutes is preferred.

Divide the marzipan into smaller pieces and put it in a large bowl. Add the egg white/sugar mixture step-by-step and knead well until it has a uniform and smooth consistency. It is normal that you don't have to use all the egg white/sugar mixture.

Cover the bowl with some plastic wrap or aluminum foil and place it in the fridge for minimum half an hour, however longer is preferred.

Roll out the dough into two equal sized bars 60cm (24 inch) long.

Cut the first bar into 3 pieces each with a length of 15cm, 18cm and 27cm (6 inch, 7 inch and 11 inch).

Cut the second bar into 3 pieces each with a length of 12cm, 21cm and 24cm (5 inch, 8 inch and 9.5 inch). There is a little extra piece of dough left - roll it into a small cone for the top of the cake.

Assemble each of the bars into rings and place them on a baking tray lined with parchment/baking paper.

Give each of the rings a gently push, using two fingers, making them a little pointy at the top.

Preheat the oven to 200 C (400 F) and bake the rings at the center position for about 10 minutes. They should only get a little light-brown colored at the top and bottom. The baking time is highly depended on the size of the rings so keep an eye on them. It is important that the oven is preheated.

Let the rings cool off a bit before you move them too an oven grid for the final cooling.

When the rings are completely cooled off you can decorate them with icing. If you have the time make the rings two days in advance, bag them in a plastic bag and store them in the freezer before you decorate them. This will only make the rings even more moist and delicious.
Icing
Whip the egg white, white wine vinegar and powdered sugar together into a chewy and firm icing. Pour the icing in a plastic bag or similar and cut a small hole at one of the corners. Use your hands to press out the icing through the small hole. Use it to decorate the marzipan rings in a classic zigzag-grid.

Assemble the marzipan cake (Kransekage) starting with the largest ring and moving upwards with smaller rings.
Notes
Nutrition Information:
protein 6g
carbohydrates 33.4g
fat 12.9g
sodium 27.5mg