Gingerbread Cake is a classic holiday treat that has been enjoyed for generations. It is a rich and flavorful cake that is perfect for sharing with family and friends. In this article, we will provide you with the perfect Gingerbread Cake recipe that is sure to impress your guests.
What You Need To Make Gingerbread Cake Recipe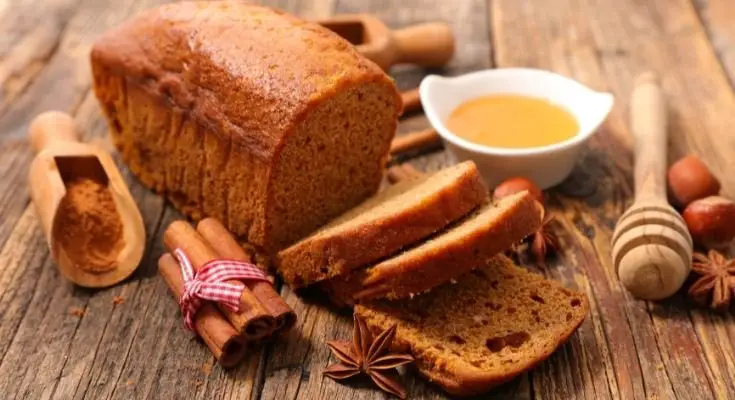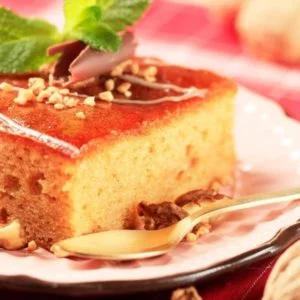 Gingerbread Cake Recipe
Warm Gingerbread Cake topped with vanilla cream sauce, bananas and whipped cream! This easy gingerbread recipe could be my favorite holiday cake recipe ever!
Ingredients  
For the Gingerbread Cake
1/2 

 cup

granulated sugar

1/2 

cup

butter

1

pic

large egg , beaten

1

cup

unsulphered molasses

2 1/2 

cup

s all-purpose flour

1 1/2

 teaspoons 

baking soda

1

teaspoons 

 ground cinnamon

1

teaspoons 

ground ginger

1/2 

teaspoons 

ground cloves

1/2 

teaspoons 

salt

1

cup

 very hot water

banana for topping

fresh whipped cream , for topping
For the Vanilla Cream Sauce:
1

cup

granulated sugar

1/2 

cup

 butter

1

cup

heavy whipping cream
Instructions 
Begin by preheating your oven to a temperature of 350 degrees Fahrenheit, and then prepare a 9x13-inch baking pan by greasing it with some cooking spray.

In a mixing bowl that is sufficiently large, cream the butter and sugar together until they are light and smooth.

Proceed to add in the molasses and egg, and mix the ingredients well. In a separate bowl, combine the dry ingredients, which should include flour, baking soda, cinnamon, ginger, cloves, and salt.

Add the dry ingredients to the wet mixture, and then mix them together until they are properly combined. Slowly pour in some hot water while continuing to stir the mixture until it becomes smooth. Note that the batter will be thin.

Take the prepared pan and pour the batter into it, then bake it in the preheated oven for around 20 to 35 minutes. Keep an eye on it until a toothpick inserted in the center of the cake comes out clean.

Once ready, serve the cake while still warm, and top it with some fresh banana slices, whipped cream, and vanilla cream sauce. Enjoy your delicious dessert!
For the Vanilla Cream Sauce:
Combine sugar, butter, and cream in a medium saucepan and place it over medium heat. Stir occasionally until the butter has completely melted.

Once everything has melted, raise the heat and bring the mixture to a boil. Keep stirring frequently and let it boil for 3-5 minutes. After that, remove the pan from heat and add vanilla extract.

Wait for a few minutes and allow the mixture to cool down before serving it as a topping over a cake.
Notes
Nutrition Information:
Carbohydrates: 66g
Protein: 3g
Fat: 23g
Saturated Fat: 14g
Cholesterol: 81mg
Sodium: 413mg
Potassium: 458mg
Sugar: 46g
Vitamin A: 785IU
Vitamin C: 0.1mg
Calcium: 83mg
Iron: 2.6mg
Pro Tips for Making Gingerbread Cake
Gingerbread cake is a holiday staple, and for good reason. The warm spices and molasses make it the perfect treat for chilly winter evenings. But making a perfect gingerbread cake can be tricky. Don't worry, though. We have got you covered with our pro tips for making gingerbread cake that will have your family and friends raving about it for years to come.
Choose the right ingredients
Choosing the right ingredients is crucial to making a delicious gingerbread cake. Make sure to use fresh and high-quality spices, including ginger, cinnamon, nutmeg, and cloves. The molasses you use should be unsulphured and have a robust flavor. Use unsalted butter and fresh eggs to enhance the richness of the cake.
Measure your ingredients correctly
When baking gingerbread cake, measuring your ingredients correctly is essential. Even a slight variation in the amount of flour, sugar, or spices can affect the texture and flavor of the cake. Use a kitchen scale for the best accuracy.
Mix the ingredients properly
To achieve a fluffy and moist gingerbread cake, it's important to mix the ingredients properly. Cream the butter and sugar until they are light and fluffy, then add the eggs and mix well. In a separate bowl, whisk together the dry ingredients before adding them to the wet mixture. Mix until the batter is smooth, but do not overmix.
Let the batter rest
Letting the batter rest for at least an hour before baking allows the flavors to meld together and enhances the cake's texture. Cover the bowl with plastic wrap and let it rest in the refrigerator for an hour.
Bake the cake at the right temperature
Baking at the right temperature is essential to making a perfect gingerbread cake. Preheat your oven to 350°F (175°C) and bake the cake for 30-35 minutes until it's golden brown and a toothpick inserted into the center comes out clean. Overbaking can dry out the cake, so make sure to check it at the 30-minute mark.
Let the cake cool completely
Letting the gingerbread cake cool completely before frosting or slicing it is crucial. This allows the cake to set and results in a more even texture. Cover the cake with a clean towel or plastic wrap and let it cool for at least an hour.
Add a delicious frosting
While a gingerbread cake is delicious on its own, adding a frosting can take it to the next level. Cream cheese frosting is a popular choice and pairs well with the warm spices and molasses. For a more decadent option, consider adding caramel sauce or chocolate ganache.
Conclusion
In conclusion, this Gingerbread Cake recipe is the perfect holiday treat that is sure to impress your guests. With its rich and flavorful taste, it's no wonder that it has been enjoyed for generations. We hope you enjoy making and sharing this delicious cake with your family and friends this holiday season.
You May Also Like