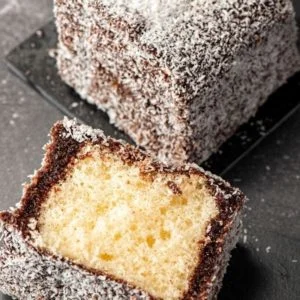 Lamington Cake Recipe
Lamingtons – traditional Australian cake squares dipped in a velvety chocolate icing and sprinkled with desiccated coconut, they are moist, comforting, and utterly delicious!
Ingredients  
Instructions 
Bake the butter cake one day in advance as it needs to spend the night in the refrigerator.

Preheat the oven to 180 degrees Celsius/ 350 degrees Fahrenheit. Grease a square 20 cm/8-inch baking dish.

Dry ingredients: Sift together the flour, baking powder, and salt. Set aside.

Wet ingredients: In another bowl, beat the soft butter until creamy. Add the sugar and beat until pale and fluffy. Add one egg, beat well to incorporate, then add the second egg and the vanilla extract and combine as well.

Batter: Set the mixer at the lowest speed. Alternatively, add the flour and the milk, starting and finishing with the flour. Beat the mixture only shortly until smooth, do not overbeat.

Bake: Place the batter into the prepared baking dish and bake for 25-30 minutes or until a skewer inserted in the middle of the cake comes out clean. Leave the cake in the baking dish for about 10 minutes, then transfer to a wire rack and let cool completely.

Refrigerate: When completely cool, wrap it well in cling film/ plastic foil and refrigerate overnight. (Note 2)

Cut squares: The next day cut it into regular squares of about 5 cm/ 2 inch. Place a wire rack on top of a large baking tray that will catch the possible chocolate or coconut drippings.
Chocolate icing:
Sift the icing sugar and the cocoa powder. Set aside.

Melt the butter in a saucepan large enough to hold the whole icing sugar and cocoa powder mixture.

Combine: When the butter has melted, add the milk, mix, and start adding the icing sugar and cocoa powder mixture while whisking all the time. Add only about 1 cup at a time, whisk well and continue adding the sugar until everything is well incorporated and lump-free.
Notes
Nutrition Information:
Carbohydrates: 51g
Protein: 4g
Fat: 15g
Saturated Fat: 10g
Polyunsaturated Fat: 4g
Cholesterol: 51mg
Sodium: 206mg
Fiber: 2g
Sugar: 34g