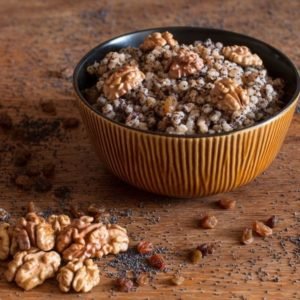 Kutia Cake Recipe
Polish kutia wigilijna or Christmas cooked wheat pudding, consisting of whole or cracked wheat or barley (rice for the aristocracy!), poppy seeds, honey, and sweetmeats (łakocie) like figs, raisins, and nuts, and sometimes cream, is typically the first course served at the Christmas Eve dinner known as ​wigilia.
Ingredients  
1

cup

wheat berries, or kamut berries, rinsed

1/2 

teaspoon 

salt

1

cup

poppy seeds

1/2 

cup

confectioners' sugar

4

teaspoon 

honey

1

teaspoon

pure vanilla extract

1

pic

lemon, zested

2/3

 cup 

plumped raisins

1/2 

 cup 

ground walnuts, optional

1/2 

 cup 

almonds, blanched and coarsely ground, optional

5

plumped dried figs, chopped, optional

5

plumped pitted dates, chopped, optional

1/2 

cup

half-and-half
Instructions 
Place rinsed wheat berries in a large pot or Dutch oven and cover with water by about 5 inches. Stir, cover, and let stand overnight.

When ready to cook, drain the wheat berries, rinse, drain again and place back in the pot. Add 6 cups cold water and salt, bring to a boil, reduce heat to a simmer, and cook until tender (anywhere from 90 minutes to 3 hours). Drain and set aside to cool.

Prepare poppy seeds by placing them in a saucepan with water to cover by several inches. Stir and let stand 20 minutes. Pour off any impurities that rise to the surface, then drain through a sieve, rinse under cold water and drain again. Return poppy seeds to the saucepan and scald with boiling water to cover by an inch. Cover and let stand 15 minutes.

Place saucepan on the burner, bring to a boil, reduce heat and simmer for 30 minutes. Poppy seeds are ready when they can be pulverized between the fingers. Drain and grind once in a poppy seed grinder or 3 times in a regular grinder.

In a large bowl, combine cooled, cooked wheat, ground poppy seeds, confectioners' sugar, honey, vanilla, zest, raisins and walnuts, almonds, figs, and dates, if using any or all.

Mix well and add half and half, incorporating thoroughly.

Refrigerate until ready to serve.
Notes
Nutrition Information:
12g Fat
52g Carbs
8g Protein