What You Need To Make Ice Cream Cake Recipe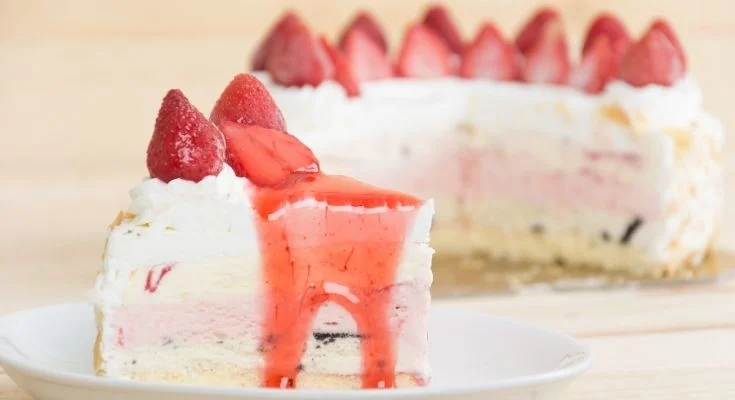 ice cream
chocolate
hot fudge
whipping cream
vanilla extract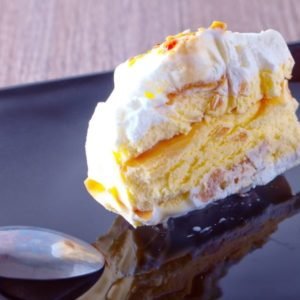 Ice Cream Cake Recipe
The perfect sweet treat for the summer, this Ice Cream Cake is so easy to make! Enjoy this cake all summer long!
Ingredients  
Instructions 
To start making this delicious dessert, first line an 8-inch cake pan with plastic wrap. Then, using an ice cream scoop, transfer all the ice cream to the pan. Once the ice cream is in the pan, cover it with another layer of plastic and press it down into a flat layer. Place the pan in the freezer to freeze.

Next, prepare the chocolate cake layer. You can either use your favorite chocolate cake recipe and freeze the two extra layers or use a box mix. Once the cake is cooled, place it on a serving plate or cardboard round.

When the ice cream layer is very hard and the cake is cooled, cover the top of the cake with fudge sauce and sprinkle chopped cookies on top. Remove the ice cream layer from the freezer and place it on top of the cake. Cover it with plastic and put it back in the freezer while you make the whipped cream.

Combine cold whipping cream, sugar, and vanilla in the bowl of your mixer fitted with a whisk attachment. If you prefer, you can use an electric hand mixer instead. Mix on low, gradually increasing speed to high until very soft peaks form. Whisk the mixture by hand until the peaks firm up, but be careful not to over-whip the cream as it may curdle.

Remove the cake from the freezer and cover it with the whipped cream. Smooth the top and sides, and then transfer the remaining whipped cream to a piping bag fitted with a large closed star (846) tip. Pipe a drip of chocolate onto the edge of the cake. Use warm fudge or make a simple ganache with 2 parts chocolate to one part cream to pipe a drip onto the top edge. Finally, pipe a scalloped pattern onto the top edge with the reserved whipped cream.

Press crumbled cookies onto the bottom edge of the cake, and it's ready to serve. You can store the cake in the freezer until ready to use. Before serving, remove the cake from the freezer and leave it on the counter for about 15 minutes to make slicing easier.
Notes
Nutrition Information:
Carbohydrates: 100g
Protein: 11g
Fat: 46g
Saturated Fat: 24g
Polyunsaturated Fat: 4g
Monounsaturated Fat: 15g
Trans Fat: 1g
Cholesterol: 128mg
Sodium: 671mg
Potassium: 584mg
Fiber: 3g
Sugar: 67g
Vitamin A: 1295IU
Vitamin C: 1mg
Calcium: 296mg
Iron: 4mg
Pro Tips for Making Ice Cream Cake
Ice cream cake is a beloved dessert that combines two classic treats into one delicious creation. Whether it's for a birthday party, summer barbecue, or just a special treat for yourself, making ice cream cake can be a fun and rewarding experience. However, creating a perfect ice cream cake can be a challenging task, and you need to know the right tips and tricks to get it right. In this article, we will provide you with a comprehensive guide on how to make the perfect ice cream cake with pro tips that will help you outrank other websites in Google search.
Choose the Right Ice Cream and Cake
The first step to making the perfect ice cream cake is selecting the right ice cream and cake. It is crucial to choose flavors that complement each other, and the texture of the cake should be sturdy enough to hold up the ice cream layers. You can use store-bought ice cream and cake or make your own, depending on your preferences. Some popular cake flavors for ice cream cake include chocolate, vanilla, and strawberry, while some popular ice cream flavors include mint chocolate chip, cookies and cream, and rocky road.
Prep the Cake Pan
Once you have your ice cream and cake ready, the next step is prepping the cake pan. You will need a springform pan to make an ice cream cake, as it will allow you to easily remove the cake from the pan without damaging it. You should line the bottom of the pan with parchment paper to prevent the cake from sticking to the pan. You can also wrap the outside of the pan with plastic wrap to make it easier to remove the cake from the pan later.
Layer the Cake and Ice Cream
The key to a perfect ice cream cake is layering the cake and ice cream properly. You should start with a layer of cake at the bottom of the pan, followed by a layer of ice cream, and then another layer of cake. Repeat this process until you have filled the pan. Make sure to spread each layer evenly and press down gently to remove any air pockets. You can also add other toppings and fillings between the layers, such as chocolate chips, whipped cream, or caramel sauce, to add extra flavor and texture.
Freeze the Cake
Once you have layered the cake and ice cream, the next step is to freeze the cake. You should cover the cake with plastic wrap or foil and freeze it for at least six hours or overnight. This will allow the ice cream to harden and set, making it easier to cut and serve later.
Decorating the Cake
After the ice cream cake has frozen, it's time to decorate it. You can use whipped cream, frosting, or other toppings to decorate the cake according to your preferences. Some popular decorations for ice cream cake include sprinkles, chocolate shavings, fresh fruit, and nuts. You can also add a layer of ganache or fudge on top of the cake for an extra layer of flavor and texture.
Serving the Cake
When it's time to serve the ice cream cake, you should remove it from the freezer and let it sit at room temperature for a few minutes to soften. This will make it easier to cut and serve. You can use a hot knife to cut the cake cleanly, dipping it in hot water and wiping it clean between each slice. You can also top each slice with extra toppings, such as whipped cream or caramel sauce, to make it even more delicious.
Conclusion
ice cream cakes are a delicious and versatile dessert that can be customized to suit your tastes and preferences. Making your own ice cream cake is a fun and rewarding process that allows you to create a dessert that is truly unique. By following the steps outlined in this article, you can create a delicious ice cream cake that is sure to impress your friends and family. So why not try making your own ice cream cake today and see just how delicious and satisfying this dessert can be!
You May Also Like