Strawberry cake is made with strawberries as the main ingredient. Strawberries can be utilized in the cake batter, the frosting, and the icing. Typically, strawberry cakes are served chilled.
What You Need To Make Fresh Strawberry Cake Recipe Recipe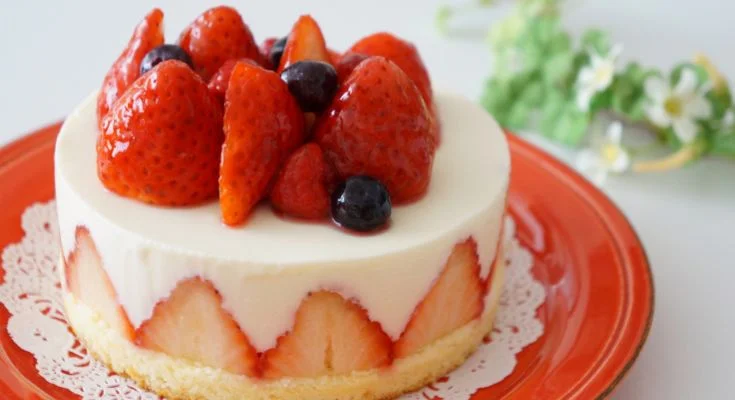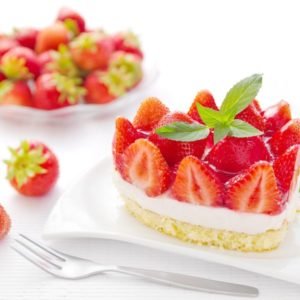 Fresh Strawberry Cake Recipe
This strawberry cake is one of the easiest and most delicious cakes you'll ever cook, thanks to the abundance of fresh strawberries.
Ingredients  
1½

cups

 all-purpose flour, spooned into measuring cup and leveled-off

1½

teaspoons

 baking powder

½

teaspoon

 salt

6

tablespoons 

unsalted butter, softened, plus more for greasing the pan

1

cup

plus 2 tablespoons sugar, divided

1

pic

 large egg

1

teaspoon

 vanilla extract

½

cup 

milk (low fat is fine)
Instructions 
In the bowl of an electric mixer, beat the butter and a cup of sugar for three minutes until it turns pale and fluffy. Add the egg and vanilla extract and beat on low speed until they are well blended. Gradually add the flour mixture on low speed, alternating with the milk until the batter becomes smooth. Keep in mind that the batter will be thick.

Using a spatula, spread the batter evenly into the prepared pan. Place the strawberries on top, with their cut side facing down, to completely cover the batter. You may use more or less than the recipe's recommended 34 pounds of strawberries. Sprinkle the remaining 2 tablespoons of sugar over the strawberries.

Bake the cake at 350°F for ten minutes, then reduce the temperature to 325°F and continue baking for an hour or until the cake turns a light golden brown color and a tester comes out clean. Once done, allow the cake to cool completely in the pan on a wire rack. If desired, top the cake with sweetened whipped cream or vanilla ice cream.
Notes
Nutrition Information:
Fat: 8 g
Saturated fat: 5 g
Carbohydrates: 40 g
Sugar: 25 g
Fiber: 1 g
Protein: 3 g
Sodium: 185 mg
Cholesterol: 38 mg
Pro Tips for Making Fresh Strawberry Cake Recipe
Strawberries are one of the most beloved fruits of all time, and for good reason. They are sweet, juicy, and packed with flavor. And when it comes to making cakes, nothing beats the taste of fresh strawberry cake. However, getting the perfect strawberry cake recipe can be a challenge. But worry not, we are here to help.
Choose the Right Strawberries
The first and most important tip for making a delicious strawberry cake is to choose the right strawberries. Look for bright red, ripe strawberries that are firm to the touch and have a sweet, fragrant aroma. Avoid strawberries that are dull in color, mushy, or have a sour smell.
When choosing strawberries for your cake, it is also important to wash them thoroughly and remove the stems and leaves. Once you have cleaned your strawberries, you can slice them or puree them, depending on your recipe.
Use High-Quality Ingredients
The key to making a delicious strawberry cake is to use high-quality ingredients. This includes using fresh strawberries, real butter, pure vanilla extract, and high-quality flour. Avoid using artificial flavorings or ingredients, as they can affect the taste and texture of your cake.
When it comes to flour, using cake flour instead of all-purpose flour can make a big difference in the texture of your cake. Cake flour has a lower protein content, which results in a lighter, fluffier cake.
Add Some Acid
Adding a touch of acid to your strawberry cake can help enhance the flavor and keep it from tasting too sweet. Lemon juice, for example, can add a subtle tanginess to your cake that complements the sweetness of the strawberries.
Other acids that you can add to your cake include vinegar or cream of tartar. Just be sure to use them in small amounts, as too much acid can affect the texture of your cake.
Use Room-Temperature Ingredients
Using room-temperature ingredients can help ensure that your cake bakes evenly and has a consistent texture. This is especially important when it comes to butter and eggs, as they can affect the rise and texture of your cake.
To bring your ingredients to room temperature, simply take them out of the refrigerator and let them sit at room temperature for about an hour before you start baking.
Don't Overmix Your Batter
Overmixing your batter can cause your cake to become tough and dense. To avoid this, mix your ingredients just until they are combined. This will ensure that your cake is light and fluffy.
When it comes to adding your strawberries to the batter, it is important to mix them in gently. Overmixing the strawberries can cause them to break down and affect the texture of your cake.
Bake Your Cake at the Right Temperature
Baking your cake at the right temperature is crucial for achieving the perfect texture and flavor. For most strawberry cake recipes, a temperature of 350°F is recommended.
To ensure that your cake bakes evenly, make sure that your oven is preheated to the correct temperature before you start baking. It is also important to use the right size and type of baking pan, as this can affect the cooking time and temperature of your cake.
Let Your Cake Cool Before Frosting
Once your cake is done baking, it is important to let it cool completely before you start frosting it. This will prevent the frosting from melting or sliding
Conclusion
In conclusion, this Strawberry Charlotte Cake recipe is a delightful dessert that is sure to impress your guests. By following the steps outlined above, you can create a visually stunning and mouth-watering cake that will have your taste buds singing. With this recipe, you will be able to make a Strawberry Charlotte Cake that is sure to outrank any other website's recipe. So, what are you waiting for? Try this recipe today and impress your family and friends!
You May Also Like