Simnel cake is a fruitcake that is popularly consumed during Lent and Easter in the United Kingdom, Ireland, and other nations with a history of migration from those regions. It can be identified by its eleven almond paste or marzipan balls and layers of almond paste or marzipan, usually one in the centre and one on top.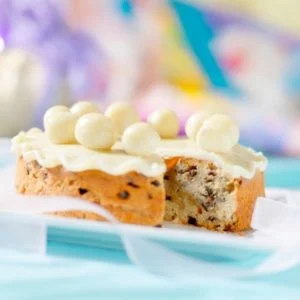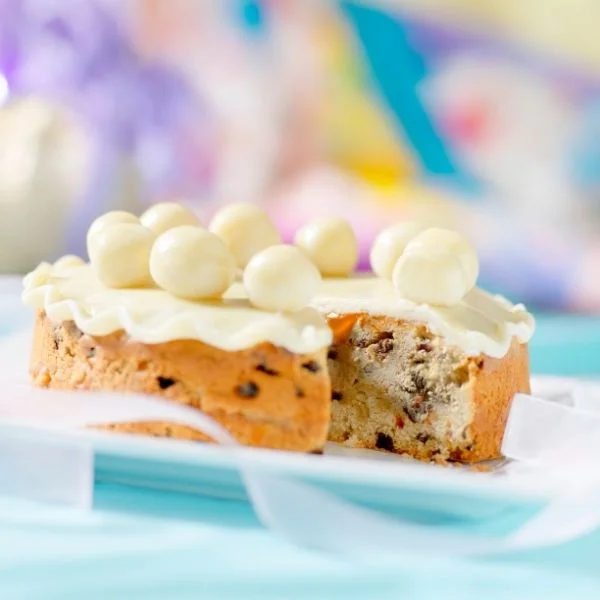 Easter simnel cake Recipe
Make this traditional Simnel cake for Easter. Top with 11 marzipan balls, leaving out Judas, to symbolize the 11 disciples of Jesus, or with spring flowers.
Ingredients  
250

g

mixed dried fruit (a mixture of sultanas, currants, raisins and candied mixed peel)

1

pic

 orange , zested and juiced

500

g

pack marzipan

250

g

pack butter , softened

200

g

light brown soft sugar

4 

pic

eggs , plus 1 beaten to glaze

175

g

 plain flour

100

g

 ground almonds

1

tsp

 baking powder

1

pic

 lemon , zested

2

tsp 

mixed spice

1

tsp 

vanilla extract

100

g

 glacé cherries , halved

3

tbsp 

apricot jam
Instructions 
Add the orange juice, zest, and 2 tbsp water to a bowl with the mixed dried fruit. Leave it to cool after 2 minutes of microwave heating under cover. Alternately, gradually heat in a pan while occasionally stirring until the liquid has been absorbed, then allow to cool.

Oven: Heat to 150°C/130°F fan/gas 2. Using the base of a deep 20cm cake tin as a pattern, roll out a third of the marzipan and cut out a circle. Set aside for later, wrap any leftover marzipan and two-thirds of it. Butter and use two layers of parchment paper to line the cake pan. Cream the butter and sugar in a mixing bowl. Mix well after adding the eggs, flour, almonds, baking powder, lemon zest, mixed spices, and vanilla (all at once). Cherries are added after the dried fruit has been cooled and soaked.

Scrape into the cake pan half of the batter. The remaining cake batter should then be placed on top, and the marzipan disc should be leveled with a spatula. 2 hours of baking. If any wet mixture remains on the skewer after inserting it into the center of the cake to determine whether it is cooked, place the cake back in the oven for another 10 minutes. After 15 minutes of cooling in the pan, put the baked goods out onto a wire rack to finish cooling.

Apricot jam should be brushed over the cake's top. Using the cake's base as a guide, cut out another disc from the remaining marzipan after rolling out half of it. Place it on top of the cake and, if desired, crimp the edges. For the apostles, form 11 identical-sized balls from the leftover marzipan. The apostles should be arranged in a circle around the exterior of the marzipan and should also be given a light egg brushing. Be very cautious as the marzipan will burn fast and should only be placed under a hot grill for a minute or two until just beginning to caramelize. Allow the cake to cool before decorating with a ribbon, if desired. Can last for up to a
Notes
Nutrition Information:
fat 29g
saturates 12g
carbs 77g
sugars 60g
fibre 2g
protein 10g
salt 0.65g
Final Thought:
Simnel cake is a delicate fruitcake often made with white flour, sugar, butter, eggs, flavorful dried fruits, zest, and candied peel. Orange flower water or brandy may occasionally be added to the cake batter or used to flavor the almond paste. In most contemporary variants, marzipan or almond paste is used as both a filling for the cake—a layer is placed in the center of the batter before the cake is baked—and as decoration for the top. [12] Most recipes call for baking for at least 90 minutes and suggest lining the pan with multiple layers of parchment paper. Sometimes brown paper is also wrapped around the outside to prevent the marzipan from burning.