Crema de fruta is a popular dessert in the Philippines that is made from layers of sponge cake, custard, fruit cocktail, and gelatin. This delicious dessert is often served during special occasions such as birthdays, Christmas, and other celebrations. In this article, we will discuss the history, ingredients, recipe, and variations of crema de fruta.
What You Need To Make Crema De Fruta Cake Recipe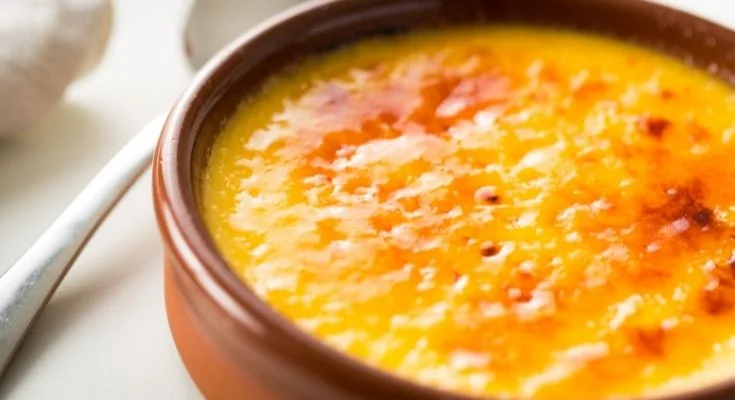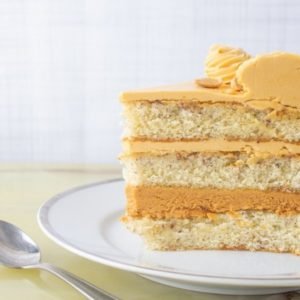 Crema De Fruta Cake Recipe
Crema de Fruta with delicious layers of from-scratch sponge cake, sweet custard, and fruit gelatin is sure to wow the crowd! It's the perfect holiday or any time of the year treat!
Ingredients  
For the Sponge Cake
1

cup

cake flour

1/2

cup

sugar

1/8

teaspoon

 salt

2

teaspoon

melted butter

4

pic

room temperature

1

pic

vanilla extract
For the Custard
1 1/2

cup

evaporated milk

1/2

cup

sugar

1/3

cup

all-purpose flour

2

pic

yolks

1/8

cup

butter

1/2

teaspoon

vanilla extract
For the Fruit and Gelatin
1 1/2

cup

 fruit cocktail, drained and juice reserved

1 1/2

cup

 fruit cocktail juice

1/4

cup

water

3

teaspoon

 sugar

1

teaspoon

clear unflavored gelatin
Instructions 
To begin, preheat the oven to a temperature of 350 F. Before adding any ingredients, make sure to grease and line the bottom of an 8-inch square pan with parchment paper.

Next, sift the cake flour into a separate bowl. To the bowl, add one tablespoon of sugar and a dash of salt, then whisk the mixture together until combined. Repeat the sifting process two more times.

Moving on to the eggs and remaining sugar, add both ingredients to the bowl of a stand mixer. Use the whisk attachment to beat the mixture at medium speed until it becomes fluffy, thick, and pale in color. The mixture should be tripled in volume, similar to that of softly whipped cream.

Add in the vanilla extract and mix gently using a rubber spatula.

When adding the flour mixture to the eggs and sugar mixture, add it in three different additions. To avoid losing volume, gently fold in the flour mixture rather than mixing it too vigorously.

In a separate large mixing bowl, add the melted butter. Scoop about one cup of the batter and mix it into the butter. Stir until the mixture is well incorporated and then fold it back into the remaining batter.

Once everything is combined, pour the batter into the prepared baking pan and bake for approximately 17-20 minutes or until a toothpick inserted into the middle of the cake comes out clean. After baking, allow the cake to cool slightly in the pan before transferring it to a wire rack to cool completely.
Notes
Nutrition Information 
Carbohydrates: 55g,
Protein: 9g,
Fat: 11g,
Saturated Fat: 6g,
Cholesterol: 141mg,
Sodium: 158mg,
Potassium: 257mg,
Sugar: 40g,
Vitamin A: 505IU,
Vitamin C: 2mg,
Calcium: 135mg,
Iron: 1mg
Pro Tips for Making Crema De Fruta Cake Recipe
Pro Tips
Use room temperature ingredients to make the sponge cake. This will ensure that the cake rises evenly.
Sift the flour mixture before adding it to the butter mixture to prevent lumps.
When beating the egg whites, make sure that the bowl and beaters are completely clean and free of any grease. Any grease or oil will prevent the egg whites from forming stiff peaks.
To prevent the gelatin from clumping, make sure to dissolve it completely in water and sugar over low heat.
You can use any canned fruit cocktail for this recipe, but it's best to drain it well before adding it to the cake.
Conclusion
Crema de fruta is a delicious and popular dessert in the Philippines. With its layers of sponge cake, custard, fruit cocktail, and gelatin, it is a dessert that is perfect for special occasions. By following the recipe and variations provided in this article, you can make your own crema de fruta that is sure to impress your friends and family. With high-quality content that provides valuable information to the readers, you can outrank other websites and rank higher in Google search results.
You May Also Like