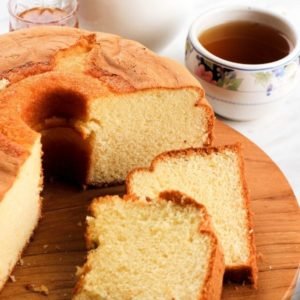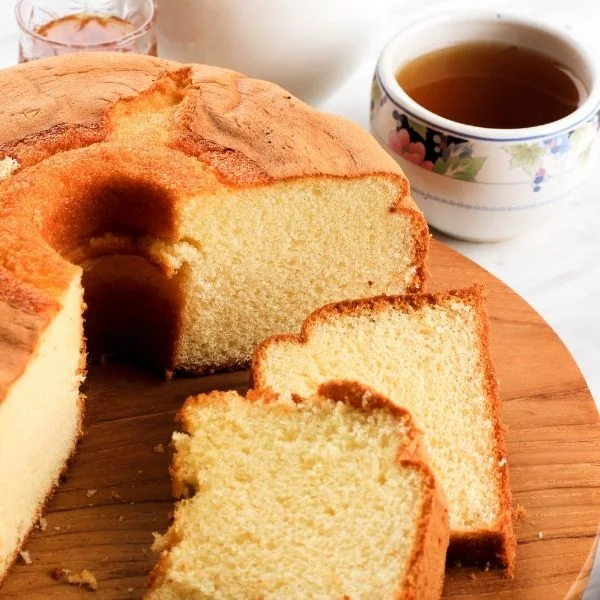 Chiffon Cake Recipe
This classic chiffon cake is tender and light as air. It has the richness of a butter cake and the fluffiness of a sponge cake.
Ingredients  
Instructions 
Sift the flour, sugar, baking powder, and salt into a bowl. Make a well and add the egg yolks, vegetable oil, water, and vanilla. Set aside.

In a large bowl, beat the egg whites until foamy. Add in the cream of tartar and continue beating until stiff peaks form. Set aside.

Using the same beaters, beat the egg yolk batter. Scrape the bowl as needed. Beat until combined and smooth.

Fold in 1/4 of the egg whites into the egg yolk batter to lighten it up. Then gently fold in the rest of the egg whites in two equal parts until no white streaks remain.

Pour into an ungreased 10″ tube pan with removable bottom. Bake for 55-60 minutes or until a toothpick inserted into the center comes out clean. The top should be golden brown and spring back when lightly pressed.

Let cool completely upside down. Unmold and serve. Slice using a serrated knife.
Notes
Nutrition Information:
Amount Per Serving
Calories 338
Total Fat 14.7g 19%
Cholesterol 216.1mg 72%
Sodium 244.6mg 11%
Total Carbohydrate 45.2g 16%
Sugars 25.3g
Protein 7.1g 14%
Vitamin A9%
Vitamin C0%
Calcium14%
Iron15%