Cornish Hevva cake, also known as 'Heavy Cake', is a traditional Cornish tea-time treat that has been enjoyed by generations of Cornish families. The cake has a crumbly texture and a deliciously sweet taste that is perfect with a cup of tea. It is made with just a few simple ingredients, including flour, butter, sugar, and milk, making it easy to bake at home.
What You Need To Make Cornish Hevva Cake Recipe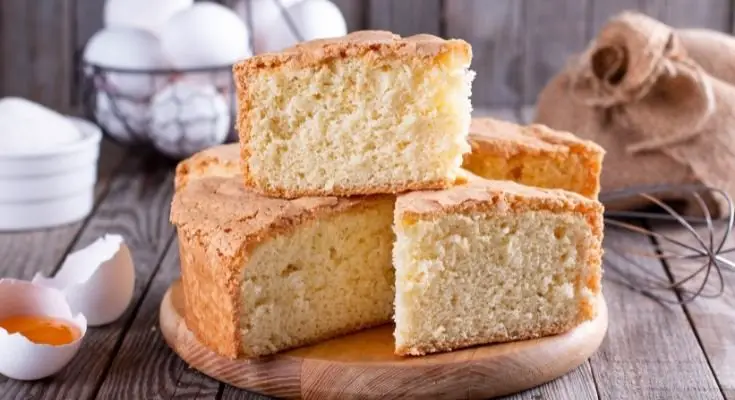 wholemeal spelt
salt 
baking powder
butter
sugar
sour milk
lemon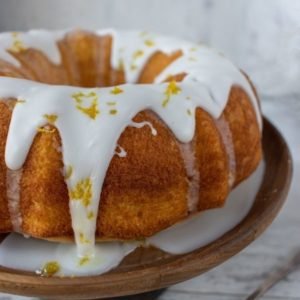 Cornish Hevva Cake Recipe
A traditional Cornish cake made by fisherfolk. It's a very simple recipe with only a few ingredients, but it's absolutely delicious.
Ingredients  
175

g

 wholemeal spelt

½

 tsp

 baking powder

pinch of sea or rock salt 

75

g

unsalted butter

75

g

golden caster or granulated sugar

60

g

currants (can substitute with raisins or sultanas)

60

ml

sour milk or kefir (I used kefir)

1

pic

 lemon zested (can substitute with 30g (1 oz) mixed peel)
Instructions 
Preheat your oven to 180℃ (350℉, Gas 4).

Take a large mixing bowl and use your fingertips to rub the butter into the flour, baking powder, and salt until the texture resembles rough breadcrumbs. Don't worry too much about achieving a perfectly even consistency, as small chunks of butter will help to give your cake a flaky texture.

Add the sugar, lemon peel or zest, and currants to the mixture and stir thoroughly.

Create a well in the center of the mixture and pour in the sour milk or kefir. Use a flat-bladed knife to mix the ingredients until they form a dough. Bring the dough together with your hands and knead briefly.

Place the dough on a baking tray lined with parchment paper, then use your hands to shape it into an oval about 2 cm thick. Alternatively, you can use a rolling pin, but using your hands will work just as well.

Use a knife to mark a crisscross pattern across the top of the cake, then bake it for approximately 30 minutes or until it has risen and become nicely browned on top.

If you wish, you can sprinkle a little caster sugar over the top of the cake.

Allow the cake to cool slightly before cutting it into pieces along the markings. This cake can be enjoyed either warm or cold, but it is best eaten within two days.
Notes
Nutrition Information:
Carbohydrates: 34.2g
Protein: 4.6g
Fat: 11.3g
Saturated Fat: 6.8g
Cholesterol: 28mg
Sodium: 105mg
Fiber: 3.3g
Sugar: 14.4g
Pro Tips for Making Cornish Hevva Cake
Are you a fan of traditional Cornish baked goods? If so, you've likely heard of Cornish Hevva Cake. This delicious cake is a local specialty that has been enjoyed by generations of Cornish families. If you're interested in making this traditional treat yourself, then you're in luck! In this article, we'll provide you with some pro tips for making the best Cornish Hevva Cake possible.
Before we get started, it's worth mentioning that there are a few variations of Cornish Hevva Cake. Some recipes call for butter, while others use lard or margarine. Some include currents or raisins, while others omit them entirely. Regardless of the specific recipe you choose, there are a few tips and tricks that can help ensure your Cornish Hevva Cake turns out perfectly.
Use Quality Ingredients
As with any baked good, the quality of your ingredients will make a big difference in the final product. When making Cornish Hevva Cake, it's particularly important to use high-quality flour, sugar, and fat. You'll also want to use fresh eggs and good-quality dried fruit, if your recipe calls for it. If you skimp on quality ingredients, your cake will likely suffer.
Don't Overwork the Dough
When making Cornish Hevva Cake, it's important not to overwork the dough. This is particularly true if you're using a recipe that calls for lard or margarine, as these fats can become tough if overworked. Mix the dough until it just comes together, then stop. Overworking the dough can result in a tough, chewy cake.
Use a Good-Quality Flour
The type of flour you use can also make a big difference in the texture of your Cornish Hevva Cake. We recommend using a good-quality all-purpose flour with a protein content of around 10-12%. This will help ensure your cake has the right texture and isn't too dense.
Let the Cake Rest Before Baking
Once you've mixed your dough, it's a good idea to let it rest for at least 30 minutes before baking. This will allow the gluten in the flour to relax, which will make it easier to roll out the dough. It will also help ensure that your cake bakes evenly and has a nice texture.
Bake at the Right Temperature
Finally, it's important to bake your Cornish Hevva Cake at the right temperature. Most recipes call for a moderate oven (around 350-375°F), but you'll want to check your specific recipe to be sure. Baking at the wrong temperature can result in a cake that's over- or undercooked, so it's important to get this right.
Conclusion
Cornish Hevva Cake is a delicious traditional cake that has been enjoyed in Cornwall for centuries. With our easy-to-follow recipe, you can now make this cake at home and experience a taste of Cornwall for yourself. Serve it with a cup of tea or coffee and enjoy the taste of history.
You May Also Like