Looking for a classic and delicious cake that will impress your guests? Look no further than our recipe for a homemade Battenberg Cake! With its striking two-tone design and light almond flavor, this cake is sure to become a staple in your baking repertoire.
What You Need To Make Battenberg Cake Recipe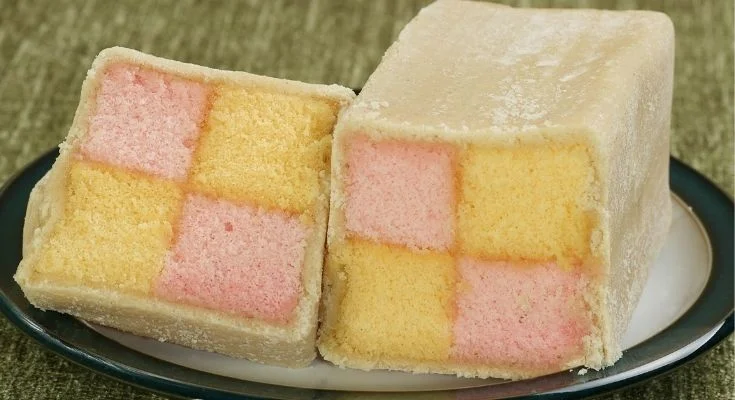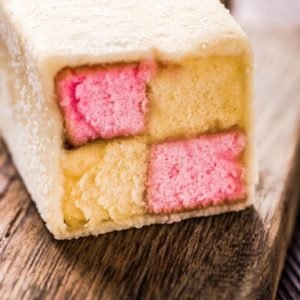 Battenberg Cake Recipe
Our traditional Battenberg cake is a delicious project for an afternoon in the kitchen. Bake this easy but impressive cake for a special occasion
Ingredients  
175

g

very soft butter

175

g

golden caster sugar

140

g

self-raising flour

50

g

ground almonds

½ 

tsp

baking powder

3

pic

medium eggs

½ 

tsp

vanilla extract

½ 

tsp

almond extract
For pink sponge
1

x

ingredients for almond sponge

½ 

tsp

Squires rose food paste
To assemble
200

g

apricot jam

2

x

blocks white marzipan
Instructions 
Preheat your oven to 180C/160C fan/gas 4 and prepare a 20cm square baking tin by lining the base and sides with baking parchment. You can easily do this by crossing two 20cm-long strips over the base.

Begin making the almond sponge by combining butter, sugar, flour, ground almonds, baking powder, eggs, vanilla, and almond extract in a large bowl. Use an electric whisk to beat the mixture until it comes together smoothly. Scrape the mixture into the prepared tin, spreading it evenly into the corners. Bake for 25-30 minutes or until a skewer inserted in the center comes out clean. Let the cake cool in the tin for 10 minutes before transferring it to a wire rack to finish cooling while you make the second sponge.

To prepare the pink sponge, line the tin as before and mix all the ingredients as above, except for the almond extract. Fold in some pink food coloring and scrape the mixture into the tin. Bake and cool the sponge as before.

Now it's time to assemble the cake. Heat some jam in a small pan until it becomes runny, then sieve it. Barely trim two opposite edges of the almond sponge, then trim a third edge more generously. Measure the height of the sponge and cut four slices of the same width, starting from the well-trimmed edge. Use a ruler to help you cut the slices evenly. Repeat with the pink sponge.

Take two almond slices and two pink slices and trim them so that they are all the same length. Roll out a block of marzipan on a surface lightly dusted with icing sugar to just over 20cm wide. Keep rolling lengthways until the marzipan is roughly 0.5cm thick. Brush the marzipan with apricot jam, then lay a pink and an almond slice side by side at one end of the marzipan. Brush jam in between the sponges to stick them together and leave 4cm of clear marzipan at the end. Brush more jam on top of the sponges, then sandwich the remaining two slices on top, alternating colors to create a checkerboard effect. Trim the marzipan to the length of the cakes.

Carefully lift up the marzipan and smooth it over the cake with your hands, leaving a small marzipan fold along the bottom edge before sticking it to the first side. Trim the opposite side to match the size of the fold, then crimp the edges using your fingers and thumb or press with the prongs of a fork. If you like, you can use the fork to mark the cake into 10 slices.

Repeat the process to assemble the second Battenberg and store it in an airtight container or wrap it well in cling film. The cake will stay fresh for up to three days and can be frozen for up to a month.
Notes
Nutrition Information:
kcal 524
fat 25g
saturates 10g
carbs 71g
sugars 61g
fibre 2g
protein 7g
low in salt 0.5g
Pro Tips for Making Battenberg Cake
Battenberg cake is a delicious and beautiful British cake that has been around for over a century. It is a sponge cake that is divided into four quadrants and then wrapped in marzipan. This cake has become a staple for afternoon teas, weddings, and special occasions. However, making a Battenberg cake can be challenging, especially for beginners. In this article, we will share with you some pro tips for making a perfect Battenberg cake that will impress your guests.
Trim the Edges Carefully
Assemble the Cake with Marzipan
Divide the Batter Equally
Mix the Batter Carefully
Measure Ingredients Accurately
Decorate the Cake
Conclusion
Our recipe for Battenberg Cake is the perfect choice for any occasion, whether it's a special celebration or a weekend treat. With its soft sponge and sweet almond flavor, it's sure to impress your guests and leave them wanting more. So why not give it a try and see for yourself?
You May Also Like