Basbousa is a traditional Middle Eastern dessert that has been enjoyed for centuries. Also known as semolina cake, this sweet treat is made with a blend of semolina flour, coconut, sugar, and other flavorful ingredients. In this article, we will dive into the history of Basbousa, its various recipes, and tips for perfecting this classic dessert.
What You Need To Make Basbousa Cake Without Egg Recipe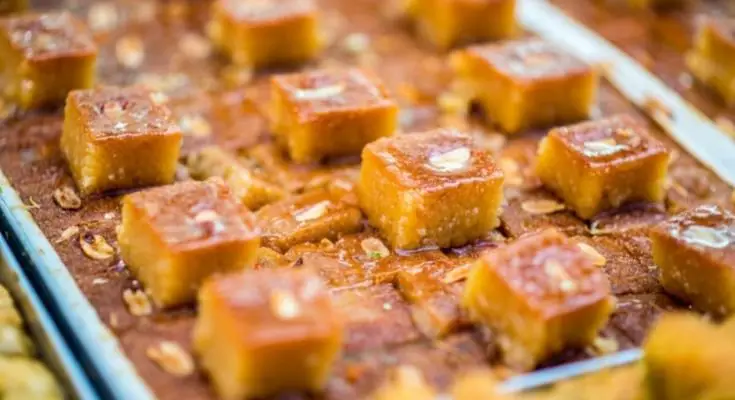 flour
sugar
shredded coconut
plain yogurt
oil
whole milk
baking powder
baking soda
salt
Sliced almonds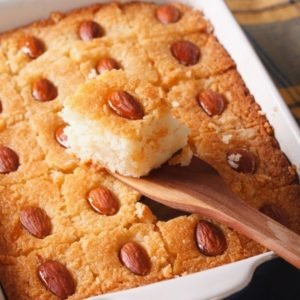 Basbousa Cake Recipe
A coconut yogurt farina cake soaked in simple syrup and decorated with nuts
Ingredients  
For the syrup:
1

cup

sugar

1

cup

water

1

Tablespoon

lemon juice

2

Tablespoon

honey

1/2

Tablespoon

vanilla extract.

Nuts for garnishing
Instructions 
Preheat the oven to 350F.

In a spacious bowl, combine farina, baking powder, sugar, and coconut, ensuring that all ingredients are mixed thoroughly.

Next, melt the ghee either in the microwave or on the stove, and dissolve the honey within it.

Combine the ghee mixture with the dry ingredients, mixing everything together until fully incorporated.

Add the yogurt, mixing briefly until it is fully integrated.

Using a pastry brush, apply a layer of tahini onto a 12-inch round baking sheet before evenly spreading the basbousa mixture on top.

Finally, decorate the mixture by evenly distributing the nuts on top.Place the baking sheet on the middle rack of the oven and bake until the edges begin to brown, typically taking about 10 minutes.Then, move the basbousa to the higher shelf and continue cooking until golden brown, typically taking anywhere from 15 to 20 minutes.
Notes
Nutrition Information:
Calories: 329.6kcal
Carbohydrates: 49.7g
Protein: 3.5g
Fat: 13.7g
Saturated Fat: 8.5g
Monounsaturated Fat: 0.1g
Cholesterol: 22.2mg
Sodium: 59.2mg
Potassium: 21.5mg
Fiber: 1g
Sugar: 30.5g
Pro Tips for Making Basbousa Cake Without Egg
Basbousa is a popular Middle Eastern dessert that is enjoyed all over the world. It is a moist, sweet, and crumbly cake made with semolina flour and soaked in a sugar syrup. Traditionally, basbousa contains eggs as one of the main ingredients, but if you are allergic to eggs or prefer vegan options, you can still enjoy this delectable dessert. In this article, we will provide you with pro tips for making basbousa cake without eggs that will satisfy your sweet tooth.
Almond Milk Instead of Regular Milk
Use Yogurt as a Binding Agent
Add Baking Powder for Fluffiness
Use Vegetable Oil Instead of Butter
Soak the Cake in Syrup
Conclusion
Basbousa is a delicious and easy-to-make dessert that has been enjoyed in the Middle East for centuries. With its unique blend of semolina flour, coconut, and sweet syrup, it offers a perfect combination of flavors and textures. Whether you prefer the traditional recipe or a creative variation, Basbousa is sure to satisfy your sweet tooth.
You May Also Like