Torta de Santiago or Tarta de Santiago, which literally translates to "cake of St. James," is an almond pie or cake from Galicia that dates back to the Middle Ages and is made mostly with ground almonds from the Camino de Santiago.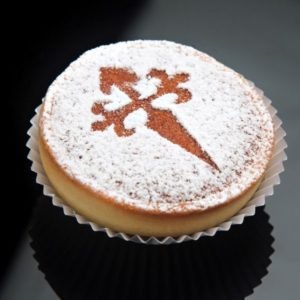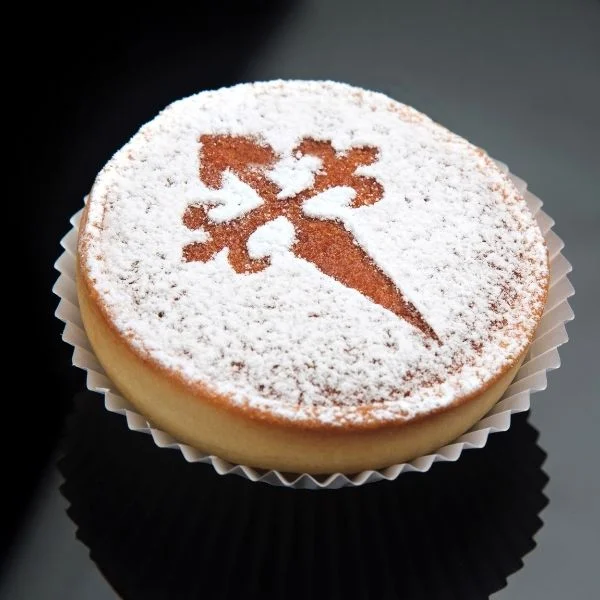 Tarta de Santiago Cake Recipe
This simple almond cake has a great flavor and is naturally gluten free.
Ingredients  
Instructions 
Heat the oven to 350°F/180°C. The bottom of an 8 inch/20 cm round cake pan should be lined with parchment paper, and the sides should be lightly buttered.

In a bowl, crack the eggs and stir in the sugar. The mixture should be thoroughly blended, beginning to lighten in color, and include some air.

Try not to overmix and completely remove the air from the mixture as you add the ground almonds, lemon zest, and cinnamon.

Place the prepared cake tin with the batter within it in the preheated oven. A skewer inserted in the center should come out clean after baking for about 30 minutes. Make the cross stencil now, if not already done.

Before removing the outer ring, take the cake out of the oven and let it rest for about 10-15 minutes on a cooling rack. Place the stencil over the center after it has completely cooled, and then sprinkle some confectioners' sugar on top. Without letting the sugar spill onto the area you had covered, carefully remove the stencil. Slice and serve, or keep covered and at room temperature.
Notes
Nutrition Information:
Carbohydrates: 33g
Protein: 8g
Fat: 14g
Saturated Fat: 2g
Cholesterol: 82mg
Sodium: 32mg
Potassium: 30mg
Fiber: 3g
Sugar: 28g
Vitamin A: 119IU
Vitamin C: 1mg
Calcium: 66mg
Iron: 1mg
Final Thought:
Spanish almond dessert known as tarta de Santiago is really simple to make. It has a lovely sweet, soft texture, a hint of lemon sharpness, and is naturally gluten free. Excellent for dessert or coffee time.