We've got the ultimate recipe for a Red Velvet Strawberry Cake that's sure to make your taste buds dance with delight. Our cake recipe is so delicious that it will have you wanting more and more! If you're looking for a cake that's perfect for any occasion, then this is the cake for you. Let's get started on how to make this scrumptious cake.
What You Need To Make Red Velvet Strawberry Cake Recipe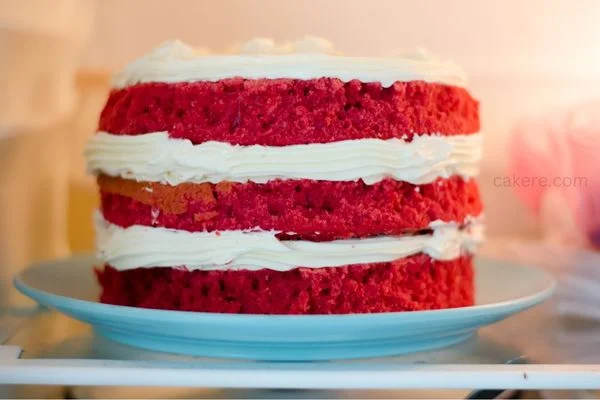 flour
cocoa powder
baking soda
salt
unsalted butter
oil
eggs
vanilla extract
vinegar
food coloring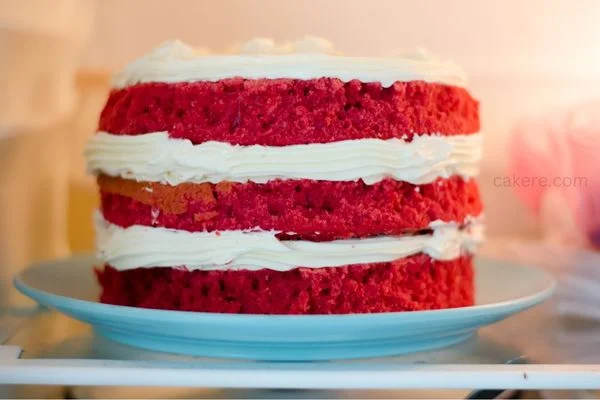 How To Make Red Velvet Strawberry Cake
Ingredients  
1 ½

cups

white sugar

½

cup

unsalted butter, softened

½

teaspoon

salt

1

teaspoon

baking soda

1 ½

tablespoons

unsweetened cocoa powder

3

cups all-purpose

flour

1

cup

vegetable oil

4

eggs,

separated

1 ½

tablespoons

vanilla extract

1

teaspoon

white vinegar

1

drop

food coloring, or as desired

1

cup

buttermilk
Instructions 
Begin by preheating the oven to 350 degrees F (175 degrees C). Take two 9-inch cake pans and lightly grease them. If the pans have a bumpy surface, sprinkle them with flour.

In a mixing bowl, combine 3 cups of flour, cocoa powder, baking soda, and salt. Use a whisk to mix everything together.

In another mixing bowl, beat 1/2 cup of butter with an electric mixer until it is smooth and creamy. Add 1 1/2 cups of sugar and continue beating until the mixture is fairly creamy. This should take about 2 minutes. Pour in vegetable oil and beat until combined. Add egg yolks, vanilla extract, vinegar, and enough food coloring to achieve the desired color. Pour in the flour mixture, alternating with buttermilk, on low speed until just incorporated. Be sure not to overmix the batter.

Take a separate bowl and beat the egg whites until they become thick and frothy. Fold them into the batter. Pour the batter into the prepared cake pans.

Place the cake pans in the preheated oven and bake until a toothpick inserted into the center comes out clean. This should take around 30 to 35 minutes, but be careful not to overbake. Allow the cakes to cool in the pans for 10 to 20 minutes before transferring them to a wire rack or serving plate to cool completely.

Combine sugar, flour, and salt in a saucepan. Whisk in milk gradually, making sure there are no lumps. Place the saucepan over medium heat and stir until thickened. Pour the mixture into an airtight container and refrigerate until it is completely cool, approximately 1 hour.

Place the frosting in a mixing bowl and add lemon juice and vanilla extract. Use an electric mixer on high speed to combine. Whip in cream cheese, one tablespoon at a time. Next, whip in butter and continue to mix until you have a really thick frosting. If you're not using it immediately, place it in an airtight container and refrigerate.Frost the cooled cake and place sliced strawberries between the two layers.
Pro Tips for Making Red Velvet Strawberry Cake
Red velvet cake is a classic dessert that never goes out of style. It's a perfect blend of sweet, tangy, and chocolaty flavors that everyone loves. And when you add fresh strawberries to it, the flavors become even more delicious. In this article, we will provide you with pro tips for making the best red velvet strawberry cake.
1.Use Quality Ingredients
The first step to making a great red velvet strawberry cake is to use quality ingredients. Use fresh strawberries that are ripe and juicy. Make sure that you use high-quality cocoa powder, butter, and cream cheese. It's important to use the best ingredients you can afford because it will make a big difference in the final taste.
2.Don't Overmix the Batter
Overmixing the batter can cause the cake to become tough and chewy. It's important to mix the ingredients just until they are combined. You can use a whisk or an electric mixer to mix the batter. Mix the dry ingredients first and then add the wet ingredients gradually.
3.Use Buttermilk
Buttermilk is a key ingredient in red velvet cake because it gives the cake its tangy flavor and helps keep it moist. If you don't have buttermilk, you can make your own by adding 1 tablespoon of lemon juice or white vinegar to 1 cup of milk. Let it sit for a few minutes, and it will thicken and curdle, just like buttermilk.
4.Add Red Food Coloring
Red food coloring is essential for making red velvet cake. You can use liquid or gel food coloring. Add the food coloring gradually until you achieve the desired color. Be careful not to add too much, as it can affect the taste and texture of the cake.
5.Add Fresh Strawberries
Adding fresh strawberries to red velvet cake gives it a burst of flavor and color. You can add sliced or diced strawberries to the batter or use them to decorate the top of the cake. Make sure to wash the strawberries thoroughly and remove the stems before using them.
6.Use Cream Cheese Frosting
Cream cheese frosting is a classic topping for red velvet cake. It's creamy, tangy, and delicious. Make sure to use high-quality cream cheese, butter, and powdered sugar to make the frosting. You can also add a little bit of vanilla extract or lemon juice to enhance the flavor.
Conclusion
our Red Velvet Strawberry Cake is the perfect dessert for any occasion. We're confident that our recipe will not only meet but exceed your expectations. So go ahead, give it a try and let us know what you think!
You May Also Like