A delicious dish with one or more layers is called cheesecake. The main layer, which is also the thickest, is made out of a combination of soft, fresh cheese, eggs, and sugar. If there is a bottom layer, it typically comprises of a base made of pastry, sponge cake, or crushed cookies or graham crackers.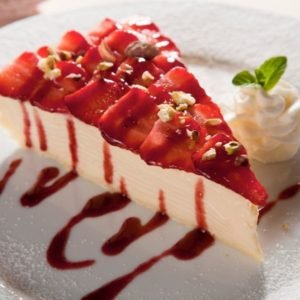 Ostkaka (Swedish Cheese cake Recipe)
a baked cheesecake that is relatively simple to make and tastes just as good but is a little less sugary than its American cousin. In this version, there is no gluten.
Ingredients  
2

pic

eggs

¼

cup

 sugar 4 tbsp, 50g

¼

cup

 almond flour 4 tablespoon ground almonds, 25g

3 

tablespoon

 rice flour 32g

1

cup 

half and half 240ml, or ½cup/120ml each of milk and heavy/double cream

1 ¼ 

cup

 cottage cheese 280g
To top
7

oz 

strawberries 200g

1

tablespoon

 sugar

a few grinds of black pepper optional
Instructions 
Lightly grease an 8-inch cake pan and preheat the oven to 350°F/175°C (you can use a ceramic dish as well).

Eggs and sugar should be processed or blended together in a blender (you can also whisk by hand but try to avoid having too many lumps in final mixture). Mix in the rice flour, half-and-half (or milk and cream), cottage cheese, and crushed almonds. Fill the dish/tin with the ingredients, and bake it for about an hour, or until the top is rising and gently browned.

Slice the strawberries and add them to a bowl with the sugar and a few pinches of black pepper as the cheesecake is almost done baking (if using - it is nice in there). Gently toss them and allow them to macerate.

Remove the cheesecake from the oven when it is done and let it cool.

Serve the strawberries on top of the warm or lukewarm dish (you can put the strawberries on top a little before serving and some of the juice will sink in which is really tasty).
Notes
Nutrition Information:
Carbohydrates: 20g
Protein: 9g
Fat: 10g
Saturated Fat: 4g
Cholesterol: 76mg
Sodium: 197mg
Potassium: 168mg
Fiber: 1g
Sugar: 13g
Vitamin A: 285IU
Vitamin C: 19.8mg
Calcium: 102mg
Iron: 0.6mg
Final Thought:
In Northern nations like Sweden, strawberries are at their prime in June, hence they are frequently consumed as part of midsummer festivities. When we visited Denmark this summer, we enjoyed some excellent local strawberries (as well as the smrrebrd, open sandwiches, of course), and we've also picked our own when visiting family in Scotland.