Making an old-fashioned coconut cake is a classic baking experience that can be enjoyed by people of all ages. This dessert is a timeless recipe that has been passed down from generation to generation and is a staple in many households. With its moist, fluffy layers and its sweet, creamy frosting, it's no wonder that this cake is so loved.
Here, we will share with you a recipe that will take your coconut cake game to the next level. This recipe includes all the necessary ingredients, tools, and steps to make the perfect old-fashioned coconut cake. We will also share with you some tips and tricks to make your cake even more delicious and visually appealing.
What You Need To Make Old-Fashioned Coconut Cake Recipe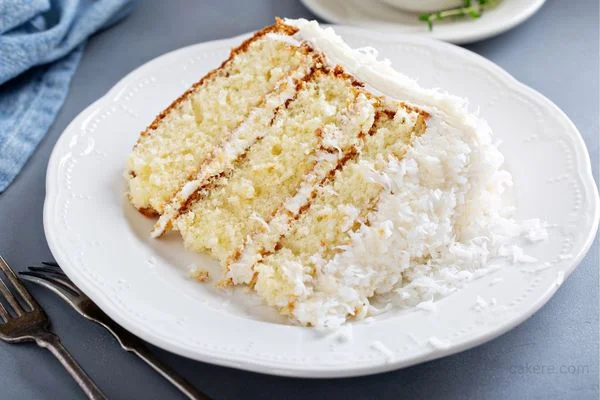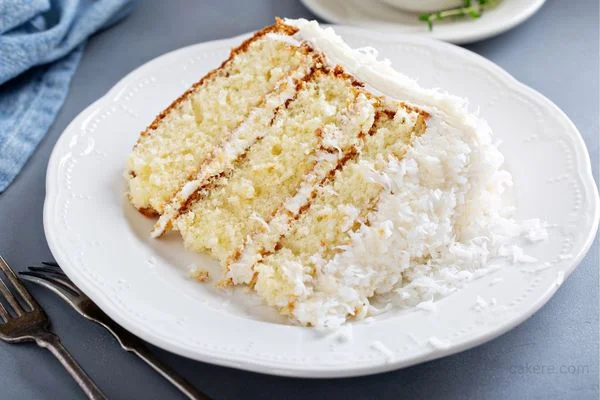 How To Make Old-Fashioned Coconut Cake
Ingredients  
1

cup

milk

4

egg

yolks

2

eggs

1 ½

cups

white sugar

½

cup

butter

2 ½

cups

all-purpose flour

1

tablespoon

baking powder

1

teaspoon

vanilla extract
Instructions 
Preheat the oven to 350°F (175°C) and grease three 9-inch round cake pans.

Make the Cake Batter: In a large mixing bowl, beat together 2 cups of sugar, 6 large eggs, and 6 egg yolks using an electric mixer until light and fluffy, about 5 minutes.

Heat the Milk: In a saucepan, heat 1 cup of milk and 1 cup of unsalted butter over low heat until the butter melts, 2 to 3 minutes. Remove from heat and let it cool slightly.

Combine Dry Ingredients: In a separate bowl, mix together 3 cups of all-purpose flour and 3 teaspoons of baking powder. Pour the flour mixture into the egg mixture. Add 1 teaspoon of vanilla extract and the milk mixture. Beat well using an electric mixer. Divide the batter evenly among the prepared cake pans.

Bake the Cakes: Place the pans in the preheated oven and bake until a toothpick inserted into the center of the cakes comes out clean, 15 to 18 minutes. Let the cakes cool in the pans for 10 minutes before transferring them to wire racks to cool completely.

Make the Meringue: Thoroughly clean the mixing bowl and beaters. Beat 3 egg whites and 1/2 teaspoon of cream of tartar with an electric mixer until foamy. In a saucepan, bring 1 cup of sugar and 1/2 cup of water to a boil. Boil until a candy thermometer reads 242°F (116°C), 3 to 4 minutes.

Finish the Meringue: Beat the egg whites on high speed. Carefully pour in the hot sugar mixture along the side of the bowl, avoiding the beaters. Continue to beat on high until stiff peaks form, 6 to 8 minutes. Stir in 1 teaspoon of vanilla extract.

Assemble the Cake: Place one cooled cake layer on a serving platter and frost the top. Repeat with the second and third layers of cake. Completely frost the sides, top, and throughout. Sprinkle 2 cups of shredded coconut on top and smooth it onto the sides of the cake using your hands.
Pro Tips for Making Old-Fashioned Coconut Cake
Coconut cake is a classic dessert that has been enjoyed for generations. With its light, fluffy texture and sweet, coconut flavor, it's no wonder why so many people love this cake. However, making the perfect old-fashioned coconut cake can be a bit of a challenge, especially if you're new to baking. In this article, we'll share some pro tips that will help you make the best coconut cake you've ever tasted.
The key to making a great coconut cake is using the right ingredients. Here are some ingredients you'll need:
All-purpose flour: This is the foundation of your cake. Make sure you use a good-quality flour to ensure your cake turns out fluffy and light.
Baking powder: This helps your cake rise. Make sure your baking powder is fresh, as old baking powder can result in a cake that doesn't rise as well.
Salt: Salt enhances the flavor of your cake and helps to balance out the sweetness.
Sugar: You'll need granulated sugar for the cake itself and powdered sugar for the frosting.
Coconut milk: This gives your cake its signature flavor. Make sure to use full-fat coconut milk for the best results.
Eggs: Eggs provide structure and moisture to your cake.
Vanilla extract: Vanilla extract is a staple in baking and adds a touch of sweetness to your cake.
Conclusion
We hope that this recipe and guide will help you make the perfect old-fashioned coconut cake. This timeless dessert is perfect for special occasions or just as a treat for yourself. With its moist, fluffy layers
You May Also Like