Bundt cakes have carved a special place in the hearts of dessert lovers around the world. These intricately designed cakes not only please the taste buds but also serve as beautiful centerpieces for various occasions.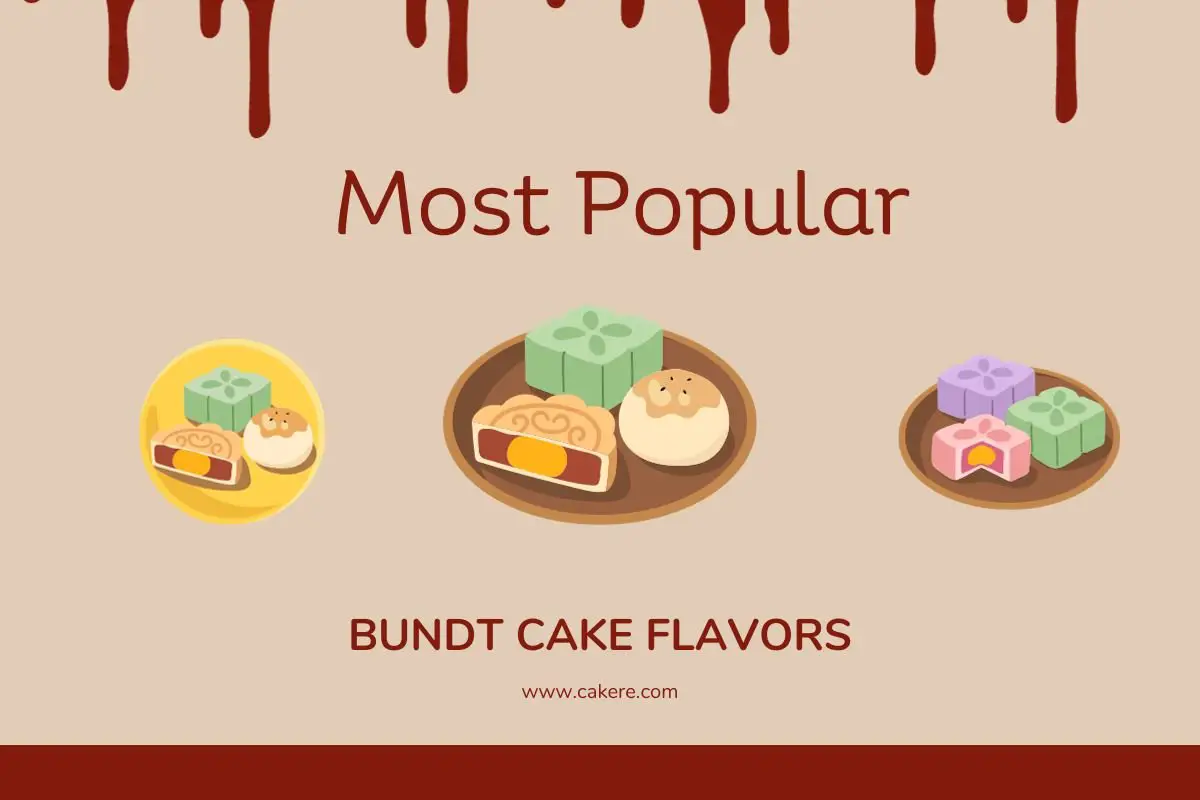 Top 10 Most Popular Bundt Cake Flavors
Here are the top 10 most popular bundt cake flavors. From classic favorites to trendy surprises, Bundt Cakes are the life of the party.
1. Snickerdoodle
Immerse yourself in a nostalgic embrace of warm cinnamon and sugar with the Snickerdoodle Bundt Cake. This delightful treat captures the essence of freshly baked cookies in a moist, tender cake that's perfect for any occasion.
2. White chocolate raspberry
Indulge in the perfect blend of sweet and tart with the White Chocolate Raspberry Bundt Cake. Each bite offers a luscious combination of velvety white chocolate and vibrant raspberries, creating a heavenly dessert experience.
3. Red velvet
Experience the allure of the classic Red Velvet Bundt Cake. Its rich, crimson hue and luxurious cocoa flavor are complemented by a decadent cream cheese drizzle, making it a timeless favorite.
4. Confetti
Celebrate life's moments with the Confetti Bundt Cake. Bursting with colorful sprinkles, this cake brings joy to every slice. Its moist, vanilla-infused crumb is a delightful canvas for a party in your mouth.
5. Lemon
Refresh your palate with the zesty Lemon Bundt Cake. The bright citrus notes and tender texture of this cake are like a burst of sunshine in every bite. It's a citrus lover's dream come true.
6. Chocolate Chocolate Chip
Double the chocolate pleasure with the Chocolate Chocolate Chip Bundt Cake. Loaded with rich cocoa and studded with decadent chocolate chips, this cake is a chocolate lover's paradise.
7. Pumpkin Spice
Embrace the cozy flavors of fall with the Pumpkin Spice Bundt Cake. The warm embrace of pumpkin and aromatic spices makes this cake the perfect companion for crisp autumn days.
8. Carrot
Savor the timeless classic that is the Carrot Bundt Cake. Made with fresh carrots and a blend of warm spices, it's crowned with a velvety cream cheese frosting for a taste of pure comfort.
9. Peanut Butter Chocolate Chip
Experience the harmonious marriage of peanut butter and chocolate in the Peanut Butter Chocolate Chip Bundt Cake. Creamy peanut butter and chocolate chips unite in a cake that's both indulgent and comforting.
10. Chocolate Turtle
Indulge in the decadence of the Chocolate Turtle Bundt Cake. This masterpiece combines rich chocolate, caramel, and crunchy pecans, creating a dessert that's truly a slice of chocolate heaven.
What is the best Bundt Cake flavors?
The best Bundt Cake flavors is Snickerdoodle
Conclusion
In conclusion, bundt cakes are a delightful dessert option that offers a wide array of flavors to cater to diverse tastes and preferences. Whether you prefer the classic vanilla, the richness of chocolate, or the zest of lemon, there's a bundt cake for everyone. With innovative twists, dietary-friendly options, and creative decoration ideas, bundt cakes continue to be a cherished dessert choice for any occasion.