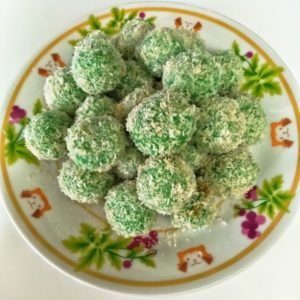 Klepon – Indonesian Sweet Rice Cakes Recipe
Klepon (also known as onde onde in Malaysia and Singapore) is a sweet rice cake treat you'll want to whip up again and again. Bite into hot, bursting gula melaka, surrounded by chewy pandan and soft coconut, in this awesome Indonesian snack.
Ingredients  
1 ½

cup

glutinous rice flour

1

cup

coconut milk

¾

cup

coconut

1

tsp

pandan flavouring

¼

cup

palm sugar gula melaka/gula jawa, chopped into small pieces (around 1-2cm / ½ in)

Pinch salt
Instructions 
Steam or thaw shredded coconut to get it soft and fluffy (around 5-10 minutes). Optional: Cover with a towel to keep moist until ready to use.¾ cup coconut

In a small saucepan, add the cup of coconut milk, teaspoon of pandan flavouring and pinch of salt. Warm on low heat for a few minutes and remove.

In a medium bowl, add 1 and ½ cups of glutinous rice flour and warmed pandan coconut milk. Stir with a spoon until combined, then knead until it turns a soft dough. It should be flexible and pliable at this stage.

Begin to shape klepon balls by taking heaped teaspoon of the dough and rolling it around into a ball (around 3cm / 1 in, in diameter). Work quickly here so the dough doesn't dry out. Tip: Place dough in a plastic bag to hold in the moisture.

Now it's time to stuff them with the palm sugar! Take a ball and push an indent into the centre, making a hole. Pop in a piece of chopped palm sugar and close the dough over the hole. Make sure it's sealed by pinching the dough back together, then roll it back into a ball with your palms.

Repeat until all the klepon are ready to cook!

Bring a large pot of water to the boil. Once boiling, place the klepon into the pot. Avoid overcrowding, and do them in batches if necessary. The dough is cooked when they float to the top. This usually takes around 5-10 minutes, you can cook them a little longer to ensure the palm sugar melts and heats up on the inside. Remove from the water with a slotted spoon once cooked.

Next, grab the steamed bowl of coconut and roll around the klepon to coat them. Use a fork or spoon if you want to avoid the coconut and klepon sticking to your fingers.

Serve warm or at room temperature. Make sure not to burn your mouth on the hot palm sugar (gula melaka) inside!
Notes
Nutrition Information:
Fat 7g 11%
Saturated Fat 6g 38%
Sodium12mg 1%
Potassium89 mg 3%
Carbohydrates 25g 8%
Fiber 1g 4%
Sugar4g 4%
Protein 2g 4%