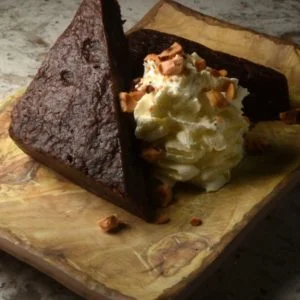 Kladdkaka Cake Recipe
Quite possibly the quickest, easiest, gooey-est (and so best) chocolate cake you'll ever make. This has only 6 ingredients and takes only 30 minutes to make and bake from start to finish. A cake that is so perfect for serving to guests... or just scoffing at home in front on the TV!
Ingredients  
Instructions 
Pre-heat the oven to 180C/350F. Line the bottom of a 7-9 inch (see note below) springform cake pan with a circle of baking paper, then grease the paper and the sides of the pan.

Melt the butter in a medium saucepan, then take off the heat and set aside.

Add the cocoa, sugar, flour and vanilla to the butter and stir a little. Then add the eggs and stir everything together until well combined.

Pour the mixture into the cake pan and bake for 20 to 25 minutes (see note below) until the top is set but the centre is still gooey (the top should be firm but crack under a little pressure from your finger).

Let the cake cool in the pan, then run a knife between the pan and the cake to loosen it. Turn out onto a plate or cake stand (see note below). Dust generously with cocoa powder and serve warm with ice cream or cream.
Notes
Nutrition Information:
Carbohydrates: 58g
Protein: 4g
Fat: 16g
Saturated Fat: 9g
Cholesterol: 97mg
Sodium: 145mg
Potassium: 121mg
Fiber: 2g
Sugar: 43g
Vitamin A: 510IU
Calcium: 23mg
Iron: 1.8mg